Hi everybody! I am Martin Letourneur, Hobie team rider and SUP race competitor ! You may have met me last year when I was working as an intern for Hobie SUP in California. This year, to complete my degree in Business Administration, I have the opportunity to do a two-month internship in the marketing and communication sector. My goal was the same as last year: find an internship that would allow me to acquire some working experience while giving me the freedom to compete in the most important SUP contests of the season.  One phone call with TotalSUP later and everything was set up.  I am lucky to have been offered the perfect deal : working as an intern at TotalSUP in the first part of the 2016 SUP season while taking part in international events, including the Euro Tour, and cover them on TotalSUP !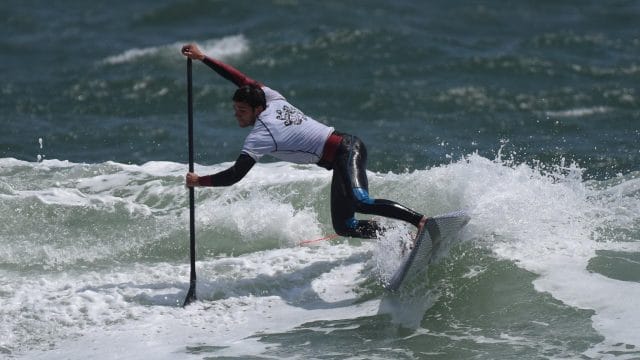 For the second season of "the intern" , my job will consist of covering each event I will be attending: before, during and after it, to analyze results and give an overall review of the event.  I will also be writing articles, making videos, doing interviews as well as many other things. I will give you an inside view of each event so that you can live it as if you were there yourself. The stories will be in french and/or english (and spanish if I get a little help haha) and I will try to prepare a few surprises.
 My contests schedule for this new TotalSUP editorial will be the following :
April 29th – May 1st : Brazilian Championships
May 14th – 15th : North Point Classic (France)
May 21st – 22nd : SUP race Cup Ste Maxime (France)
June 7th – 11th : ISA French team selections
June 25th – 26th : Happy Summer Namur
I'm also hoping to compete in the following events : Sierravuori SUP Masters, Adriatic & Noli SUP Race, Sao Jorge 2 Pico.
Right now I'm in Wrighstville Beach, North Carolina, the city which hosts the Carolina Cup so you'd better follow TotalSUP and stay tuned for some news about this first big race of the season.
See you soon,
---
En Français:
Salut à tous c'est Martin Letourneur, rider du team Hobie et compétiteur en SUPrace ! Vous aviez peut-être lu
mes reports l'été dernier à propos de ma vie de stagiaire en Californie chez Hobie SUP
. Cette année, pour compléter mon DUT en Gestion des Entreprises et Administrations, j'ai l'opportunité d'effectuer un stage de plus de deux mois dans le domaine de la communication. La problématique était de trouver comme l'an dernier un stage qui me permette d'acquérir de l'expérience tout en me laissant la possibilité de participer aux compétitions les plus importantes de ce début de saison. Un coup de fil chez TotalSUP plus tard et l'affaire était réglée : le plan est idéal : je suis stagiaire chez TotalSUP au cours de cette première partie de saison 2016 tout en participant à des compétitions internationales dont l'Euro Tour que je couvre médiatiquement sur TotalSUP.
Pour cette deuxième saison de "The Intern/Le Stagiaire", mon rôle sera donc de présenter chaque événement : avant – pendant – après , en analysant les résultats et leur déroulement sur plusieurs articles, vidéos et autres supports. Je vous donnerai une vue de l'intérieur pour chaque événement en essayant de vous les faire vivre à distance. Les articles seront en français et/ou en anglais (voir en espagnol si on m'aide un peu ahah) et j'essaierai de vous préparer des petites surprises.
Je participerai sûrement aussi aux événements suivants : Sierravuori SUP Masters, Adriatic & Noli SUP Race, Sao Jorge 2 Pico.
Je suis actuellement à Wrightsville Beach en Caroline du Nord, ville d'accueil de la Carolina Cup donc suivez bien TotalSUP et preparez-vous à suivre ce premier gros rendez-vous de l'année à travers mes yeux.
À très vite,
Martin Letourneur – stagiaire en Content & Community Management chez TotalSUP