We are super excited to introduce a new member of the team, French-Brittany based, Scottish Oceanographer and all-things paddle aficionada Helen Trehoret, who will be contributing articles to TotalSUP on a regular basis. Here is a short interview of her paddling biography.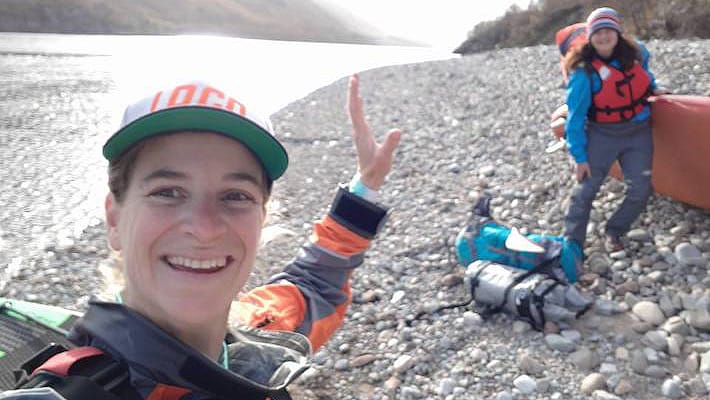 Hello Helen, when did you start Stand Up Paddling?
I have paddled for 8 or 9 years. I started in the UK, my 1st board was a massive Starboard 11ft and I started in a local break called Bigbury, near Plymouth, in the UK. Then I moved to France where my passion exploded. I mainly SUP surf, I have done some long distance, I have tried white water SUP, and expedition Stand Up paddle boarding.
Talk to us about your paddle love
I am outgoing, and I'm always trying to have fun, I also have an adventurous streak, so given a few moments of spare time I am always planning, my next paddle adventure. I paddle a lot around my local area of Finistère (Porz-Carn, Crozon and my local spot Boutrouilles), I'm always looking at the weather and making a plan, I basically arrange child care around the wave forecast. I look at my life as stay at home as an opportunity to get outside (check out my blog www.percypaddlesgalore.com)
My husband and I are both stand up paddlers, so any holiday we take is centred around paddling. Last year we went to the USA for 8 weeks where we signed up for coaching with Greg Closier from La Vague Surf Experience to improve our SUP Surfing.
I then went to the Carolina cup and competed in the inner harbour race on a surfski. The Carolina Cup was excellent, I was able to meet loads of great paddlers (amateur and professional) and also get some great paddle tips from clinics given by Annabel Anderson, Travis Grant and Zane Schweitzer, all exceptional and very different paddlers.
Every October I go to Scotland, to paddle and wild camp, and last October was no different, this time I arranged to paddle with people to take me to their home spots. I did a Downwind on the River Clyde, and an upwind/downwind on Loch Tummel with Dean Dunbar, and had an introduction to white water SUP on the Spey and Findhorn by Jim Gibson of Aquaplay and Tony Bain. I was also able to do a few trips into the wild with a friend.
Do you paddle anything else?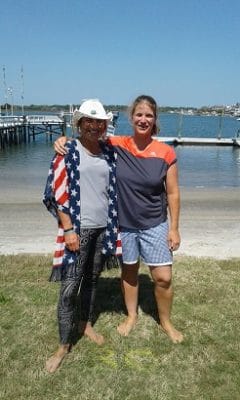 I do a lot of surfskiing. I got into surfskiing when I was pregnant, I was frustrated at not being able to get out on the sea whilst pregnant (I was pregnant through winter), and I saw YouTube video of someone surfing with a surfski and the rest is history. I live 20m from a great beach, I am always out in my local spot as soon as there is a sign of a wave. This year I am hoping to be more competitive, I have entered into two endurance events: the Dordogne Intégrale in France and the Great Glen Paddle Challenge in Scotland. I am also hoping to do a few other shorter races in Portugal and Holland.  I also do V6, but I am very much at the beginning of my OC career.
Why do you Stand Up Paddle?
What draws me to SUP is that given a bit of water someone will paddle, people paddle in their local spot, and it's not always Hossegor, Molokai or Tahiti, it's a canal, it's a river, it's a sea.  SUP has exploded in the last 4 years, there are so many different offshoots to paddling, with people pushing the limits in every direction. It's a fun time to paddle. There is such a great choice of kit, boards, elements to paddling it is great.  What I also love about SUP is that it has drawn people who would probably not go out and taken them outside, especially women, and this can only be a good thing.
What are your goals this year?
In SUP, I would like to get out foiling some more, I have only been once and it was excellent, but hard work (thanks to Greg Closier); I want to get out more, maybe even do a long distance on a SUP foil. I would like to do a SUP cross event on a river, and also get onto a smaller SUP surf board. In Surfskiing complete the 2 long distance races I have entered.
I also have a small SUP business here in Guissény, Finistère (French Brittany). Barrachou SUP in France is mainly SUP rentals but after a few years of traveling to Scotland to paddle, I am developing SUP expeditions to Scotland this year. My aim is to take paddlers into the wild Scotland and explore remote places, only accessible by SUP.  So I am trying to get this up and running by Autumn. For further information have a look at my website www.barrachousup.com
Also, I'm excited to be part of the TotalSUP team, I'll be looking for some great stories to publish, so please do not hesitate to drop me an email: percival0@gmail.com