SUP is a fun sport and an excellent way of spending more time outside, staying in shape, and making new friends. With the continuous growth of the sport, there has been an increasing offer of specialized SUP clinics, given mainly by certified instructors or professional athletes such as Sean Poynter in the US Olivia Piana and Gaétan Sené in France or Beau O'Brian in Australia – to name but a few –  and intended at helping other paddlers develop their performance in waves, on flat-water or even in downwinds.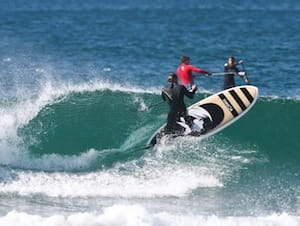 We all know that SUP gear is by no means cheap and that when we're buying our brand new board and paddle we are investing in moments of fun and leisure, spent with family, friends or even alone. So, if we spend more than a thousand euros / dollars / pounds (apologies if we can't name them all) or even twice that if you have picked high-end carbon gear, it makes sense to try and maximize our investment and explore all the potential of our "sick" new board and paddle.
Many SUPers learn to paddle or ride waves on their own. They seek information or tutorials on Youtube, ask friends' tips and advice and manage to get some basic information from their one-time holiday SUP instructor but never get the full attention from an experienced observer who can give constructive feedback.
As a consequence, most self-learnt paddlers have developed some kind of inefficient paddling technique or inappropriate bodily posture that might lead to future injuries (especially on shoulders and back). Others may have mastered the fundamental technique but are yet to improve their overall ability. Some may need to only work out their performance in waves and/or learn to perfect essential maneuvers like the bottom-turn or cutback, or the best way to use the paddle on waves.
Tiago Silva, founder of Functional Paddling and Portugal SUP Camp, has been giving SUP clinics around Europe in the last year. The growing success of his clinics and training program aimed at SUP athletes enables him to train professional athletes from around the world such as Sean Poynter (one of the Stand Up World Tour top riders and ISA SUP Wave World Champion) and Susanne Lier, the Swiss national racing champion. In his opinion, "no matter how experienced you are, there's always something you can learn in a SUP clinic. It's important that paddlers learn different methods and several kinds of techniques so that, in the end, they digest and apply that information to improve their general performance."
Julia Perez, one of the top riders on the Spanish racing and wave tour, recently entered a Functional Paddling clinic held at the city of Oporto, in Portugal. "This kind of events is very important because it allows you to learn something new, you're in touch with the latest tendencies and you can share information with the instructor as well as with other participants." Furthermore, "it allowed me to increase my speed and to learn the perfect body posture to do it, preventing back injuries."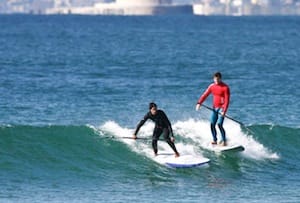 Ruben Silva, the Portuguese national longboarding champion in 2012, always looked at SUP as a complement to his physical training for longboarding contests, training the racing side of the sport in rivers and on the ocean. "My expectation for this clinic was to learn from someone who knows about SUP; I used to just emulate what other paddlers did. Being a Physical Education teacher and having practiced several sports, I associated SUP with longboarding because of the board's dimension and applied swimming technics to paddling. Now, after this clinic, I realized that I wasn't paddling but merely 'digging' the paddle and I can now take more benefits from my SUP gear and prevent muscle injuries."
But you don't have to be a top athlete or a dedicated paddler to take the best advantages from SUP clinics. Tiago Sarmento, has been surfing for 26 years, and started paddling about 8 months ago. In his opinion, "SUP clinics are the best way to properly learn different paddling technics and to prevent injuries, allowing us to have more fun while paddling. Besides that it's a great way to meet and interact with other paddlers and to plan future sessions with them."
So, whether you're interested in improving you paddling or wave technique, if you're a pro athlete or just a weekend warrior, and want to learn how to prevent injuries, breath properly in harmony with the effort you're making, getting the most of your investment on gear, or just meet new paddling buddies and having fun, then a SUP clinic might be the best for you.

pic 1. – There's nothing like having your own instructor guiding us through a wave. Sean Poynter and Portuguese racing champion Isa Sebastião (credit: João Maya).
pic 2. – Tiago Silva, from Functional Paddling, sharing his knowledge with his students. (credit: supnorte.com)
pic. 3 – A Portuguese rider applying what he learned on a perfect Costa da Caparica wave, in Portugal, while at the back Sean Poynter gives some more good advice. (credit: João Maya)
pic. 4 – Nuno Sousa, aka ME, in need of some much helpful tips from Sean Poynter (credit: João Maya)