In a pioneering first for a global SUP and windsurf board company, all 2017 Starboard models will be eligible to carry the ECOBOARD Project label, as a result of shifting 100% of their global production to now use approved plant-based, low/zero VOCs, epoxy resin systems. Along with a host of other shifts towards more sustainable materials and processes, Starboard's actions will result in a smaller carbon footprint across their 2017 board range, and ultimately a healthier ocean for everyone.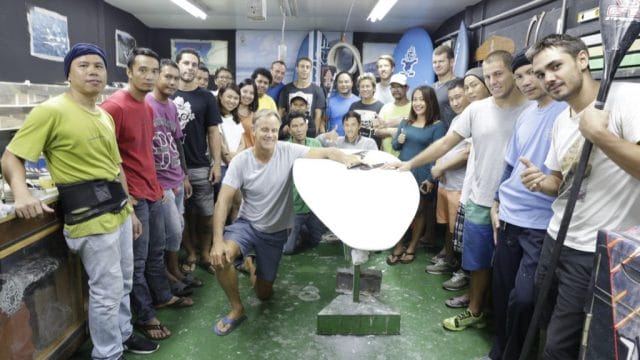 Starboard's commitment to reducing impacts from all major components of their 2017 model boards goes beyond just the boards themselves – as all their composite SUP fins , and all composite paddle blades, will also be infused with an approved bio epoxy resin. Additionally, all their plastic fins will gradually shift during 2017 to 100% bio-based plastics, enabling the use of stronger and more durable materials with a lower carbon footprint. Production on 2017 models started in June, and boards will be shipping in July.
Additionally Starboard will be shifting all packaging to more sustainable materials (including removing the traditional dust protector bag). Starboard will also be shifting away from styrofoam-based protective packaging and instead using reinforced cardboard for added strength and more shock absorption protection than currently sourced packaging materials.
"We are just really getting started on our brand's sustainability pathway related to all of our products,  say's Svein Rasmussen, founder and CEO of Starboard. "But we've been stoked to work with Sustainable Surf to reduce the carbon footprint of all our composite boards by switching to bio-based epoxy resins, reducing overall paint use / VOCs, and sourcing better packaging materials. We also have lots of other R&D in process for better performing materials related to traction pads, fins, inserts, paddles  that use recycled materials and plant-based plastics. And I can't wait to see our "Concept Starboard" at our international dealers meeting in San Diego on the 25th of September (http://www.world-dealer-meeting.com<http://www.world-dealer-meeting.com/>), which will showcase the use of as many of these new materials and processes as possible. The big idea is to drive ourselves, and the whole industry forward, by creating a realistic model for what could be achievable over the next 3 years to produce a eco-revolution in high performance manufacturing.
Reinforcing their commitment to thinking globally but also acting locally, Starboard is partnering with several organizations on their home turf in South East Asia to support sustainability initiatives focused on cleaning up plastic pollution from beaches and waterways (Trash Hero http://trashhero.org/),  fighting climate change (Worldview international foundation http://www.thorheyerdahlclimatepark.org/) and recycling styrofoam (Polyfoam http://www.polyfoam.co.th/home.html)  among others.
"We're stoked to be working with Starboard, our largest SUP and windsurf partner, and the first to shift their entire board range to plant-based epoxy resins," says Michael Stewart, Co-founder, Sustainable Surf. "Their commitment to actively start the process to embed the values of sustainability throughout their entire product and packaging range, and to work with local communities to clean and protect the ocean is something to celebrate everyday – but especially on World Oceans Day."
About Starboard
Starboard was founded in 1993 by Norwegian windsurfing world champion Svein Rasmussen, and is a top global brand across SUP, windsurf, kiteboard and surfboard design. The brand introduced an innovative molded wood sandwich technology from its early day's base in New Caledonia, propelling Starboard to become the windsurfing world leader by 2001 and further winning the PWA constructors championships 9 times the last 10 years.  As one of the most respected paddle board manufacturers in the world, Starboard has pioneered groundbreaking designs like the Whopper, Hypernut and Allstar,  while the  iconic Carbon sandwich technology set the benchmark in great craftsmanship. Starboard is leading the current SUP racers brand ranking with Connor Baxter, Michael Booth, Fiona Wylde and Matt Nottage, all on production boards. World champions  Sean Poynter , Izzi Gomez  and The  Ultimate Waterman Zane Schweitzer, lead a team of more than 300 riders world wide motivating the Thailand based HQ to be on the cutting edge of development.  Starboard (and all related "Tiki" brands) targets to become Carbon Neutral by the end of 2018, by implementing a number of eco innovations in its global operations. thus setting a new standard for what can be achieved in a short time.
About Sustainable Surf
Sustainable Surf is a California-based 501(c)(3) non-profit charity organization focused on transforming surf culture into a powerful force for protecting the ocean playground. We take an integrated "systems thinking" approach with our innovative programs and campaigns, which engage both individuals and businesses together in partnership to solve the most pressing environmental issues facing our oceans. Specifically, we focus on addressing environmental impacts such as climate change related impacts (ocean acidification, sea level rise and coastal erosion), marine plastic pollution, and water quality issues that threaten our shared "surfing habitat." – See more at: http://sustainablesurf.org<http://sustainablesurf.org/>