Garrett Fletcher has been practising SUP both recreationally and competitively for many years. He's more recently taken to outrigger canoeing. A sport he believes has real potential if certain criteria are brought together and it's given the right chance to flourish in a more mainstream environment. For outrigger specialist Woo, he spoke with TotalSUP about the status outrigger canoeing currently enjoys is in the USA, how he believes SUP and OC bear many similarities, and how he thinks outrigger culture could be more broadly popularised.
Garrett Fletcher, you are a very accomplished waterman and a SUP fanatic. You're also a big fan of outrigger canoeing. What first piqued your interest in the latter?
My first foray into the paddling world came through SUP. From the moment I first started training and competing, Danny Ching has been – and continues to be – my biggest inspiration.
As I started to conduct some research on different athletes and how they trained, I began to discover that many top athletes in SUP had actually transitioned from other paddling disciplines. Most notably outrigger canoe. Outrigger paddling essentially consists of the same stroke techniques as SUP, but it is much easier to implement the proper technique in a seated position, where maintaining balance is not as much of a distraction.
I have always been a huge advocate of proper technique, and this stems from my early athletic career in baseball and football.
Outrigger canoeing is an ancient tradition with roots in Polynesia and Hawaii. How developed is outrigger canoeing on the US mainland and in Florida in particular?
I had the opportunity to travel to Tahiti this summer and do some va'a training with some of the Tahitian clubs. The paddling culture in the Polynesian Islands is so deeply ingrained that everyone grows up paddling. It is the national sport there.
The west coast of the US has produced some great paddlers and they have done an amazing job of building strong canoe clubs all over, from Southern California to Vancouver, Washington.
The east coast is a few years behind in terms of club size and paddler participation compared to the west coast. Florida, for its part, has some strong paddlers but we are spread out all over the state.
You participated in Ze Race in Guadeloupe in the company of Woo and the brand's founder, Guy Ringrave. What was this experience like?
My experience at Ze Race was quite memorable. The island of Guadeloupe is my favorite island in the Caribbean. It is really just so beautiful and a true paddling paradise. The consistent east trade winds allow for some great downwind paddling.
I was fortunate enough to meet Guy on my trip. He got me into a Pueo and I was lucky because I got an 18km downwind run during Woo's downwind camp. I competed in the SUP division for Ze Race and it was the first time I had ever been in conditions of that magnitude.
Where I live and train, the wind and waves never get very big. During Ze Race we had some of the of the most challenging conditions, with the strongest winds in the race's history. Next year, I am hoping to compete at Ze Race again, but this time in an OC1.
What is your SUP training regime like? Does outrigger canoeing complement your SUP training? In what way?
I typically train 3-4 sessions per week on the water and 3-4 gym or land-based sessions on top of that. When I initially started out as a paddler, my training focused a lot on flatwater interval sessions and technique.
Lately I have been focusing my training much more on differing water conditions. If the surf is there, I do in and out beach starts and surf training. If there are downwind conditions, I do as many downwind sessions as I can.
Where I live, the wind is so inconsistent that months can pass by without ever getting over 12mph (19km/h). Then, for what seems like no reason at all, we get a storm that amps those winds up to 20mph (32km/h), only to be met the following day with no winds at all.
I still try to make sure I get a flatwater technique session in at least once a week. Lately, I have been implementing more and more outrigger training into my regular regime. Currently, I would say that half of my water time is in an OC1.
Last time we spoke with you, in December of last year, your sponsors were Yoloboard and Moneytree ATM. Have there been any new developments since then?
Yoloboard decided not to renew my contact as of August. I am currently still sponsored by Garden Of Life, who supply me with protein and supplements, and my partnership with Moneytree ATM continues.
Without the help of a major board sponsor, my racing season will likely be reduced to a few local races and perhaps one or two of the major international SUP events.
As my passion for outrigger has grown substantially, I have high hopes of competing in a few outrigger races as well.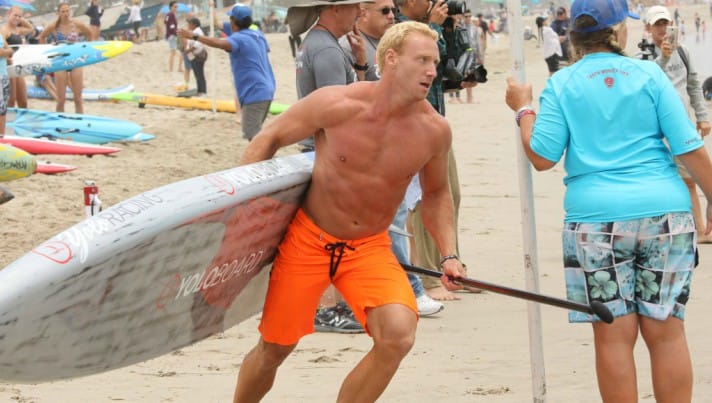 Outrigger canoeing remains somewhat of a marginal sport for the time being. What kind of future do you envisage for it, and what do you think would be needed for it to gain notoriety and traction in the US?
Outrigger canoeing is certainly growing in the US. Every few months I see a new OC on the paddling scene. Unlike Tahiti and Hawaii, the US has divided its athletes into multiple sports. All of our best athletes currently compete in land-based sports, such as football, baseball, basketball, soccer, etc.
There are many reasons for this, including the very high entry cost into the paddling world. For soccer, you only need a $10 ball and 22 people can participate. For paddling, you have to spend a good deal of money just for the equipment to train and then substantial money on top of that to travel to competitions and compete.
Clubs are a great way to help the sport grow. This allows people to take part as a group, training in six-man canoes, and through the use of club boats, it can greatly reduce the deterrence that cost of equipment can represent when you're first starting out.
The sport is spreading and increasingly gaining notoriety, but the biggest hindrance I see for the sport is a cultural one. We have to find a way to get the youth more involved.
Can you tell us about some of your favourite SUP spots and outrigger spots in the US?
I live on the Gulf of Mexico. My home beach is a beautiful place to paddle. White sands, crystal clear water with an emerald tinge. Also, just north of where I live we have many fresh water springs that make for fun paddle-based excursions and explorations.
Having travelled quite a bit throughout the United States, I think one of my favourite paddle destinations has to be Hood River, Oregon. The downwind conditions there are world-class and so consistent. On days when the wind doesn't blow, there are so many additional activities to enjoy there, from hiking to visiting waterfalls and checking out the local orchards.
I also love to go out to the west coast and paddle with the California outrigger clubs. The passion these guys have for the sport is invigorating and such a pleasure to be a part of.