Danny Ching & Shae Foudy take Overall wins at the Tommy Bahama Pier Paddle in Santa Monica this past Saturday

In his first race back since the birth of his daughter and the Carolina Cup, Danny Ching took first overall in the 6-mile distance race, followed by a second place in the PaddleCross (surf race), narrowly edging out Slater Trout in overall points.  Danny finished the 6-mile distance race one minute ahead of Chase Kosterlitz, and Slater Trout, however he still needed a strong result in the afternoon PaddleCross to claim the overall title that was based on combined results.

(Photo: Brian Kelly @briankelly19)
In the elite filled PaddleCross final, small waves tested the paddlers' skill and tactics, with the race coming down to a beach sprint finish, sprinting up the sand with Slater going all out to charge across the finish line and claim the win, with Noa Hopper and Danny in a tight finish for second.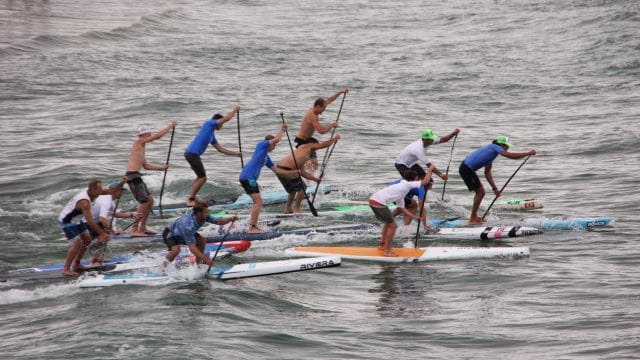 (Photo: Brian Kelly @briankelly19)
On the women's side, Shae Foudy pulled out the Overall win for the second year in a row, just beating Candice Appleby in points. Candice won the distance, as well as placed 2nd in the prone paddlecross.

(Photo: Brian Kelly @briankelly19)
It was also great to see Brazilian paddler Jonas Leteiri return to California for more racing experience. Despite his physical disadvantage, Jonas competed in the elite division against many of the world's best guys. It was amazing and inspiring to see in person.

(Photo: Brian Kelly @briankelly19)
The day was a huge success, with $15,000 in prize money dispersed to all the elite winners.  Participants and spectators were also able to enjoy a Sierra Nevada Beer and Rum Garden as well as many live performances, headlined by legendary surf guitarist Dick Dale.
2016 Tommy Bahama Pier Paddle 
ELITE RESULTS
Overall results based on LD + PC
(PaddleCross was the tiebreaker)
ELITE WOMEN
[table id=6 /]
ELITE MEN
[table id=5 /]
Click here for the full results from all races and divisions