With a new low cost airline connection between Miami and the beautiful island of Guadeloupe in the French West Indies, Ze Race (aka Ze Caribbean Race) should soon attract tens of US riders in search of new SUP downwind adventures. On January 28th 2017, the first American SUP racer to take part in France's longest ocean race will be Yoloboard athlete Garrett Fletcher. Interview…
Hello Garrett, could you introduce yourself to our readers ?
I am a lifelong resident of Destin, Florida. I grew up admiring the surf culture and lifestyle but couldn't fully embrace it due to the lack of consistent waves on the gulf coast. I was introduced to SUP in 2010 in the Florida Keys and then pursued the sport back home, participating in my first race in 2012. I am a former baseball and football player and I attended Huntingdon College in Montgomery, AL on a football scholarship where I became a record-setting starting tailback while studying Athletic Training and Exercise Science. Now, I apply my athletic gifts to training and competing at a professional level in SUP racing. In 2016 I was ranked as high as #48 in SUP Racer's World Rankings. In 2015, I set the course record for the Big River Regional (14' Division) in Baton Rouge, the East Coast Paddle Board Championship (14' Elite Division) and received the Michael O'Shaughnessy Triple Crown of SUP racing for Florida by earning the lowest combined times in three major state events: the Florida State Championship, the Key West Paddleboard Classic and the East Coast Paddleboard Championship. I am a very competitive person, so I love to go out and compete and push myslef. But the thing I love the most about this sport is the SUP community. Everyone is so supported of each other. Unlike a lot of other sports, it can be all about the competition whereas the SUP community is more about relationships and being supportive of each other.
Can you tell us what kind of SUP racer you are? Which races did you take part in this year?
For the first few years of my paddling career I only trained flat water. With my football background I am stronger than most SUP competitors so I began to excel at flat water where I was able to apply my strength. As I began competing in ocean, downwind, and technical beach races, I began to realize that this sport is extremely technical and requires much more than conditioning and strength. In 2014 I participated in the elite division at BOP in California. This was the first time I had seen waves of that magnitude. After that race I began training in the ocean as much as possible. I was also introduced to downwind racing in 2014 at the Columbia Gorge in Oregon. I love downwind more than any other type of paddling and I am always looking for the next downwind conditions. I still believe my strength as a racer lies in flat water races but I am working on my open ocean paddling skills.
In 2016 I competed in 22 races. 18 Stand up and 4 Outrigger races. My most notable races were:
– The Hanohano Huki challenge in California
– The Coconut Cup in St. Croix
– The Carolina Cup in North Carolina
– The Key West Classic in Key West
– The Florida Cup in Treasure Island
– The Florida State Championships in Cocoa Beach
– The East Coast Paddleboard Chmpionships Daytona
– The Gulf Coast Paddle Board Championship in Perdido Key
– The Naish Columbia Gorge Challenge in Oregon
– The Battle on the Bay in San Francisco California
– The PPG (Pacific Paddle Games) in California
– The Chattajack in Tennessee
Will this be your first time in Guadeloupe? What do you expect to find?
I have been to the Virgin Islands a few times so I know how beautiful the weather and the water will be. However, I have never been to Guadeloupe so I am not entirely sure what this Island will have to offer but I expect it will be a great adventure. I am looking forward to the incredible downwind conditions that the Caribbean has to offer.
How did you hear about Ze Race and why did you choose to take part?
My Friend Romu (Romuald Mamadou) who lives on Guadeloupe told me about the race and asked me to participate. I love to travel and am always looking for an excuse to travel to the islands. It is cold this time of year in North Florida so I am very excited to travel to a beautiful, warm destination. I hope to compete in the Hawaii channel crossings some day so I believe this will be a good way to prepare.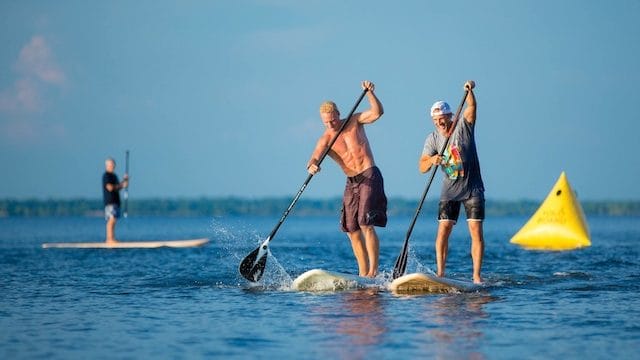 Are you bringing any other florida SUP racers with you?
Unfortunately I believe I am the only Florida rider coming down for this event. Logistics can be a bit tricky for most people.
Would you like to add anything?
I want to say how much I am looking forward to this trip and exploring the beautiful Island of Guadeloupe. I also want to thank my sponsors YOLOBOARD and Moneytree ATM. Without them, this trip would not be possible.
More info Ze Race here: www.facebook.com/zecaribbeanrace/