Starboard SUP took all 3 spo the Paris SUP Open, ending the season on a high. Micheal Booth straight from his win at the ISA's in China dominate the race and took an assure victory.
The APP tour rounded off its 2018 race season last weekend with the Paris SUP Open. In upwind and brutally cold conditions 800 paddlers including 30 elite athletes lined up on the River Seine, Paris. The amateur racers started off first followed by the elite men and then the elite women.
Starboard racer Micheal Booth started strong from the beginning, with Italian Claudio Nika following close behind with Arthur Arutkin holding third position. Just as the Eiffel Tower came into sight Hawaiian Connor Baxter made his move to propel himself into 3rd position. It didn't stop there for the Hawaiian based paddler, he then made a move on Claudia taking advantage of a brief moment of instability from the Italian in the choppy conditions.
The wind certainly played its role in the race, as well as the back wash from the walls making it a challenging paddle for all.  The race saw clever positioning and paddling from Boothy, who used the currents to help improve his position, at some points there was not even enough space between himself and the wall to place his paddle in the water.  The Australian continued to be strategic in his moves throughout the race, using the river side structures and amateur paddlers to hold his position and box out the other racers. Aussie paddle Micheal commented on his race "Couldn't be happer to take out the last SUP race of the season here in Paris!"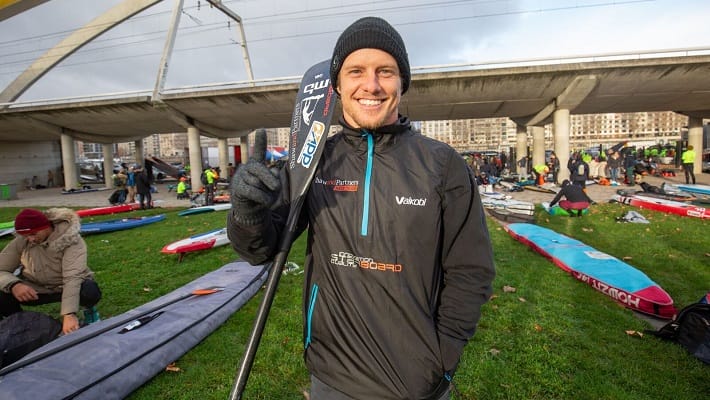 The race turned up a gear in the last 600 M of the race the three starboard increase their strangle hold on the race. Boothy then turned on the boasters and made sure he won, putting in some strong hammer strokes. The last hundred metres it was a two man show with Connor not giving up his position.  The final hundred metres saw Micheal throw the hammer down gliding into victory in 1st place, with Connor Baxter 2nd and Leonard Nika in 3rd. Making it a Starboard 1,2, 3!