Starboard has just released its new range of SUP race boards. The range which has the All Star, Sprint and Ace have all been tweaked for next season.
Starboard HQ commented on the range "After an exhausting hunt for the highest-performance and more environmentally-friendly materials, the new designs were tested by our multiple World Champions; Connor Baxter, Michael Booth, Daniel and Bruno Hasulyo , Fiona Wylde and Sonni Hönscheid. Only the best shapes survived and went onto production so we can yet again challenge for more titles in 2019″.
Starboard HQ expanded that "Starboard riders are presently leading the SUP racer Paddle League world ranking and have done for 5 years straight, this is with all riders using stock production  boards. Starboard's 2019 race range is faster, more stable, and the designs are breaking new boundaries in the sport".
For every board sold, Starboard are picking up plastic equivalence of 200 plastic bags from our coastlines. They also plant one mangrove for each board sold, which will absorb ovr one ton of CO2 over the next 20 years. Starboard HQ introduces the range to TotalSUP.
Starboard All Star
The Starboard All Star is a board designed so you can have one board for all conditions, and at the same tile be an all-star at every race. The board has a high-performance shape which has been designed by world class athletes, with a target rider weight of up to 115 kg.
From progressive level riders to elite racers. The All Star is the world's most successful, user-friendly and versatile race design.
The updated bottom shape is more stable when switching between strokes, allowing you to maintain a smooth and balanced glide without disrupting the speed.
Narrower tail outline offers faster acceleration and gives you more glide with every stroke.
The Flatter tail makes turning easier and gives a smooth release to the board.
The Boxy tail let the waves push the board forwards on downwind courses.
14'0"x 22.5" & 12'6"x23" All Star boards remain the lower-volume models with a thinner overall profile and the narrowest width suitable for lighter riders.
Key features: Boxy rails. Fast center channel, flatter tail concave, stable side planes.
Conditions: All.
Starboard Sprint
Meet our fastest board, The Ferrari of the range. The Starboard Sprint is the ultimate speedster for flat water and chop. It is a board that has be disgned to have instant acceleration, amazing top end speed, and suitable for riders up to 115 kg. Starboard HQ stated "The 2019 Sprint is hands down the fastest race board we ever produced. Refinements in the standing area increase the overall comfort and control, while the improvements in bottom shape upgrade the overall stability and speed."
The all-new 2019 Sprint – instant acceleration, direct turning and controlled stability.
A refined bottom shape with a straighter channel, flatter side planes has a faster and more stable glide.
The new extended standing area with straighter tail angle makes for more controlled trimming and buoy turning.
Flat-rocker extends the glide for fastest speed, while the sunken standing area with high side rails gives greater stability and control in chop.
Carbon Sandwich, the board is available in the lightest, fastest and strongest Carbon Sandwich Technology.
Key features:  Boxy rails. Fast center channel, flatter tail concave, stable side planes, sunken standing area, flat rocker.
Conditions: Perfect for flat-water to small chop.
Starboard Ace
When there's chop, you need pop. The Starboard Race is the downwind game-changer for choppy water and open-ocean conditions, and is a board for riders up to 100 kg.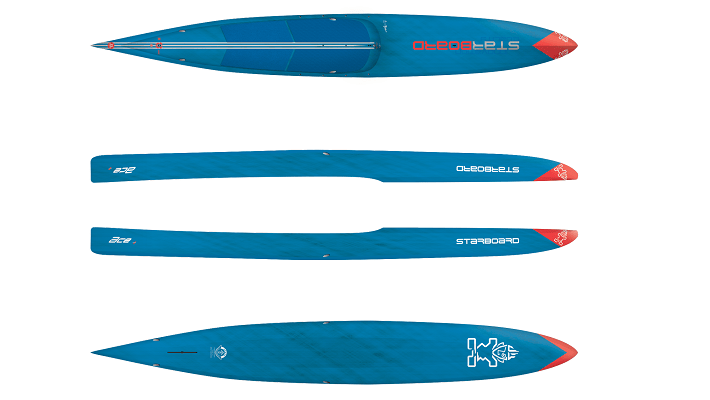 Narrower nose outline for less resistance and better  glide through waves.
 Refined nose design and rail height allows more pop and stability in chop.
Lowered nose rocker and raised tail kick helps the swell push the board into bumps earlier and gives greater maneuverability when surfing on the tail.
Widened inside tail gives more room for greater control and comfort when surfing and in buoy turns.
The Ace has sidewalls that block water entering the tray, offering increased pop, secondary stability, and greater control surfing on rail. It also posses a new rounded rail edge in the sunken standing area making it a friendlier re entry onto the board.
Key features: NASA outline with full nose and narrow tail, sunken standing area, high volume nose, curved rocker.
Conditions: Open ocean, upwind and downwind races.
All models feature new diamond grooved deck pad in the standing area, and come in 12.6ft and 14ft sizes. The All Star and Sprint both have a diamond grooved tail pad for extra grip and control for buoy turns. All models feature multiple handle mount positions for beach starts!