Slovenian Kite surfer and Stand Up Paddler Spela Zupanc caught our attention with a beautiful video of one of her SUP & Sail Safari trips to neighboring Croatia. This triggered a great opportunity to find out more about stand up paddling in Slovenia and Croatia, two destinations we are eager to discover on SUP!
Stand Up Paddling in Slovenia
Hi Spela, can you introduce yourself to our community of paddlers? 
I am Spela, a 29 year-old travel freak from Slovenia, who is in love with all kinds of sports –  from functional trainings, yoga, slacklining, mountain biking, to my favourite activities as stand-up paddleboarding, kitesurfing and snowboarding.
Among other things, I like meeting new people and dancing at music festivals, but also treating myself to tropical food smoothies, reconnecting during meditation, and reading articles about new technology trends, social media and marketing. I am a marketing and social media manager, travel adventure designer and instructor at BANANAWAY, a kitesurfing and stand-up paddle agency and school. I like wandering around the world as much as creating special holiday experiences at the best destinations wordwilde, for SUP and KITE lovers!
How big is the Stand UP Paddle scene in Slovenia?
Stand-up paddling is a new sport in Slovenia, but it has been developing quickly for the last 2 years. Slovenians really are sporty people: they are crazy about skiing, football, hockey, running and they now are getting crazy about stand-up paddling too. Bananaway started to organize SUP tours for beginners in 2012. At the moment, not many people knew about it nor wanted to try, but since 2014 we have been noticing a really big change. We showed people that SUP can be very stable and that anybody can do it. Mostly we use Red Paddle Co Ride 10'6 and 10'8 inflatable SUPs, which are just perfect for beginners. So yes, people started to talk about SUP, bought their own equipment and realized they have to know more about suitable conditions, the right technique, safety, and so on.
Sport is progressing also at competition level and professional training level. The SUP section of the Slovenian SURF association organized 8 SUP cups and 2 national competitions in 2015. We are also preparing the program for SUP instructors' training and licensing. So things are getting good!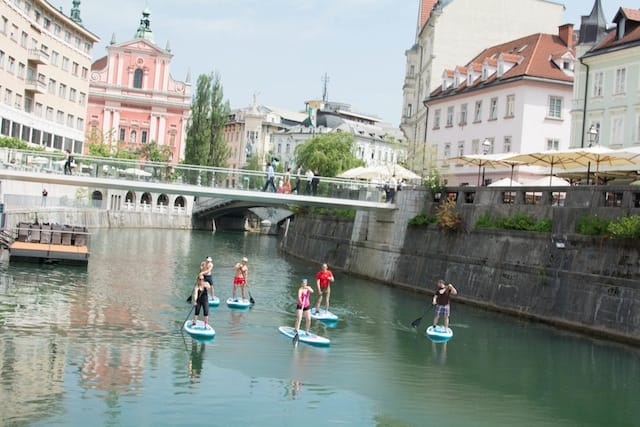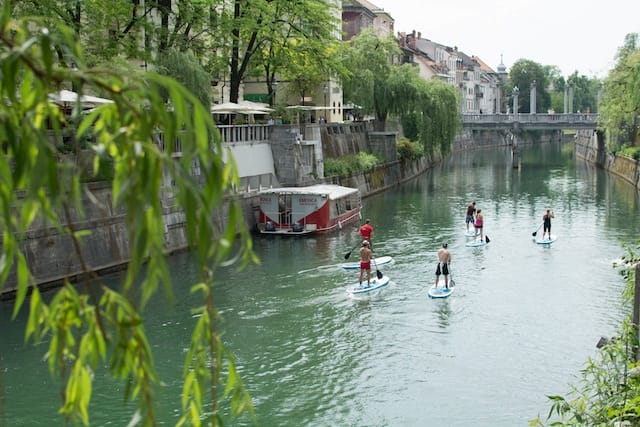 Can you describe Slovenia as a Stand Up Paddle destination for SUP travelers?
With 20.000 km2 and only 2 millions inhabitants, Slovenia is small country. Many tourists compare it to Switzerland and New Zealand. It's really green, diverse, pristine and culturally rich. It has all 4 seasons and many gorgeous SUP locations. My favorite is absolutely Soca river with it's emerald colour. It is simply breathtaking. But you have to know which parts are slow and suitable for paddling as it can be also very dangerous. Otherwise I would take you to tourist-favorite lake Bohinj and lake Bled, the sometimes very wild Cerknica lake, Krka or Kolpa river. I also like paddling through the center of Ljubljana, the capital of Slovenia. I love it because it's nice to see how Ljubljanica river is changing its surroundings – from calm, pristine nature to urban queen. These locations are the most popular, but then we have many small lakes and a couple of easy rivers, where locals meet and SUP.
Slovenia has also a seaside. We are talking about only 40 km of sea shores but good enough to get some action going. My favorite spot is Mesecev bay, which is not accessible by car. On nice sunny days the sea is flat in the morning and choppy through the day. Therefore it's a quiet place to paddle to and relax while checking the sunset. We have no waves unfortunately. For that we have to drive to Italy or Croatia. 
Otherwise, the best time to visit Slovenia is from Spring to Autumn (April to October), with the top season being summer time (July and August). Of course we are trying to extend the season with organizing SUP trips for "penguin" (haha). But I have to confess, I am more a summer type of person, so these colder trips are organized only on warm sunny day in winter.
Stand Up Paddling in Croatia
Could you take us through the different scenes from your video of SUP Safari trip in neighbouring Croatia? 
SUP and Sail Safari Croatia is a video made from a sailing trip in the middle Adriatic sea. It's all about exploring, paddling along beautiful beaches, relaxing, breething fresh air, meeting new like-minded people, jumping off the sail yacht and connection with yourself. The views are fantactic – we will glide along high cliffs, visit Sacarun bay, Telaščica Nature Reserve and Kornati Islands National Park, sunbathe on gorgeous beaches, carry out SUP games and SUP workout activitiies at sunrises and sunsets, paddle out for a night swim and the bravest can go on a downwind trip on a windy day. But what I like the most is that plan is not fixed, tour is very alive as we will adapt it to weather conditions. So when we made the first trip my dreams came true and I am looking forward to next SUPerb adventure!
Tell us about your school and where to find you.
BANANAWAY is a sup & kite boarding school and tour agency specialized in creating kite and SUP adventures, based in Ljubljana, Slovenia. The Bananaway team is a team of skilled and educated (ASI and IKO certified), ambitious, open minded, a very positive instructors, who will make your holidays unforgettable. If you like paddle boarding but at the same time you want to know more about the country you are visiting, I invite you to our 3 or 5 days SUP Adventure in Slovenia. It focuses primarily to Stand-up Paddling in the most stunning SUP locations in Slovenia and combines it with other sport activities (city cycling, hiking, slackline-ing), sightseeing and indulging in culinary treats.
Who it's made for? For all active people, who swear by exploring a new country through locals' eyes, enjoy meeting like-minded and active people. Hope to see you here.