Popping up on our radar once again in September when she took home gold in the women's Sprint category at the 2017 ISA World SUP and Paddleboard Championship in Denmark, Slovenian Naish sensation Manca Notar has been making quite a name for herself on the European SUP circuit as of late. Collaborating with Red Bull and garnering numerous accolades for her noteworthy and nimble stand up paddle performances, Notar is certainly no stranger to SUP success. The rider hails from Slovenia, one of Central Europe's most enticing sporting destinations, boasting dramatic undulating landscapes and waterways of a rare and striking beauty. For TotalSUP, she was gracious enough to give us a glimpse of what makes her home country so appealing, both as SUP spot and as a lesser-known getaway. So, with Notar as our guide, let us have a slice of SUP in Slovenia.
So Manca, what is Slovenia like?
Slovenia is a small European country wedged in between Italy and Austria, with population of around 2 million people. In terms of scenery, landscapes and general topography, it's very diverse, from lakes tightly enclosed by the surrounding Alps to the glistening Mediterranean Sea and beautiful rivers that course through the country's veins.
Much of the countryside is lush and verdant, offering a vast swathe of different terrains on which to practise sports of all kinds, both on and off the water.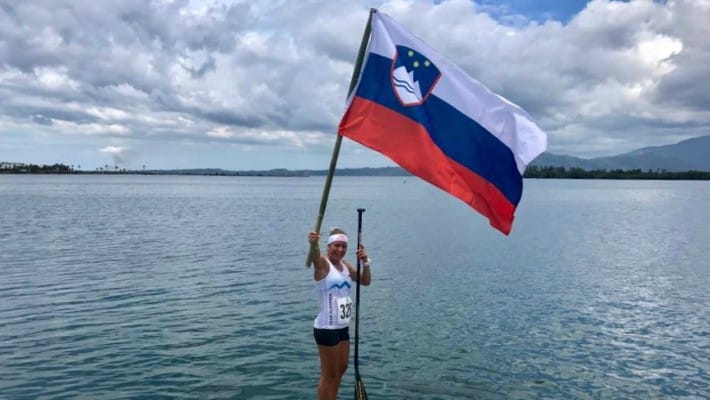 What's your connection to Slovenia? Did you always live there?
I was born and raised in Slovenia, so it is my homeland. This is the place where I first took up sports and it is where my sporting career began. I was always a very outdoorsy type.
My parents taught me how to ski from a young age and I always loved to climb. I climbed what seemed like every mountain in Slovenia, just for the thrill of the great outdoors.
I also learned how to swim early on, and it was home in Slovenia that I first took up windsurfing and SUP too. I mostly train on Lake Bled, but I also love to mix it up a bit by going to the seaside or to Slovenia's many rivers for some flatwater practice.
What is the Slovenian SUP community like?
There is a burgeoning SUP community in Slovenia and it is very diverse. We have quite a few SUP clubs and on SUP races you can see participants in all divisions and categories, from youngsters to the highly experienced.
How easy is it to rent SUP gear and gain access to stand up paddle in Slovenia?
Absolutely, there are many different providers from which you can rent stand up paddle boards and paddle on the many lakes and by the seaside. Recreational SUP is becoming very common in Slovenia and SUP tours for foreigners and holidaymakers are really taking off.
With our club, you also have the possibility of paddling through Slovenia's charming and beautiful capital, Ljubljana. Within the club itself, you can also apply for guided SUP tours.
Are there many SUP clubs and schools there?
Yes there are a few really good ones. I'm personally part of SUPklub, which I would say is the biggest and among those that have the most influence. The club rents rent out the gear to its members, it provides lessons and organises some stand up paddle events.
But what I like the most is that they have a SUP school for kids. They have a special training programme for kids to learn how to stand up paddle in a fun, supervised and convivial environment. It's great that SUP is being taught to the next generation.
What major Slovenian SUP events are there? Which do you prefer?
In Slovenia, we have quite a lot of SUP races from April to October. That's the high season for stand up paddle. It's also when the temperatures and weather is best for paddling. We have the Slovenian SUP Cup, which has many stages in different environments, from seaside, to rivers, to lakes etc.
Personally, my favourite ones are the races that take place in Ljubljana, the country's capital. The 2.5km-long race along the river Ljubljanica starts and ends right in the middle of city centre, so there's always a lot of people watching and cheering us on. This creates a really nice atmosphere and the buzz really spurs you to go that one step further.
Another race I really like is the Bohinj SUP race. Bohinj is a beautiful lake surrounded by the Alps and the scenery is really spectacular. And the last one is race on the Soca River, which is a UNESCO-protected river with stunning turquoise water. It can be just breathtaking.
What are Slovenia's best stand up paddle spots and why?
Unfortunately, Slovenia is not known to have good wave spots, so it's harder for me to train for technical races. For wave spots, it's best to drive further south to Croatia and try your luck there.
And the country's best downwind runs?
We might not have the best waves, but we do have a fun downwind run on the coast. In Slovenia, we have a wind called the Bora and it usually blows in Spring and Autumn. It creates just the perfect conditions for a sublime downwinder.
You should start out from the peninsula at Ankaran, and finish in the beautiful town of Piran. The route is around 13km long and if you get lucky with really strong winds you can get some really nice bumps.
I filmed the route in collaboration with Red Bull 2 years ago, so you can check that out if you want to get a closer look into this downwind route.
And as a tourist in Slovenia, both on and off a board, what can we indulge in?
I think that for recreational SUP, in Slovenia, paddling around Lake Bled its a must. Evidently, the lake itself is know all around the world, and experiencing it on a paddleboard gives you a whole new perspective on things.
The lake has a little island in the middle, with an adorable little church, and it offer beautiful vistas on the surrounding Alps. And while you're in Bled, trying out the local cake, kremšnita, is another absolute must. A kind of creamy mille-feuille, it's positively delightful and entirely authentic… just as your stay will be in Slovenia if ever you go there for a spot of stand up paddle or otherwise.
Photo credits: Marko Notar / Manca Notar