Boothy and Sonni make history as ICF's First SUP World Champions
Australia's Michael Booth and Germany's Sonni Honscheid had to call on all their experience in tough racing conditions to become the first ever ICF stand up paddling world champions on Friday.
Here are the full Results, Live Streams, Video Interviews and Video Summary of Day 1 of the 2019 ICF SUP WORLD CHAMPIONSHIPS in Qingdao, China !
Strong winds made the race a challenge for the top international field. Several of the athletes described the conditions as 'brutal', forcing Booth and Honscheid to dig deep to wear down their closest rivals.
Booth came to Qingdao with a long list of SUP titles to his name, and looked to put his stamp on the ICF long distance race from the start. But it took him well into the final circuit of the three-lap race to see off the challenge of Hungary's Hasulyo brothers, Bruno and Daniel.
"It's awesome to be able to call yourself a world champion, and to be the first ever ICF world champion is pretty special. No-one will be able to take that away from me," Booth said. "I had a really good race, I just stayed in there, I didn't lead too much, but led enough to be still pulling enough to see what the guys were doing. "Daniel and Bruno raced absolutely fantastic, and I had to throw my dice right at the end there and I just got away. But I knew if I made just one mistake, Bruno would have got me. "I nearly had a fall right there at the end, and that would have been it. You want these moments, you want to win, and I'm just really happy to have got it done on the day."
Bruno Hasulyo finished second, 13 seconds behind booth, with brother Daniel a further 20 seconds back in third.
The rough racing conditions caused carnage in the women's race, with almost half the field unable to finish. But the turbulent ocean suited Sonni Honscheid, who found herself leading for most of the race.
Only France's Olivia Piana was able to hold on to the German, but when Honscheid popped the question on the final lap, the Frenchwoman was unable to match the challenge.
"I still can't believe it, I think it has to sink in still, I feel like I'm floating in the clouds," Honscheid said. "It was a great race, I had a lot of fun, I felt strong all the way. I was looking back quite a few times, because anything can still happen, even in the last few metres of a race you still can make a mistake. I almost fell one time, so I really just had to focus on myself. "Just coming here to Qingdao, and paddling in this place, there is a very special energy.I really enjoy paddling on the open ocean. I'm not the sort of person who likes to race in small places. I still love it as much as the first day I started."
Piana finished a clear second, with USA's Fiona Wylde picking up the bronze medal.
Japan picked up triple gold in the age division long races, with Rai Taguchi and Kei Komatsuyama taking the top two positions in the men's juniors, Miu Kogai finishing ahead of New Zealand's Brianna Orams and China's Shujing Lai in the women's juniors, and Takayo Yokoyama winning the women's 40+.
Canada's Tamas Buday, who spent the lead-up as one of the instructors at the ICF SUP development camp, took gold in the men's 40+, Israel's Ofir Ram took the men's 50+ title, and host nation China celebrated gold in the women's 50+ through Jie Tao.
Results of Day 1 Long Distance of the ICF World SUP Championships 2019
ICF SUP Worlds – Long Distance – Open Women 
ICF SUP Worlds – Long Distance – Open Men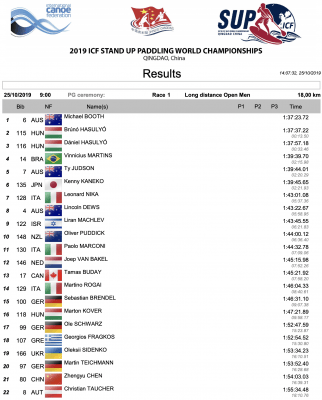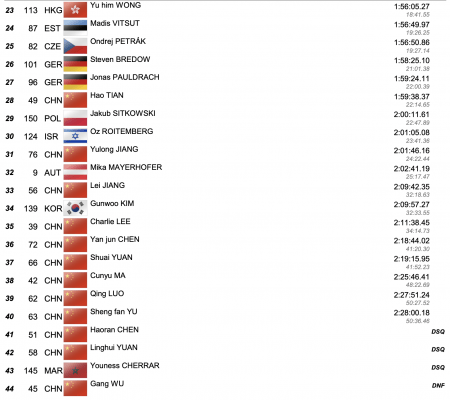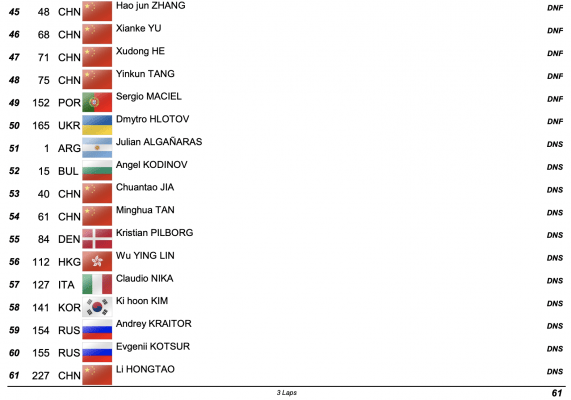 ICF SUP Worlds – Long Distance – Junior Women
ICF SUP Worlds – Long Distance – Open Men 
ICF SUP Worlds – Long Distance – Master 40+ Women 
ICF SUP Worlds – Long Distance – Master 40+ Men 
ICF SUP Worlds – Long Distance – Master 50+ Women 
ICF SUP Worlds – Long Distance – Master 50+ Men 
ICF WORLD SUP CHAMPIONSHIPS 2019 – Day 1 – Live Feeds & Videos
Long Distance – Open
Long Distance – Juniors, Master 40+, Master 50+
Long Distance – Top Men's Finish
Long Distance – Top Women's Finish
Interview of Sonni Honscheid – Gold Medal – ICF LONG DISTANCE WORLD CHAMPION
Interview of Michael Booth – Gold Medal – ICF LONG DISTANCE WORLD CHAMPION
Video Highlights of the 2019 ICF SUP WORLDS DAY 1
The 1 minute summary by Chris Parker
Get ready for Day 2's Sprints
Day 2's 1st webcast will start on www.facebook.com/totalsupofficial  or on TotalSUP.com dedicated live feed page