Our friend, the professional photographer Marcela Antunes, known for her work with www.BarcefootBCN.com had the priviledge to meet Jonas Letieri a few weeks ago and ask him a few questions for TotalSUP. The talented brazilian SUP racer who lost both forearms at the age of 26 is a true force of nature and has a couple of words of wisdom for our readers.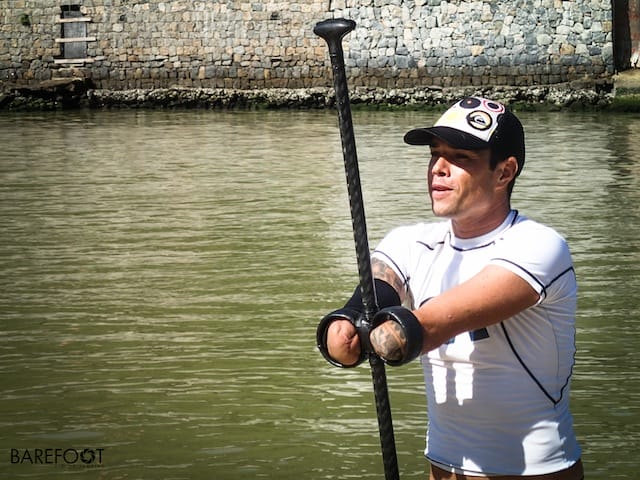 TotalSUP: Hello Jonas, where are you from and where do you currently live?
Jonas Letieri: I come from Santos, São Paulo, but I currently live in Cabo Frio, Rio de Janeiro.
How did you get first in contact with a SUP board? Can you tell usa little more about your story in relation to our sport?
I have been surfing since the age of 13 years-old. I spent my whole life surfing in the sea, but at the age of 26 I had an accident that led to the loss of my two hands and following this event, it became very difficult to surf. That's when I discovered Stand Up Paddling and that's the way I found to to get back to the sea and surf again.
How did this accident influence your life and your approach to SUP?
Losing my hands was very difficult, but not being able to surf was even worse. I had to relearn how to live without hands, everything I did so easily before was now a challenge, including surfing. I tried for a year to use a short board and a longboard but it didn't work, which made me very sad. Not being able to surf was the worst feeling of my life. But God gave me a second chance and SUP was my salvation. Returning to surf made me feel whole again.
Here is a great video from 2013 featuring Jonas Letieri:
What technical adjustments did you have to do to keep practicing SUP?
I got the idea to put two rings on my paddle to fit my arms so that I can paddle. The board however is the same as anyone's.
When did you decide to become a professional SUP athlete?
After I got back to surf, a friend invited me to take part in a SUP race event. I just went there to participate and enjoy with the guys. But I had a very good performance, making it to the finish line before several other athletes. That day, I realized I could rewrite my history with the SUP and make it my life.
What has been your greatest achievement with SUP so far and what are your future goals?
I placed second in the BATTLE OF THE PADDLE BRAZIL. My goal is to participate in the Molokai to Oahu in 2016 and run the SUP World Tour.
How do you see SUP in Brazil?
The SUP in Brazil has grown in a massive way. Today, we have large circuits with organization and award that leads us closer and closer to the international championships.
What are your sponsors and 'supporters'?
I am currently backed by MISTRAL and Kelly'S
Any words of wisdom you could give to the TotalSUP readers?
Never give up on your dreams, no matter what happens, it may seem impossible, but fight with all your might, believe in God and always go forward. Make your life worth living. Aloha.
You can find follow Jonas Letieri on Facebook:
www.facebook.com/atletajonasletieri
And check out Marcela Antunes's photographic work on:
www.barefootbcn.com
www.facebook.com/pages/Barefoot-Bcn/1693064850913324