This season the Infinity SUP SpeedFreak squad was boosted with the signing of Brazilian SUP racer Lena Ribeiro. Lena may not be a familiar name for some but she has been competing at the top level for a long time with a very impressive set of results including a top 10 finish in the 2015 ISA World Championships, multiple gold medals at the Pan-Am games, top 10 at the Carolina Cup and two wins in the iconic 11 Cities SUP Race in 2017 and 2019. Chris from TotalSUP was keen to find out more about Lena the SpeedFreak.
Hi Lena, welcome to TotalSUP! The last time we featured you on the site was back in 2017 after your first 11 Cities SUP Race win so can we start with a simple question to refresh our memories, who is Lena Ribeiro?
Hi TotalSUP, I am a 42-year-old Brazilian SUP athlete with a degree in Nutrition and Physical education and a masters degree in Nutrition. I was born in Niterói and have been living Arraial do Cabo for 19 years, both cities are in Rio de Janeiro state in Brazil. I have been married for 21 years to Américo, who coaches me and we have two sons, Kauai (20y) and Maui (15y).
Competitive sport has been a huge part of my life but I have no surf, paddle or any kind of board sport in my background. Between the ages of 11 and 20 I played handball at a high level and was part of the under 16 National team.
I found SUP when I was 29 years old, and in less than two years I was competing. My husband had started paddling to help him recover from an injury and encouraged me to paddle and then train with him, from that beginning I started to compete. The idea was to race as an amateur, just to have fun but I started dedicating more time to training and began to do well in national competitions. Competition was not easy, I had to work as a university professor and take care of my children who were very young. It took a lot of planning and discipline to train and travel to compete.
That dedication certainly paid off! Your SUP Race results are very impressive…
Thank you, it is still not easy, but, for me, planning and discipline are the key to good performance in races.
The other big challenge for me was waves. With no surf background, it was very difficult to learn how to surf with a SUP race board. My husband helped me and is still helping so much. He has surfed since he was a child and his experience has been valuable, now my older son, Kauai, helps me so much too. He is an excellent surfer!
At the moment, most of my time is dedicated to my career as an athlete, because I know I do not have much time ahead to compete at a high-performance level. I also work as a canoe (Va´a) teacher and manager at our Canoe School.
This season you have joined the Infinity SpeedFreak squad and your social media shows you with one of the fantastic-looking crimson Blackfish flatdeck boards, I have one too. How does the Blackfish fit with your paddling style?
I am super stoked to join the Infinity SpeedFreak squad this year! I love the brand's attitude and lifestyle and is a big honour to take part in a team with awesome athletes.
With more than 10 years of competition experience, I have had the opportunity to try some of the world's best boards. So, I can say the Infinity Blackfish board is amazing. It is fast, has a strong construction, is versatile, and is so beautiful!
I am using a standard Blackfish flatdeck 14´x21,5", it fits so well for me. I live and train in a place with a lot of variation of conditions, so it is important to have a board that works well in all conditions.
Actually, I think this is a very important feature for a SUP race board. Most people can have just one board and even those who can have more boards most of the time just can take one board on a trip. Soon I will get a Blackfish Dugout. I think this model can be even more versatile.
And what are your competition plans for the rest of the year, are you targeting the PanAm games and, if you are how to prepare for such an important event?
For sure PanAm games is the most important competition of the year.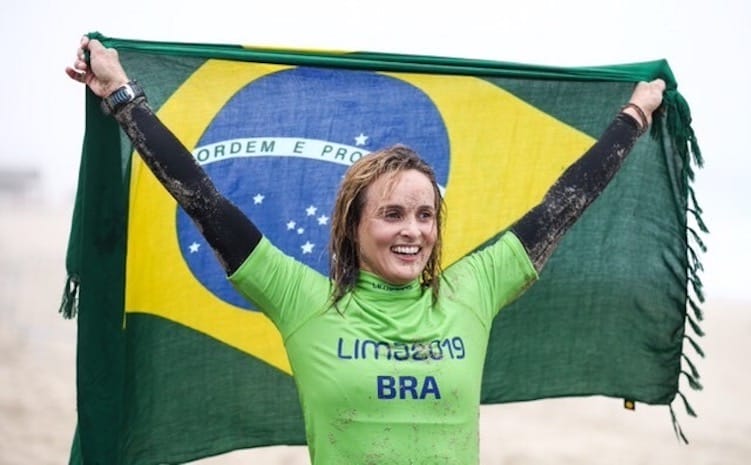 Representing your country as part of a big team of athletes from different sports is very special. We have the opportunity to showcase our sport to everybody, outside of our sup community.
Despite the PanAm games magnitude, I am preparing the same way I do for all competitions. I work with my coach, researching the possible conditions of the event location and both he and my physical trainer plan training sessions on the water and out of the water and specific technical training according to the race features. No secrets! Just train right, eat healthily and get enough rest, day after day.
If I have the opportunity I would like to compete in more international events this year as well.
You have been on the SUP Race scene for a long time and are still very competitive, what is the secret to staying at the top for so long?
In fact, there are no secrets, no shortcuts, just keep up the hard work. Consistency. It's worth nothing to train well for one or two months or eat healthy for a week. You must do this day after day, for years. No excuses.
A lot of people want the results, but few are willing to go through the process.
If any TotalSUP readers are looking for ideas for new places to SUP what can you tell us about SUPping in Brazil? It is a huge country so where should a visitor start?
Brazil is an amazing country to paddle. We have all the conditions a paddler could wish for, waves, flat water ocean, rivers, lagoons, downwinds. We have a huge coast, big rivers, good weather all year, beautiful landscapes, enormous biodiversity…
There are a lot of places to paddle, many of which I have never visited. I could suggest a thousand places, but I will suggest some of my favourites.
First, of course, is Arraial do Cabo, where I live. This is a city on the coast of the state of Rio de Janeiro. hereto will find very clear blue water, downwind paddle conditions, some waves, and very beautiful beaches.
Angra dos Reis is another city in Rio de Janeiro state that I love. In this place the water has a so beautiful green colour, there are a lot of small islands and beautiful vegetation. Most of the time is no wind and waves, so is perfect for a long paddle, for example out to or around Ilha Grande ("Big Island").
Other two incredible places to SUP in Brazil are the rivers in Amazon rainforest (Amazonas state) and Pantanal (Mato Grosso do SUl state). These two places have a such singular beauty! Animals, plants, culture, everything there is special. As they are far away and wilder places, I recommend looking for companies specialising in tourism in these regions. But if you have the opportunity, it's worth paddling there.
And how about racing in Brazil, when we have featured races from Brazil there seem to be a lot of racers on the startling. It looks like there is a massive SUP scene there?
We had a solid national championship from 2011 to 2019 with races in different states and a lot of participants. Sadly in 2020 this championship stopped, but it was back in 2022 under the new management of the Brazilian surfing confederation (CBSURF).
We also have strong amateur championships like the Aloha Spirit Festival, which is a big meeting of different watersports.
Despite these events having a lot of paddlers I think we could have more SUP paddlers in Brazil because of our amazing conditions for this sport. I do not see as many kids and teenagers paddling in Brazil as I see in the USA and in Europe. Is important to think about strategies to encourage younger ones to start to paddle.
I think we would all agree, getting younger paddlers into the sport is something that some countries are very good at and other countries will have to work hard to catch up on the international race scene.
Another point I would like to take up is how difficult it is to travel with a 14' SUP board. Many athletes I know, and I have been unable to take part in some competitions because we often cannot transport our boards by air. For me, the SUP community should talk about this problem. I have no doubt that this situation impairs the growth of SUP racing around the world. Maybe shortening the maximum SUP race board length in professional competitions could help the development of the sport.
I know that is something that the EuroTour is trying to help paddlers with, moving boards from one event to the next. There are significant challenges when moving delicate race boards from location to location.
Exactly, I think it is a problem for many athletes from many teams but I believe it is highlighted for athletes from South America because we do not have a lot of opportunities to borrow or rent high-quality boards in the region.
But Brazil sounds like a fantastic place for SUP paddlers to visit for sure. Away from Brazil where is your favourite place to paddle?
There are a lot of places I still want to paddle. But of the places away from Brazil I've already paddled my favourites are Hawaii and Holland.
Hawaii is a magical place and has an amazing downwind in summer. Maui to Molokai downwind and Molokai's coast downwind are my favourites. I really want to have the opportunity to back to Hawaii and to get to know Kauai Island too.
In Holland, I have been twice in the Friesland region to compete in the 11 City SUP Race. I just loved all the places I paddled through during the 5 days race, every place is different and has a special beauty. In some parts, the canals are only just wide enough for the board and you are almost inside the garden of the beautiful houses as you race along the canal. In other parts, you have to lie on the board to pass under some very little bridges. 5 days of paddling through the most beautiful landscapes.
I am surprised you were able to enjoy the view of the 11 Cities course in a race you have won twice! One last question, if TotalSUP were to visit Brazil what is one thing you would suggest we do or a place we must visit when we are not paddling?
Brazil has a lot of different amazing places to visit. But if I have to suggest just one, this place would be Rio de Janeiro, it surely is wonderful. It is a large city, with very good infrastructure, very good places to eat, dance, have fun, exercise, and museums… it has such a beautiful historic town with old buildings and rich history, iconic places to visit like Corcovado and Pão de Açúcar. And all this is surrounded by a gorgeous natural landscape.
Thank you Lena for taking the time for us at TotalSUP and hopefully we will see you here again soon.
Lena Ribeiro is, without a doubt, one of the top racers on the SUP race circuit today and is a paddler we could all learn from. Her dedication, enthusiasm and modesty shone through when I reached out to her for this article and here at TotalSUP we all hope to see Lena on the top step of the podium soon.
You can follow Lena through her Instagram channel and you can keep up with her local Infinity dealer – @paddleboardsuruguay
Infinity Surfboards are a family-owned and family-run business based in Dana Point, CA, USA.  The Blackfish is one of their high-performance race SUPs and is available as a dugout and with a flatter deck in a range of sizes to suit all paddlers.
You can see more Infinity Boards in action on their social media channels – Infinity SUP Instagram and Infinity SUP Facebook.
All images courtesy of Lena Ribeiro.