Last weekends Kelt Ocean Race saw Amandine Chazot, Marius Auber and Joseph Gueguen (prone paddleboard) give three huge performances. But it is one particular performance that stole the show, and perhaps in years to come we may see this as a landmark event. For the first time in France a SUP foil finished ahead of SUP racers in a downwind event, it was no coincidence that this page was turned by SIC/ BIC racer Eric Terrien, a pioneer in the SUP paddling world. Such a performance by Eric will open the door to foil progression,  development and organisation, especially in SUP races and the SUP industry in general. TotalSUP talks to Eric about his epic achievement.  In this fresh interview, Eric, relives his race and gives us tips for your next SUP foil downwind race!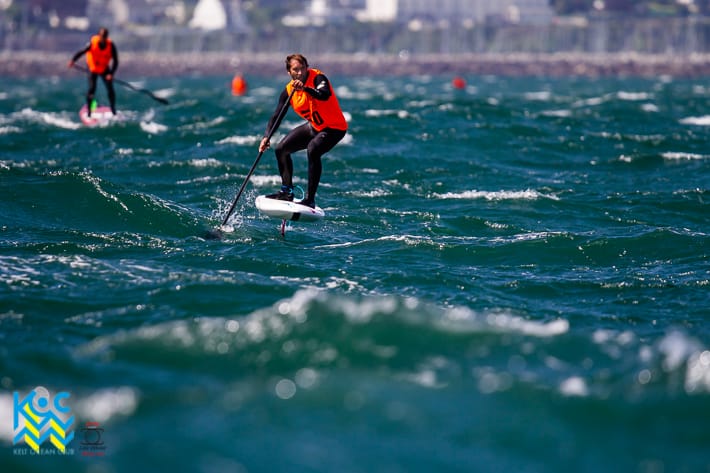 Photo Credit: LOIC OLIVIER (http://loicolivierphoto.com)
Tell us about your choice of your foil?
The choice of gear is still crucial. But I do not want to discourage those future SUP foilers  who have only only one mast and one wing. Because in truth my race would have been as successful with any foil but it is thanks to this choice of configuration that I could win in this style. So to reassure everyone, on a perfect downwind any foil works! But the fact I knew I was starting on the flat meant that I had to think deeply about the foil configuration. If there was only flat, I would have taken a shorter mast and a longer wing.  It was necessary to find a compromise to be able to cover the flat part and the oceanic part. So I chose a downwind wing of 92 cm and 90 cm mast. The mast was high enough to pass the cross chop. My choice of foil was based on rigidity. At high speed, rigidity is key.