After having paddled all day and all night on Lake Biel, Switzerland, Starboard rider Bart de Zwart, who already participated in multiple SUP challenges (Great Glen Paddle Challenge, Yukon River Quest, French Polynesian crossing), broke a 24-hour record yesterday.
He submitted a recorded distance of 193.8 km (123.4 miles), which exceeds that of previous record-holder Joanne Hamilton-Vale. Immediately upon emerging from the water, Bart shared how he felt with TotalSUP.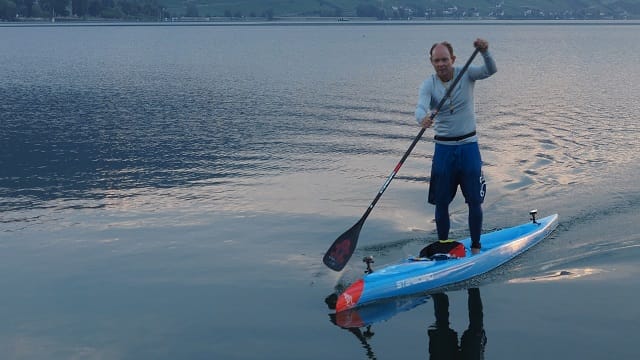 Why did you choose to take on the challenge of paddling for 24 hours?
It may sound obvious, but I choose it because I wanted to. I have tried everything out there related to SUP and endurance. So It seemed natural to me to attempt a world record.
Where did you break the record and why did you choose this place?
I chose Lake Biel, Switzerland, because I had hoped it would be less windy. Maui, where I live, and Holland, where I am from, are both windy places. I knew I had to go somewhere in the middle of Europe. So I went on Google Earth to find a good spot and then I contacted the locals to get more info about the weather there.
How did you prepare for it?
I made no special preparations because I already train for ultra long-distance races. I train most days, and twice a week I do more intensive training sessions (2.5 and 5 hr paddle). Diet is a very important part of my training routine.
When it comes to diet, I apply the same rules as I do for long-distance races. I eat liquid food (Hammer perpethuem) and good-quality energy bars, along with bananas, nuts, apples and even muesli and electrolyte tablets.
What were you feeling during the challenge?
I started out really well in the first 3 hours and I was banking kilometers. I knew I would lose a bit of this head-start later. But then the wind came, which was then accompanied by thunder in the mountains, which caused the wind to shift every 10 minutes or so.
My lowest point was when I was going 6km against the wind. But it got better after that. Though it was light, there was always some wind on the course. My goal was 200 km, so in theses conditions I am happy with 193.8 km.
How do you feel having set a new world record, and what is your next challenge?
To break the record feels very special after 24 hours of very hard work in difficult conditions. Next month, my newest challenge will be to take on the Yukon river quest again, the world's longest paddle race at 715km. An expedition in the Marquesas Islands will follow in the Fall.
Credit Photo: Joerg Husi