Last weekend saw the 6th annual Iberdrola Bilbao World SUP Challenge held in the beautiful Basque city of Bilboa; North Spain, it was also the fifth stop of The Paddle League World Tour and week 7 of the 2018 EuroTour presented by Rogue. The event had a record field of 272 athletes spread across all divisions including kids, juniors, elite and amateur racers.
Photo Credit: Georgia Schofield
The distance race started in front of the famous Guggenheim Museum producing an iconic backdrop, the race then continued on river that bisects Bilboa. The Iberdrola Bilbao World SUP Challenge sponsored by energy provided and renewable energy Iberdrola was a true collaboration between the local BWATERS group, the EuroTour and The Paddle League, who all combined to help promote and grow the sport SUP in Europe.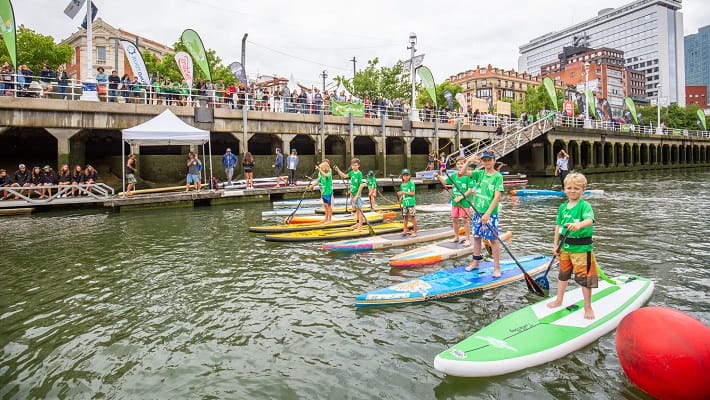 Photo Credit: Georgia Schofield
The Kids race on Saturday and Sunday morning had 40 juniors hit the water from ages 6-14, with Mallorcan club Mar Balear SUP Center leading the way by having 15 juniors present at the event, plus a contingent from the UK island of Jersey.
Photo Credit: Georgia Schofield
The Men's elite race had an intense start with 73 elite men standing side by side spanning the width of the river, after the chaos of the 1st buoy turn Aussie paddle Micheal Booth broke away, the Starboard paddle Boothy extended his lead to 80m, a lead that only hitting the wall literally or metaphorically would have given the chasing pack a chance to catch. The win gave Boothy his second victory on The Paddle League World Tour to extend his World Title ratings lead.
The Hasulyo Brothers, Lincoln Dews, Titouan Puyo, Connor Baxter and Tahitian dark horse 425 paddler Enzo Bennett all took turns in trying to close the gap on Booth, but no one could get close. As the pace picked up the leading pack was whittled down to just 11 men, but the sheer number of paddlers made it hard to work together to close the gap with Boothy, the race then became contest for second place, NSP paddler Titouan Puyo described the intensity of the pack as "like a war". The battle for second place was extremely intense and produced a couple of photo finishes (there was just 15 seconds between 2nd and 10th)
Photo Credit: Georgia Schofield
The high tide and coefficient, plus the stone walls that surrounded the city river produced some wicked wave refraction which produced a washing machine-like effect that made life challenging for competitors, despite the event being billed as a flat water event.
Photo Credit: Georgia Schofield
In the final 1 km Australia's Lincoln Dews made a final surge and blew apart the chasing group and made it a nail biting finish, but while he closed the gap from 50 seconds down to 30, he left it too late, and ran out and had to settle for a well-deserved second place. An extra 1km could have possibly seen Lincoln catch Michael Booth, but he ran out of runway. Number one seed and Hawaiian paddler Connor Baxter was knocked off his board at the final buoy 2km from the finish, finishing in 11th position.
The strength of the competition was plain to see as at least half a dozen of Europe's most-seasoned competitors finished outside the top 30. 16-year-old Noic Garioud from New Caledonia was easily the top-placed junior (6th overall) and cements his reputation as one of the world's most talented all-round paddlers, he was also paddling the much-hyped new two-piece design from Sunova.
In the women's elite race an intense start and a chaotic first buoy turn caught many paddlers off guard, Olivia Piana, Seychelle, Fiona Wylde and Amandine Chazot set the early pace in a breakaway group of four.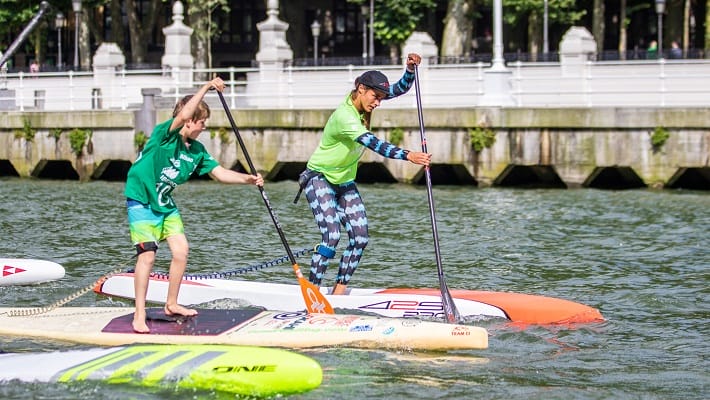 Photo Credit: Georgia Schofield
In the last few kms Olivia Piana and Seychelle battled it out for 1st and 2nd place, going shoulder to shoulder, but a board wobble didn't distract the 425pro paddler Olivia Piana who slipped ahead in the last 200m and clinched victory by a board length despite a late surge from the American paddler Seychelle. It was a fast, furious and exciting ending to the race for the 2 racers. Olivia's victory gives her three EuroTour wins after saluting in Vendee and San Sebastian; the Frenchwoman is now the closest rival to Sonni Honscheid's World Title quest.
Photo Credit: Georgia Schofield
Starboard racer Fiona Wylde fought hard to stay with the leaders but ultimately had to settle for a strong third place. Japan's Yuka Sato was the only woman who successfully closed the gap on the front pack.
Photo Credit: Georgia Schofield
Aussies Kate Baker and Angie Jackson worked hard to close the gap but got caught up in the bumpy, inner-city river conditions. The unheralded Australian/British and Team One paddler Kate Baker announced herself as a genuine contender with a barnstorming second half of the race that was rewarded with a top five finish.
Photo Credit: Georgia Schofield
Results
ELITE MEN TOP 10
1st: Michael Booth 1:01:17 (Australia; Starboard)
2nd: Lincoln Dews 1:01:50 (Australia; DEEP/QB)
3rd: Mo Freitas 1:01:52 (Hawaii; Rogue)
4th: Titouan Puyo 1:01:54 (France; NSP/QB)
5th: Daniel Hasulyo 1:01:55 (Hungary; Starboard)
6th: Noic Garioud 1:01:56 (New Caledonia; Sunova)
7th: Martin Vitry 1:01:56 (France; SIC)
8th: Bruno Hasulyo 1:01:58 (Hungary; Starboard)
9th: Arthur Arutkin 1:02:00 (France; Fanatic)
10th: Tom Auber 1:02:05 (France; Fanatic)
ELITE WOMEN TOP 10
1st: Olivia Piana 1:13:27 (France; 425)
2nd: Seychelle 1:13:29 (USA; SIC)
3rd: Fiona Wylde 1:13:41 (USA; Starboard)
4th: Yuka Sato 1:14:13 (Japan; Starboard)
5th: Kate Baker 1:14:40 (Australia; ONE)
6th: Laura Quetglas 1:15:31 (Spain; Starboard)
7th: Amandine Chazot 1:16:00 (France; Starboard)
8th: Angie Jackson 1:17:32 (Australia; ONE)
9th: Susak Molinero 1:18:12 (Spain; RRD)
10th: Caterina Stenta 1:18:48 (Italy; RRD)
Next stop on the euro tour and paddle league world tour is the Hossegor Paddle Games on the 24th and 25th June. If you participate you can also have a chance to win a ticket to the watermana event held in Tahiti in December!