Three adventurers are about to embark on one of the craziest rides the still young history of Stand Up Paddle has ever known: SUPing India's mystic Ganges river from source to sea. A world's first adventure starting at 4100 m in the Himalayas and finishing in the bay of Bengal, an estimated three months later.
Hello the Ganges SUP team, who are you and how did the idea and the team come together?
GangesSUP is an international team of three – Shilpika Gautam (Female, Indian), Spike Reid (British/Irish) and Pascal Dubois (German). The idea originated from Shilps' burning dream to combine her love for adventure, a deep desire to re-connect with her motherland via 'slow travel', her discovery of SUP as a sport (10th october, 2015 to be precise !) and to find a fun way to engage people, especially the youth on the serious issue of water pollution. Shilps and Spike first met in London through Project Awesome – a free fitness outdoor movement. With Spike's background in expeditions and adventure and his family's deep rooted love for the region, GangesSUP came alive over a pint (or two) post the Adventure and Travel Show in London in January 2016. Given the project's deep intention to expand the scope beyond the life of the adventure itself, i.e. paddling for awareness and advocacy for cleaner waters, there was definitely the need for a third team member with a background and interest in the environment and water pollution issues. Pascal joined the team in the summer as the resident environmental scientist via a very fun, yet very humbling job posting process on Explorer's connect and Escape the City (about 50 odd people applied!)
Can you present the Ganges SUP Expedition in details : when, where, how long?
GangesSUP is A world's first adventure to Stand-up Paddleboard the Holy Ganges, from source-to-sea (2525 kms) . During this 3+ month expedition commencing 1st October 2016, the team will shine a global Spotlight on the perils of water pollution while also highlighting stories of individual and community successes towards cleaner and safer water. All against the mind boggling backdrop of the great Indian outdoors and the countries' rich confluence and variation of human, social, cultural and environmental streams.
The team will kick off on 1st October from Gamukh, the source of the river Ganges, approx 4100m high in the Indian Himalayas and finish at the mouth of the river in the Bay of Bengal.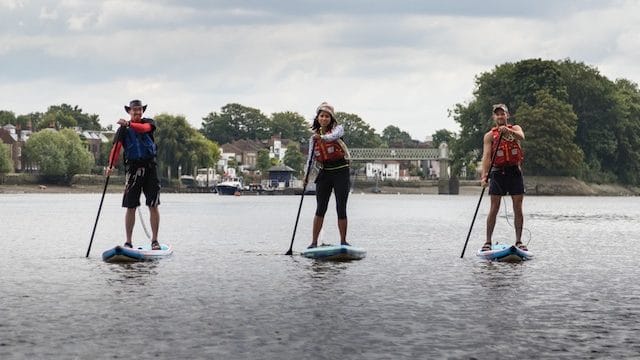 The expedition has broadly three phases:
Phase 1, october 1st – Commence the 260km odd trek from Gaumukh +Gangotri, 4100metres high in the Himalayas (i.e. the source) down to just below the Tehri Dam i.e. Devprayag where the Ganga proper forms. We expect this to take approx 2 weeks.
Phase 2 Mid october -Tehri Dam to Haridwar – We will be getting on our inflatable stand up paddleboards at just below Tehri Dam / near Devprayag and will aim for Haridwar through the white waters (approx 90 kms with rapids up to Grade 6). We expect to portage a bunch of these rapids.
Phase 3 Haridwar to Ganga Sagar – We will be swapping to our composite stand up paddle boards from Haridwar and will embark on the longest phase of our journey until Ganga Sagar in the Bay of Bengal
Training Mission in Ireland
In July 2016, we finished the first ever Stand Up Paddleboard powered descent of the River Shannon which is the longest river in the British Isles. While intended as a team bonding and training mission for the Ganges, it was also an expedition in itself. The 307 kms expedition took just over 2 weeks with our progress slowed considerably by the worst window of Irish weather in a long while – strong headwinds, lack of flow, constant rain were all a constant factor. Our spirits however, were massively lifted by the lovely Irish hospitality and the kindness of strangers (now friends) along the way. In terms of learnings, the expedition gave us a chance to refine our gear, learn our complimentary strengths and weaknesses as a team and also what to do better on the Ganges (stretch every evening and  moisturize our hands as they take the biggest battering during touring!). Also, we all now agree that Guinness does taste a lot better in Ireland, the Irish do some mean burgers and when faced with a choice between taking rain and wind, we will ALWAYS choose the former.
What are the main risks on the river Ganges?
Our mantra , is to be Risk Aware, not Risk Averse. However, we have carried out an extensive risk assessment exercise as the Ganges poses a plethora of risks both inside and outside the river such as
-River itself – white water, strong currents, changing flow due to heavy monsoons, crocodiles & other wild life, submerged & visible hazards
-River pollution – which creates a wide array of difficulties ranging from sourcing cleaner water to causing serious illness;
-Remoteness – which will impact communication, evacuation if needed, resupplies etc.
-People on the banks themselves (theft, assault etc.); sometimes genuine curiosity (people in remote areas seeing non indians for the first time, seeing all this gear) can be dangerous too
-Equipment failure.
Our biggest challenge is to remain true to the purpose of the expedition i.e. to tell an authentic story of the river, its people, their challenges via film and photos, creating a positive dialogue to address water pollution issues and bring our unbiased observations to a global audience.
What gear are you taking with you ?
We are so so grateful to our sponsors and partners, without whose help this expedition would really not have taken the shape we are in today. Our equipment list is slightly more extensive than usual due to the ever changing river and associated topography, temperatures etc. The following are our key pieces of kit:
Ganges SUP Expedition Boards: The Ganges changes massively as a river from mountains to the sea – This requires two different kinds of boards and very sturdy yet light paddles (robust blade, light shaft, adjustable).
We are so stoke to be working with the amazing team at Starboard – we are using a combination of Starboard inflatable boards (Starboard 9'6″X36″ STREAM – WIDE INFLATABLE RIVER SUP) for the white waters and composite boards (Starboard 14'0″X30″ ELITE TOURING) for the plains stretch where we need a long hard wearing board to not only take the battering from visible and submerged hazards but where we can also use every extra bit of space to strap our gear on
Ganges SUP Expedition Paddles:  We needed a combination of adjustable paddles that were hard wearing yet light – hence we are looking forward to using Starboard's 2 piece Enduro paddle with a tufskin blade and carbon shaft as our main paddle . We will also have 3 piece backup paddles with a hybrid shaft and tufskin blade.
For the Shannon expedition we were very fortunate to receive Jobe Sports support for our paddleboards and paddles. We loved using the Jobe inflatable 12'6 X 29″  boards and their Carbon paddles on the expedition.
Fins -Besides Starboard, we are also working with Future Fins for specialized fins to cut through river debris without compromising on the natural glide of our board too much 
Leashes– We are using a combination of quick release (Blue Chip quick release leash) for the white water and traditional ankle leashes during the expedition
Dry Bags/storage – Our boards are capable of easily taking upto 120 kgs so we plan to carry all our gear on board – We are psyched to be working with Aquapac – our two big dry bags will be the Aquapac Upano 90 and the Upano 40 litres. For our various equipment and clothing etc we are using a combination of Aquapac Trailproof Daybags, Day sacks and Aquapac Pack dividers.
Charging for  devices 
We are partnering with Voltaic Systems for their solar charging panels. We are also taking traditional power banks as back ups.
Water Purification & Carrying
We are super thankful to Water-to-go for their amazing bottles that we used extensively on the Shannon. For the Ganges, we are kicking it up a notch and thanks to the love shown by Cascade Designs, we will be using MSR Gravity flow filters, alongside the MSR dromedaries. We will each also be carrying various capacities of the platypus water bottles.
Whitewater specific gear
Owing to the pretty hectic  yet exciting rapids we will need to be in fairly protective gear and wetsuits (this is the only section we will be using any neoprene as it gets too warm to use it further down )
Thanks to Palm equipment, we will be using  palm wetsuits, helmets, special white water boots (gradient boots, great for portaging too ). We will be getting added protection thanks to G- form knee and elbow pads. We are also wearing palm PFDs throughout.
Food – we will aim to stock up locally along the river – it's going to be an all vegetarian affair. However as back up, we are carrying a few portions each of expedition food on us
Warding off the creepy crawlies – India is currently under the seize of mosquito bite related illnesses so we are amping it up with mosquito repellents , nets etc. We don't foresee a malaria threat but we will be carrying medicines just in case.
Components of our mobile home – we will be wild camping along the way barring the big towns where such a thing is fairly impossible.  We are each carrying a 1-2 person tent (I am super excited about my MSR Elixir 2) as they will be our home for over 3 months. We will be on some dodgy camping grounds so we will be using a combination of thermarest sleeping mats. The choice of sleeping bag is an interesting one as we kick off in the Himalayas at very low temperatures, then spend a long time in the plains with warm/humid temperatures until we move into December when it starts getting very cold. We are trusting a combination of summer sleeping bags and liners to do the trick .
Camera /photography devices – we will be using a combination of several GO Pros, DSLRs and android +iPhones for self filming.
Our mobile kitchen – we plan to cook at camp every night so we are carrying two MSR stoves, spare fuel and a bunch of lightweight utensils and cutlery with us.
Assorted clothing items outside of white water specific needs –
– Phase 1 : hiking trousers, merino base layers, sun hat plus warm beanie, windproof mid layer, waterproof trousers and jacket, walking poles, hiking boots (we are lucky with Montane helping out with some of the hiking clothing items)
Phase 3– river sandals, Rashies, board shorts, tights. Shilps has been lucky to get the support of two women specific brands, Glidesoul and Perfect Moments, whose gear she will be wearing a lot on the expedition.
Tracking and communication- we are using Spot Gen 3 trackers (thank you SMG Europe) linked up to Follow my Challenge which will allow us to broadcast a visual map of our progress. We also expect to have fairly good GSM signal along the way which is very helpful.
The Ganges Sup Crowdfunding campaign
Ganges SUP has been entirely self funded barring equipment help from sponsors. We now desperately need external funding to not only produce a raw, unbiased and hopefully impactful documentary from our time on the river but to also not seriously jeopardize our health and safety.
We are now CROWDFUNDING for the GBP 22000 that we still need from a total expedition budget of GBP 50000+. As a token of our appreciation for your support, we are offering a bunch of environmental friendly yet culturally and adventure relevant rewards ranging from a handwritten postcard from the river, personalised expedition videos, to bespoke talks at schools and corporates post expedition. Full details below including a breakup of what the crowdfunding funds will go to.
You can support the Ganges SUP expedition here:
https://igg.me/at/gangesSUP
Every single contribution counts and we greatly value all support we receive—moral, fiscal, and social. Please share our crowdfunding campaign freely, follow and like us on social media, send us love and hugs and perhaps re consider the role of single use plastics in your lives.
From the team
Gangessup has been made possible largely due to the support of friends , family, our generous sponsors,the SUP community, the broader network of adventurous folks driven by passion and purpose and also due to complete strangers who are now cheering us on. We have been blown away by the love and kindness shown to us so far and we think this is just the tip of the iceberg.
We are also working closely with WaterAid India who are doing a phenomenal body of work in India right from building toilets to advocacy for long term improvement in the condition of our water bodies. We will be fundraising for them and are working closely with the team based both in London and Delhi. Please visit their India site on http://wateraidindia.in/ to find out more.
Can we follow your expedition via the Social Media?
Yes! We would love to share our story with you through the following channels. Please also keep an eye on our Facebook page as we will be running some special rewards for our crowdfunding campaign thanks to Pukka herbs and Sungod sunglasses
Website GangesSUP
Twitter: @gangessup
Instagram: @gangessup
Facebook: GangesSup