The APP World tour  is about to land in New York, so here is your comprehensive guide to what you need to know about where to stay, eat and see the action in Long Beach, New York.
The action starts on Saturday 15th 2018. The APP World Tour  will host both a Pro Distance and ProAM race on the Hudson River. The race is an epic 11 KM race around the Statue of Liberty.  This Lady Liberty race is a highlight on this stop of the Tour and features top world champion contenders including starboard rider Michael Booth, Connor Baxter, Casper Steinfath and Kai Lenny.  Shae Foudy, Manca Notar, Candice Appleby, Terrene Black and Sonni Honscheid are expected to line the docket among others for the women.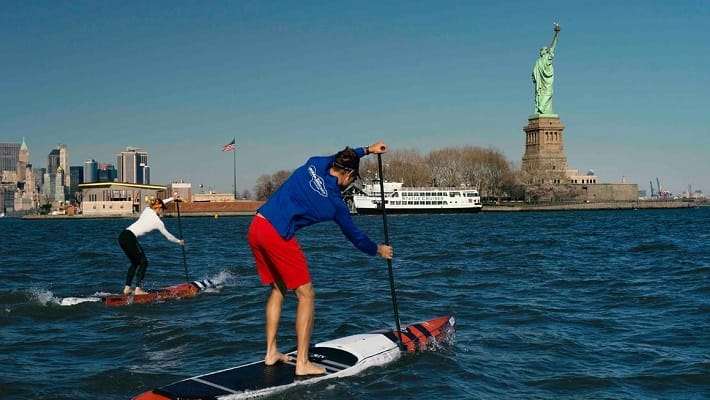 Fans can come watch from Battery Park in Manhattan where the City Paddle Festivals arm of the APP World Tour promises a day of demos, Meet & Greet with the Pros, Paddle and Clean Ups with Plastic Patrol's Lizzie Carr and so much more.
Benefit Paddle for Children with Autism
On Saturday 23rd at 4pm all are invited to participate in an APP 5.5 mile Downwind Run with the Pros to benefit Surf for All.
This is an Open Paddle & Downwinder around the tip of Long Beach for a 5.5m course, starting at Ted's in Pt Lookout; heading out the inlet then west with a finish at the APP World Tour HQ in front of the Hurley Surf Club Powered by Skudin Surf, in Long Beach.
Entry cost of $85 which includes race registration, swag bag, 2.5hr Open bar, buffet, raffle ticket and transport to race start.  All proceeds benefit Surf for All, a non-profit created by Skudin Surf that provides Surf Therapy Camps for children with Autism
SUP surf action in Long Beach, New York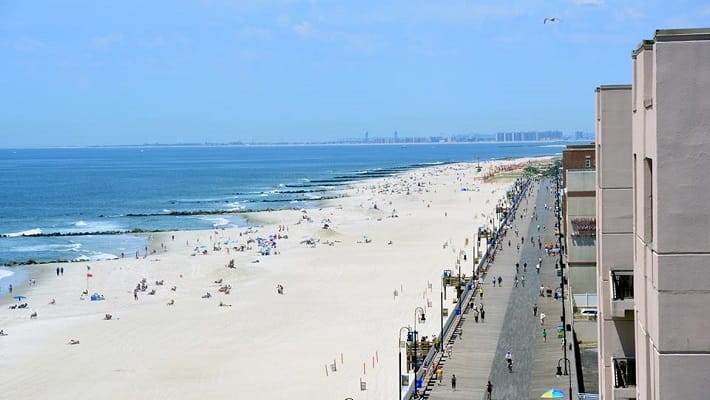 The action then moves to Long Beach, which will host Sprint Racing and SUP Surf Contest all week from Tuesday, September 18th, 2018. After the action has moved to Long Beach it will remain there for the remainder of the week as the APP World Tour hosts the Pro Sprint Races out in front of Skudin Surf.  Again, the best racers in the world will be present for an exciting day of sprint racing.
In addition, fans can come check out the boardwalk where City Paddle Festivals will be setting up a vendor village for retail shopping, live music, food cards, paddle board demos and so much more.  There is something for everyone at Long Beach so bring the family and plan to make a day of it.
World Class Athletes and YOU, The APP World Tour offers opportunity to compete with the Pros in World Title surf competition. From  Thursday, 20th September until Sunday 14th September  you can join the action on the beach front for the Opening Stop of the APP World Surfing Tour.  This event is the first of its kind ever to hit the sands in New York.  Pro athletes from around the globe including Nicole Pacelli, Arthur Arutkin, Mo Freitas and Izzy Gomez will compete in this world championship event.
Amateurs and Pro Am SUP surfers are also welcome to participate in the Open Divisions of the Surf Contest.  Test yourself against the best the East Coast has to offer.  Vie for the chance to be one of the Top 2 Pro Am Men and Top 2 Pro Am Women who will be seeded for the Final Draw of the Pro Final Rounds!
Put yourself on the main stage to compete alongside your legends.  This rare and wonderful opportunity is exclusive to the APP World Tour events as a way to promote the sport of stand up paddling in all its forms:  racing and surfing.
Wild Cards will also be drawn from each local district, including New York, Gran Canaria and Oahu to compete on the Pro level.  If you are interested in submitting your name for this process, please email:  entry@appworldtour.com
Are you ready to register?
All this and MORE (see City Paddle Festivals website for more information on vendor village, demo opportunities, free movie screenings and more) happening in the great city of Long Beach, NY. 
Stay in touch with the hub at www.longbeachlife.com or follow them on Facebook for all your visitor's questions on beaches, parking, lodging and where to dine as the APP World Tour comes to town!  Aloha & see you there.
And to register for the action follow this link