The second annual edition of the EuroSUP (European Stand-Up Paddle Championship) was hosted in Peniche, Portugal, the home of one of surfing's most iconic events. Peniche Surf Club welcomed participating European teams for a week of exciting surfing and racing.
The European Surfing Federation has been running Europe's national surfing events since 1972. With EuroSURF and EuroJuniors running alternate years the EuroSUP have made a splash by featuring annually on the calendar and the second edition did not disappoint.
The EuroSUP welcomed teams from all over Europe with events in Long distance, Technical and Surfing encompassing a wide range of disciplines allowing teams to showcase talents ahead of the ISA World SUP events with many of last year's competitors going on to compete in Fiji 2016 and many this year excited to head to Denmark later in the year.
1. Olivia Piana, 2 new European titles
Defending Champion Olivia Piana added 2 new European titles to her spectacular return to the sport after taking a year out.
Europe's questionable 'dark horse' – not so dark these days being a regular podium contender the French wonder woman has exploded back onto the scene taking titles in the long distance and technical racing in Peniche before finally taking home a Euro Long distance win in Bilbao the following day against Starboard team mate and all round SUP goddess Sonni Hoenscheid. Hats off Olivia what a week of racing – we don't know how you found the energy to take home so many firsts!
2. Casper Steinfath, European champion in Technical Race
Casper Steinfath won his 1st European Technical Race title in a closely fought battle between him and the Frenchman Arthur Arutkin. Having kept the lead the entire race the Frenchy heartbreakingly fell after they were neck and neck in the last 300m allowing the Viking Gold Honours. Casper also competed in all divisions throughout the event, coming 4th in the Long Distance and smashing through the surfing rounds, getting some of the events only barrels and setting the beach on fire… due to valiant efforts from tiny team Denmark they were able to take 3rd in the over all team rankings.
3. Titouan Puyo brings home the Long Distance title
Titouan Puyo took home the honours in the Long Distance race from the absolutely stunning Berlenga Island Nature Reserve. Cited as 'just like the Maldives' the riders were taken across to the island by ferry to the stunning location. Light winds and some ocean bumps saw them battle a line across to the Portuguese mainland.
Titouan headed out from the island in a tight pack of 4/5 riders including his French team mate Arthur Arutkin, Leo Nika and Casper Steinfath. Somewhere along the deep ocean channel to the coast line Titou nudged ahead taking gold after he and Arthur took a closer line to the coast and Leo and Casper headed more ocean side with their line.
The top 3 heroes also headed off to the Bilbao race – proving more SUPer human than simply SUPer's.
4. Iballa Ruano Moreno, SUP Surf Queen
Iballa Ruano Moreno also smashed home a gold medal with a solid display of surfing in overhead Supertubos on finals day.
Looking solid throughout the event, rumours abound as to whether French Pro Surfer Justine Dupont might steal the crown from the European Queen of SUP. We're sure Justine is one to watch for the future and as she says, stoked she's now part of the SUP family; however her lack of SUP experience allowed Iballa to reign SUPreme and at stages of the final combo the entire field, shining in white Iballa threw away the contest nerves, smashed a powerful committed turn with a cheeky claim as she pulled it off, knowing she has what it takes to take home her second successful European title.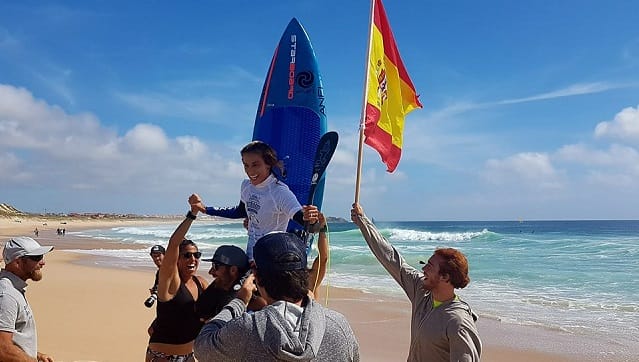 5. Benoit Carpentier, SUP Surf King
Benoit Carpentier took his first Gold medal in this year's EuroSUP having finished behind Antoine Delperro in 2016 event at Lacanau. Like his predecessor Benoit also made the cross over into SUP from Longboarding a category of surfing not usually linked to the punchy fast waves at Supertubos.
Benoit looked strong all contest and a fairly quiet first half of the finals had a few questioning if he had ran out of steam. Questions were soon answered though and the young Frenchman took home the Gold ahead of his team mate Pierre Rollet and a strong looking Spanish contingent Juan de Los Reyes representing team Spain and Germany having adopted Canary Island's local Moritz Mauch.
6. Justine and Pierre, the new SUP Surf dudes
The Frenchies know how to put a team together; Some new or not so new faces on the surf scene displaying some quality turns, and impressing the judges; taking silver for their teams, came in the form of Justine Dupont and Pierre Rollet bursting onto the SUP scene with some impressive performances.
We have the WSL to thank for 2 of their competitors now crossing over from the WQS into the still relatively new sport of SUP surfing… definitely ones to watch.
7. Christian Andersen, the future
They make them tough in Denmark. Maybe it's the Viking blood or that in winter you probably have to keep moving to survive the cold but they certainly know how to paddle. With a nick name 'The Polar Bear' another new face came in the form of Christian Andersen. 16 Years old from Klitmøler (Cold Hawaii as it's known) the young gun was a stand out in the event.
Charging hard in the surf and holding his own race during the Technical (and long distance) – Christian started in a solid 5th a position he comfortable held onto beating the seasoned Pepe Oltra whilst seemingly not getting out of breath. Training with Casper we think the original Viking might have to watch out – theres a Polar Bear snapping at his heels.
8. Fresh talent on display
Our stand out faces… as well as all those mentioned above there are a few more faces on the European SUP scene we think are worthy of a mention. Nicoline Rasmussen from Denmark who came in a comfortable 3rd in the technical race. Blue Ewer – Team England's young surfer and newly signed with Naish, with another mention to the Spaniard Juan de Los Reyes who at 16 displayed some solid surfing skills. 16 year-old Ben Pye from team England should also be added to the talent-watch with a 7th place in Technical Race (ahead of Claudio Nika and Jurgi Zulaika) as well as Ollie Laddiman from Wales who displayed some great SUP surfing skills (7th!).
9. Giving back to the community
While we were all stoked on the beach everyday in the beautiful Peniche sunshine, the event host's were working extremely hard. Tozé Correia (Peniche's much loved and ever frothing town mayor) and Paulo Ferreria (President Peniche Surf Club) had ensured the event gave back to the local community that allowed the travelling athletes their opportunity to shine on the European Stage.
Over 120 volunteers gave their time to support activities around the event to allow 2500 school kids the chance to experience SUP and surfing, loads of beach games and generally have an awesome time. To start the day they were given talks about skin care (from cancer clinics) and taught beach safety learning about rip tides and how to stay safe.
10. Results
SUP Surf Men's results: 
SUP Surf Women's results: 
Team Points EuroSup 2017:
1. France
2. Spain
3. Denmark