Susanne Lier is a SUPaholic but don't worry she'll be alright. Switzerland's SUP racing champion in 2012 and 2013, creator of a a SUP Fitness training programme, founder of her own light paddle brand, she is now our ambassador in Switzerland.
TotalSUP: Hello Susanne, can you introduce yourself to our readers ?
Hello, I'm susanne Lier, I am 33 years old and was born in Germany. I have been living for 10 years in Switzerland on the shores of the beautiful lake Leman in Lausanne.
For the past 15 years I have been a fitness instructor and addicted to SUP since 2010.
I worked 7 years in the sports industry here in Switzerland before I decided to co-found with my partner the company IMUA Distribution and the SUP education program Paddlefit.
My love for training lead me to start SUP racing in 2011 and I won the Swiss championship in 2012 and 2013. I am looking forward to the new race season.
VIDEO : Susanne Lier training with Tiago Silva from Functional Paddling :
How did you start paddling? How often do you practice ?
I paddled for the first time in 2010 and loved it from the first moment. I then tried to get on the board as much as possible and I became a SUP instructor in 2011.
As I teach a lot of SUP classes during the summer and train for sup racing throughout the year…. that makes a lot of hours on the water.

I usually train alone but during my winter training in Fuerteventura last winter I was lucky to train with strong partners and in different conditions.
My mission is to share my passion for SUP and to bring more people on the water.
I would like to thank my sponsor HOBIE SUP Switzerland for my great boards. I'm a lucky girl.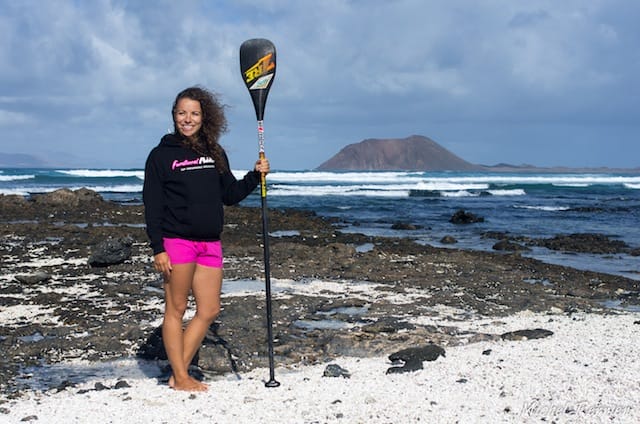 (photo: Michel Terrien)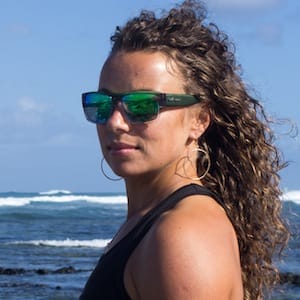 Can you detail for us your various SUP activities?
Paddlefit was created in 2011. It is an instructor program which teaches safe and high quality sup fitness classes for all levels of fitness. We have now more than 30 instructors in Europe and the Paddlefit family is growing a lot in 2014.
www.paddlefit.org
My partner Enzo and I have been the european distributor for Bombereyewear since 2012 and we are happy to present this great floating and goodlooking eyewear brand which is the best of the kind for SUP.
www.bombereyewear.eu
IMUA SUP Gear was created upon my wish to bring more color in the paddle world. I created light paddles: full carbon paddles and fiberglass/ carbon in different colors such as pink, coral, blue etc.
www.imua.ch
And now TotalSUP.com ! A young and very promising international Stand-Up Paddle news and community website!
What are you favourite SUP memories so far?
I had a great trip to Hawaii and took my first steps in Downwind and SUP surfing there, or more specifically on Oahu and Kauai.
My vote goes for Fuerteventura though because I have so many options to train there nearly everyday in sup surfing, racing and downwinding. It is a great island and not so far. Also it is easy to travel to with your own SUP Gear.
My lake here is very special too and I really appreciate the flatwater conditions with the great view on the mountains.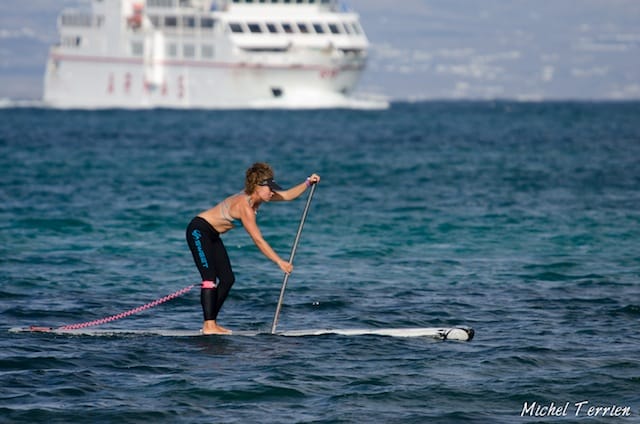 (photo: Michel Terrien)
Any special places in Switzerland we should paddle on?
We have our SUP school in Montreux and organise a lot of trip to Château Chillon, along the coast and on the river Aare.
Switzerland is definitely a country to practice SUP on lakes and rivers.
Susanne Lier with the LiveLoveSup crew in Switzerland :
Cool video made by SUP Rider Suisse at Chateau Chillon on the Leman Lake :