What can resonate more than a compelling brand story that stems from the street culture which always evokes freedom, nonconformist mindset, youthfulness and limitless fun?
The Swiss watersport brand, Indiana Paddle & Surf, first started as a skateboarding venture with Christof Peller shaping first Indiana skateboards in the laundry room of his home in Herrliberg on Lake Zurich back in 1989. Fast-forward to 2010, the first Indiana stand-up paddleboard was gliding over Lake Zurich. Christof and then Team Rider, Maurus Strobel, launched Indiana SUP with the ambition to "conquer saltwater and freshwater beaches around the world".
Driven by unwavering passion for board sports, today Indiana Paddle & Surf offers more than 130 different boards. Riders from all backgrounds and skill-levels can choose from an impressive quiver of paddleboards, surfboards, wakeboards, kitesurfing boards and foilboards (both carbon and inflatable).  TotalSUP caught up with Maurus Strobel, Co-Founder and CEO of Indiana to talk about about the brand's philosophy and its global rise.
Hi Maurus, welcome to TotalSUP! How have you been holding up through the COVID-19 pandemic?
Thank you! We're very glad to start this collaboration with TotalSUP! I guess like all in this business we had and have to face some supplier, production and transport issues. Nevertheless, we ordered early at our factory and were well prepared with full warehouses in the beginning of the 2020 and 2021 seasons. Only a few products were too late in production. Everything got more expensive and slower. For 2022 we already received our first containers before Christmas.
"From the streets to the ocean"… There is a unique story behind your brand closely connected with the Swiss skate culture…
Back in 2010 we started the Swiss water sport brand Indiana SUP under the slogan "from the street to the ocean" as a project of Indiana Skateboards, which was founded already in 1989. My talents have been always been on boards, not in football. I started skateboarding when I was seven then snowboarding, windsurfing and kitesurfing and so on. I am a two-time World Champion and a four-time European Champion in Slalom Skateboarding.
Could you tell us more about the Indiana Paddle & Surf brand and how did you get into the sport of stand-up paddleboarding?
The name Indiana SUP was not covering our product range with surfboards and foils. That's why in 2017 we changed the brand name to Indiana Paddle & Surf and created the logo with the longboard inside the feather. Still containing the "Kids" Indiana SUP, Indiana SURF and Indiana FOIL with adapted logos on specific products.
My heart is in all our product families. We only produce, what we have fun on. The brand and the whole business is being run by my company White Wave AG with six employees and various freelancers such as shapers, product and graphic designers.
In 2008 I rented my first SUP in Maui during a kite and surf trip and I liked it. But I have to admit, that I threw the paddle back to the beach on my first day after some wipe outs and paddled on my belly into the waves.
Due to the COVID-19 global pandemic, the SUP industry has exploded experiencing both new challenges and opportunities. Could you share your take on it?
Closed shops and SUP and Wing Stations, transport issues and production delays were the negative impact. But on the positive side we learned that the international COVID restrictions pushed a lot of people towards watersports because fitness clubs and tennis courts were shut down and travelling was not possible. SUP and wing-foiling in nearby spots was still possible fast becoming a healthy hobby and a good workout during the pandemic without the infection risk.
What is the SUP scene like in Switzerland?
I guess there is not just ONE Stand Up Paddle scene in Switzerland. In all the French, Italian and German speaking regions we have many lakes and at least one SUP club on every lake. Then there is the SUP racing scene of about 150 paddlers showing up on the Swiss SUP Tour and Swiss Championships with a small group of riders competing internationally.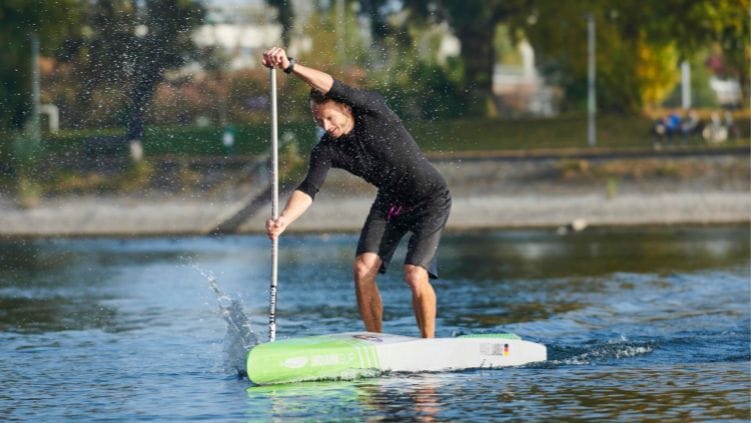 The competitive aspect of the sport is now better organised by the newly founded Swiss SUP Association, which supports the riders and event organisers.
Last but not least, tens of thousands of paddlers simply enjoy their time on the water without any organised sessions or events.
Could you tell us more about the community you've built around the brand – From SUP racing to foiling and beyond…
We have many Ambassadors pushing the different aspects of our products, such as SUP Racers, SUP Wavers, SUP Adventurers, Wingfoilers, Dockstart Foilers and Longboard and Shortboard Surfers. We are connected to SUP stations and offering SUP lessons including foil lessons in a small water park.
Indiana Paddle & Surf offers more than just paddleboards… Could you tell us more about the brand's quiver?
Our philosophy is to sell only watersport products that we have fun on. Our board range is enormously large, we offer more than 130 different boards across all ranges spanning inflatable SUPs, composite SUPs, surfboards for Wakesurfing, Static Waves, Wave Gardens, Ocean, Foils and Foilboards for Wing Foiling, SUP Foiling, Surf Foiling, Kite Foiling, Dockstart and Pump Foiling.
The biggest part in terms of turnover is Inflatable SUPs, but then come Wingfoiling Boards and Foils which is growing a lot.
There has been a massive shift to foiling… Do you think it will keep expanding with more riders taking up this sport?
Yes, big times. The potential is amazing. Windsurfers, Kite-surfers, Surfers but also people with no watersport background are looking to learn to learn Wing Foiling.
What's in the pipeline for Indiana Paddle & Surf?
This Spring we roll out the new and narrower 12'6 Inflatable Touring Boards. 12'6 S with a width of 29'' and the 12'6 Ocean with a "downwind" scoop rocker line with 30''.
Very soon we will launch the new High Performance Foil Series with lots of different front wings, stabs, fuselages and carbon masts.
Thank you very much for your time Maurus and good luck with the 2022 Season!