Daniel and Bruno Hasulyo from Starboard also known as SUPBROz are 2 brothers and out of the ordinary stand up athletes. They were born in Hungary, grew up in Italy and since then never stopped moving around the globe. These two are both incredible Stand Up Paddlers and truly have their own special way to race.
Their story inflamed us, we needed to know more about them, so we asked the brothers a couple of questions to hopefully manage to get a grasp on their pro and personal life.
Hi guys, can you introduce yourselves to the TotalSUP readers?
Hello TotalSUP community, sport lovers and passionate water freaks!
Hope you are all having a great time and enjoy every time you hit the water with the same joy as we do! Life is better when you smile, so keep thinking positively and you'll see great things happening around you!
We are Daniel and Bruno Hasulyo aka SUPBROz. Why SUPBROz? Because SUP is our passion, our brotherhood is unquestionable, we are best friends, we are our biggest rivals and we inspire and motivate each other. Lastly the little "z" is in honor of New Zealand, and especially Jeremy Stephenson, one of the best waterman we've ever met, he's our mentor and 2nd father, he has transformed us from good paddlers to Watermen and taught us everything about the ocean…
Where did you grow up and where do you live right now?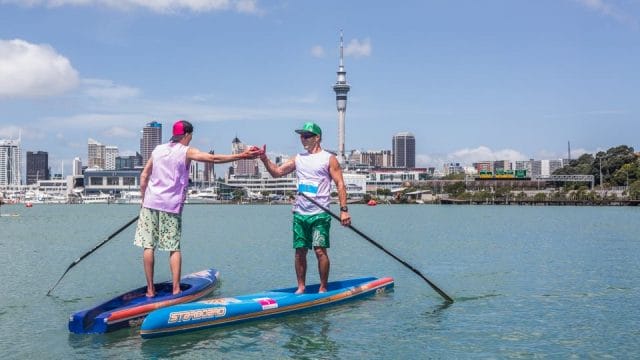 We are originally from Hungary but we grew up in Italy (for 12 years). Thanks to our father's passion for Windsurfing, since the age of 8 and 5, every summer for 2-3months, we had the chance to travel around and we went in some of the most spectacular places of the planet. We lived in Brazil, Mauritius, the Canary Island, Croatia, Aruba (Dutch Caribbean),  Mexico, New Zealand, lately in Thailand and at the moment in Bali (Indonesia)… We feel extremely thankful and lucky to have had the chance to live in so many different realities, know such a big variety of beautiful cultures and enjoy the most amazing waters of the world. We are truly blessed.
Moving to Bali, really added to our performance and extremely fast learning curve. In Bali, locals made organic food, there were perfect water conditions for all the type of SUP training, amazing waves, beautiful flat water lagoons, good downwinders and 2 of the most prestigious sport facilities of the sector: RipCurl School of Surf and the Strength & Endurance Performance Academy which guaranteed a perfect place for our preparation. We are also very close to our second home, the Starboard HQ in Thailand, where we are constantly working to develop the very best products for Stand Up Paddling because we want to be involved in the creation of the future of the sport.
Did you practice some other sports before getting into SUP?
Both of our parents are ex-professional athletes and there are still very active sport lovers to this day. Mom used to be a marathon runner and dad a soccer player, so since we can remember they transmitted us their love for sport. We grew up on athletic fields, playing outside any chance we had.
As soon as we were old enough we started to practice extreme sports. Among our daily activities there was always soccer, running, snowboarding, but our absolute favorite has always been Windsurfing. Today, we still think that beside SUP, Windsurf is probably the best sport in the world! Speed, power, flying, knowledge of the elements, pure adrenaline couldn't grow in a better way. At the same time, running and swimming has prepared us to become good endurance athletes and learn how to master the art of active meditation.
You had some impressive results on the EURO TOUR this year, how did you enjoy your European campaign?
First of all would like to shoot out a MASSIVE THANKS to Belar Diaz and all the main sponsor of the 2016 EURO TOUR. They have really created an incredible championship that is not only heading the sport in the right direction but is also one of the best organized event series we've seen by far, bringing together professional riders, SUP lovers and 1st time challengers. The EURO TOUR is a true celebration of the sport through some of the most beautiful and iconic waters of Europe. Being part of it has been a huge 1st experience and a deep dive into the most competitive Stand Up Paddle field of the world.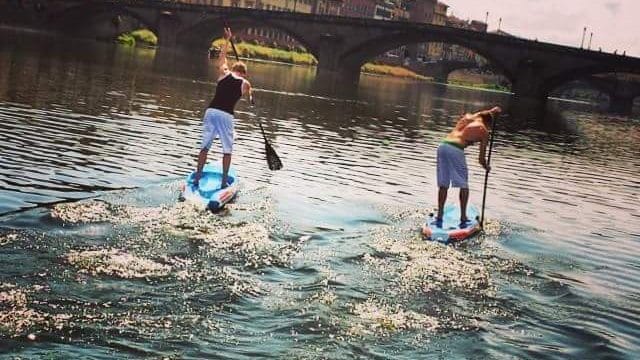 Finishing TOP 10 (always TOP 5 in the European field) in every race we've entered has been a very big success for us, showing that the professional training we've been doing in the last 2 years has payed off and that with the right amount of experience, both of us, do have a place among the world's best Stand Up Paddlers. We can't wait to get back next year and push the level of the race even higher!
What is a classic day of training for you?
Stand Up Paddling at a professional level is among one of the most physical sport activities. You are the engine. It requires, stamina, endurance, reactivity, balance, surfing skills, water knowledge and extreme strength to get the board going. There is actually no other sport which requires such versatile athletes to perform at the highest levels. As such, our preparation is followed by professional coaches at the SEPA Academy, working according to a very new and unique holistic training method. Training only gives one third of the performance of a top athlete. Nutrition and recovery are as important as the training itself.
The Holistic Training Method principle is considering our body as a complete organic energy system combining modern training methodologies with the most classic and traditional energy knowledge of the eastern scientific culture.
As a quick example, the load intensity of certain training periods is deeply influenced by the gravitational force of the earth on our organism which is connected with the lunar movements and calendar…we all know how intense are the tidal movements around our oceans. Our body is roughly 70% made of water, and our blood contains nearly the same amount of salts as the sea… It wouldn't make sense to think that there is no connection.
Training-wise on average we train 3 times a day, 6 times a week.
Lots of running, lots of paddling and free body exercises. A classic day of training would look like waking up at 7, 1-3hours of Paddling , eat, nap, free body exercise, eat, chill, 1-1,5hours of running, eat, sleep – REPEAT.
Your relationship with Starboard seems really strong, can you tell us more about it?
Starboard is family. Our relationship goes beyond a simple athlete/company one. Svein is like a second father to all of us, he has been following our life since the age of 13 and 10. He saw us grow up, helped us through our teenage years and supported us to become professional athletes.
We became members of the Starboard Team thanks the Windsurfing Prokids program. Still remember that having a little picture in the catalogue and wearing the TIKI meant the world for us. Since day one our dream was to become dream team riders, more than 10 years later, under the same surveillance of Tiki we made our dream come true. Starboard is a group of legends of the sport. Working with the most amazing watermen of the world such us Scott McKercher, Connor Baxter, Zane Schweitzer, Bart de Zwart or Leo Nika just to name a few is the biggest source of inspiration to give our best both in training and development. We could compare the company to Apple for the infrastructure and to Real Madrid for the team!
What are your projects for the rest of the year?
Train, travel, compete and have fun.
At the moment we are getting ready for the most important competition of the season for the 2 of us. The 11 City Tour in Holland. 220kms of pure physical challenge, an absolute must on every paddler bucket list. Special thanks to SUPSKIN for organizing our preparation and making our presence possible at the competition.
Other than racing we think that we'll spend some good time in Thailand working on some special projects and sport development with SUP Station and WeSUP, 2 major organizations who are doing an extraordinary and exemplary work in building a solid background for Stand Up Paddling in the South East Asian region.
Our last competition will be in Paris on the 4th of December. Then we'll chill, cruise and get some family time until we begin our preparation for the 2017 Racing Season at the SEPAcademy.
SUPBroz' Calendar:
11 City Sup Tour, Holland: 7th-11th of September – 220km / Ultra Long Distance
3 more events at the Waterman League World Series:
San Francisco: September 1st – 28th (RedBull Heavy Waters)
San Diego: October 9th
Hawaii: October 14th – 16th
Pacific Paddle Games, California: 1st-2nd of October (the most prestigious SUP event of the year)
Paris Crossing (13kms) France – 4th of December