From bruises, "burns" (yes, friction burns), scrapes and sprains to more serious injuries, the sport of stand-up paddleboarding, does come with a caution. The Team behind
Uone
, 
a premium Polish stand-up paddleboarding and watersport brand specialising exclusively in inflatable boards, has done their own homework an come up with this user-friendly tips on how to avoid the risk of paddleboard-related injuries*.
TotalSUP
caught up with the Polish young SUP guns,
Wojtek Tadla
and Kacper Jaroć, to run through the list and capture in pictures some of the key points of the Uone guide.
Before you go
Are you just starting your SUP adventure? Going on your first SUP trip on the lake? Have your friends invited you for a SUP session down the river? Stand-up paddleboarding can be more tricky than it seems, especially if you're taking your first steps into the sport. It is a well known fact that practice makes perfect but when it comes to water safety it's worth to tap into some SUP do's and don'ts before taking that SUP leap.
Location, location
Choosing the right location for your stand-up paddleboarding session is crucial. Be realistic, assess your SUP skills and always choose safe, tested spots and conditions that match your skill level. Do your research and tap into local knowledge whether it's a SUP school, local provider or experienced paddlers who know the area well. Our mantra? If in doubt, don't paddle out! 
Check the weather
While on your paddleboard, you depend not only on yourself but also on the weather and water conditions around you. It seems like a no-brainer but before you go, check the weather carefully and pay close attention to the following:
Wind direction and strength
Flow and currents
Tide times
Rip currents
Also prepare your kit for the conditions you'll be paddling in: your board, paddle, correct leash, PFD, phone in a waterproof case, water, sunblock, suitable clothing (wetsuit/drysuit), hat, energy snack, whistle, first aid kit to name just few items that should be on your list. *To find out more, check out TotalSUP article on SUP kits and water safety 
If however you get caught in an unexpected change in weather conditions such as heavy rain, storm or strong gusts, keep calm, kneel down or lie flat on your stomach and paddle with your arms heading to the nearest shore.
Use your leash and PFD
The right leash for the right water conditions is one of the most important things during your SUP trip and keep you connected to the board. In case of a fall into the water you can easily pull it back and avoid risking it floating away and chasing it which can be very difficult and dangerous in tougher weather conditions.
Remember to take your life jacket or a PFD which is more frequently a legal requirement on various waterways.
Pre-SUP session warm up
As with any other sport, warm ups are crucial to prevent injuries. From short runs, gentle stretching (also using your paddle for the exercise), arm circles and squats to simply inflating your board manually using a pump – it's important to not hit the water without warming up first.
Make sure you stand on the board correctly
It seems fair that if you've never practiced any watersports, getting on a paddleboard can cause some trouble. It's not always obvious where the front (nose) and where the back (tail) is, especially when the all-round boards are wide and although they guarantee stability on the water they can confuse a novice paddler. The end of your board (tail) is flat and usually has a D-ring to attach your leash while the front, or the tip of the board (round or pointed nose) has a little rocker. Before you get on your board, check how the fins (or a single fin) are positioned as they stabilize the board.
The optimal position to kneel and stand is in the center of the board indicated by a handle (or just behind it) with your feet shoulder-width apart parallel to the rails and your knees bent.
Get your paddling technique right
It may seem like the easiest part of stand-up paddleboarding but it could not be further from the truth. We start paddling with the intention of going straight and all we do is end up moving in circles or the board keeps turning the wrong way. SUP is all about the paddling technique and it's worth to have that first session with an experienced paddler or Coach who can demonstrate the basics of holding the paddle, paddling technique and breaking down the phases (reach, catch, power, exit).
First of all, adjust the paddle to your height (it can be anywhere between 5 to 8 inches / 12-20 cm above your head for recreational paddling). Remember to keep a positive blade angle during your paddle strokes. Lean slightly forward and pull the paddle towards you along the rails of your board.
Use your whole body and keep your shoulders safe
In a nutshell – do not paddle with your arms alone! It may seem strange at first but using your whole body makes paddling much easier. Using your core muscles not only prevents your arms from fatigue but allows you to go faster for longer.
Engage your core muscles by bringing your shoulders forward, place the blade in the water and propel yourself by pulling your body forward towards the paddle.
Paddling with "your whole body" and not just arms and shoulders is the most efficient way of preserving strength, ensuring glide and traction while being a great "whole body" exercise activation your legs, hips, chest, shoulders and back. Using more powerful muscles while paddleboarding also reduces the risk of shoulder and elbow injuries.
*For an in-depth article on keeping your shoulders safe, check out TotalSUP article by Jen Fuller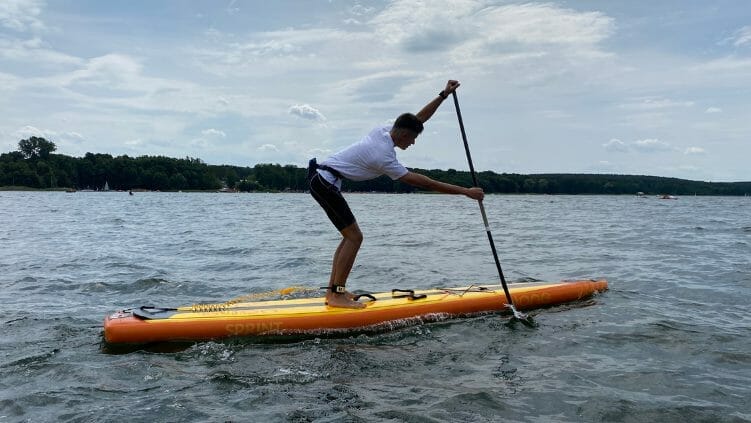 Look ahead while paddling
When we start to learn a new sport, whether it's skating, skiing or stand-up paddleboarding, there's an irresistible need to look down on our feet. This is the wrong approach and we should definitely train to look ahead instead of down.
With our feet nicely wide apart, straight back and eyes set on the horizon we increase increase stability on the board. So don't be afraid and look where you're paddling.
Secure your space
The sea is wide, the lakes are extensive and the rivers are long. But still, as a novice paddler you probably feel safer on a small patch of water close to the shore. Hanging out with other paddlers in a close, shared area can lead to collisions, accidental bumps and worse, injuries especially when it happens in a shallow water.
To avoid bumps, potential injuries and board scratches, paddle out and use all the space you need to paddle comfortably and safely.
Avoid jumping off your board after finishing your session. The safest way to dismount your board is in a kneeling position.
Don't get carried away
There's an itch to push a bit harder, venture out and try a little bit of racing maybe or catch a wave after watching seasoned paddlers with all their polished SUP technique and footwork skills.
But Mother Nature is a powerful force and if you do not have the right experience you don't want to mess with her 😉 So be realistic and assess your SUP skills choosing safe and tested spots and  conditions that match you skill level.
The skills will come with time and practice. Remember that our beautiful sport is not only about speed, taming big waves or whitewater stunts, we do it because it's fun!
The art of skilful falling
Even if you're already an experienced paddler, you know that falling in is an inseparable part of our sport. But it matters how you fall off the board. In martial arts, the first thing you learn is to fall properly and it applies just as well to the sport of stand-up paddleboarding and benefits of mastering the art of falling into the water.
Practising how to fall in correctly reduces the risk of paddleboard-related injuries. If you loose balance on your board, don't fight it! Try to keep the paddle away from you to avoid trapping it between your body and your board and when surfacing place your arm over your head for protection.
… and getting back on your board

Look after your gear
It's no secret that SUP gear can be expensive. Good quality boards should be made of durable materials, glued together with the right technique and have a long-term warranty. It is in your interest to look after your equipment so it actually withstands the years of use promised by the manufacturer.
Despite the strength and high quality of the material, each board will quickly deteriorate if you throw it, knock it and store it poorly. Look after your board and the included accessories – this way your gear will surely provide you with many years of fun!
No matter what the build quality is, boards will not last if you're not looking after them correctly – from handling it on daily basis (especially in high temperatures) to storage. Any damage, leaks and abrasions should draw your attention and be thoroughly inspected! Again, if there's any doubt, do not go out! 
To find out more about Uone, visit www.u1.net.pl and follow the brand on Instagram and Facebook
If would like to become business partners and part of the "uhlan" SUP family, get in touch with Hubert Tobis via email uone@road24.pl or telephone +48 600 934 216
Follow Wojtek Tadla on Instagram
*Please note, this is a high-level guide that does not exhausts the subject
**This article is based on the original Uone article