There's a recurring theme in nearly all our conversations about the sport of stand-up paddleboarding – its versatility. There's something for everyone from recreational paddling, sightseeing, expeditions to digging deeper and transitioning to the competitive, endurance and ultra-endurance side. There's also the entrepreneurial aspect of it from side hustling to a full-on career change that revolves around SUP, stand-up paddleboarding seems to be "limitless in its options" says, Beata Plutka, SUP Rider from Poland, ISA SUP Flat Water Instructor and Brand Ambassador for Uone, a premium Polish stand-up paddleboarding and watersport brand specialising exclusively in inflatable boards.
TotalSUP caught up with this avid paddler who continues to push her SUP skills through various forms of training and further development to chat about turning SUP passion into a lifestyle profession.
Hi Beata, welcome to TotalSUP! How did you start your stand-up paddleboarding adventure?
Hi Ania, thank you for having me! We saw stand-up paddleboards for the first time in Germany on the Baltic Sea. My husband really liked the idea of spending our time like this. He then kept showing me on Internet various possibilities and places to use them. We live in central Poland ourselves and looking back it was not that easy to find places around to paddleboard. I found a SUP school through Facebook in Warsaw that runs classes on the Vistula River. We fell in love with the SUP activity from the moment we first stepped onto a paddleboard. It was the end of the holidays, so we spent that Autumn on looking for the right gear for us and the next season was all about SUP on our own paddleboards. 
Could you tell us about your collaboration with Uone?
I discovered the Uone brand thanks to my friend who has already been collaborating with them. For us, the most important things have always been safety and quality of workmanship. The durability of Uone boards was demonstrated during a test with a car running over one of them. Uone has continued to develop and work on the technology with the boards becoming lighter without losing its rigidity and resistance to damage. This is important because we take our boards when we travel and neither planes nor beach rocks pose any risk to them. 
When Hubert Tobis, Founder of Uone, offered to collaborate, I did not hesitate even for a moment. Uone is a Polish brand, they have their own repair services, where even gear from other board manufacturers ends up to be fixed, and most importantly: they have the best customer service, not only in the SUP industry.
Stand-up paddleboarding is…
SUP is the key to explore water nooks and crannies, contemplating nature and our connection with it. It's a way to sightsee, meet other people which in my case turned into real friendships. It's an additional perk during longer escapades but also a tool to create your own mini-vacations every weekend. When we got our boards we kept hearing "Where are you going to use them?" but as it turns out, there's plenty of waterways nearby which we keep discovering because even the same river seems different depending on the time of the day or season.
Stand-up paddleboarding has exploded also in Poland and become very popular among women. Could you share your thoughts on this phenomenon?
There's a Polish saying "SpoSUP na życie" – "SUP is a way of life" that was coined by a SUP crew from Krakow. It's now being used across Poland and this way of spending time has also become a real passion for us. We could observe an unprecedented rise of the discipline during the COVID pandemic. People were looking for an adventure just around the corner and stand-up paddleboarding had made that possible. Without lakes and with a long distance to the sea, there are no real watersport traditions in my home town. But we have rivers and lagoons that we get to explore from the water perspective and observe fish, birds and mammals living nearby. 
Why is SUP so popular among women? I think it's because it's a fairly simple activity that offers many possibilities. We can meet friends for a chat, share our energy, forget about everyday problems, enjoy a snack out there, take a hammock in a bag and spend the time just chilling. We can also pack up our gear and paddle down the river, sleep in a tent and stargaze (you can't see this many stars in the city). My friend and I also run SUP classes for students with some fitness fitness activities on the water coming up this season.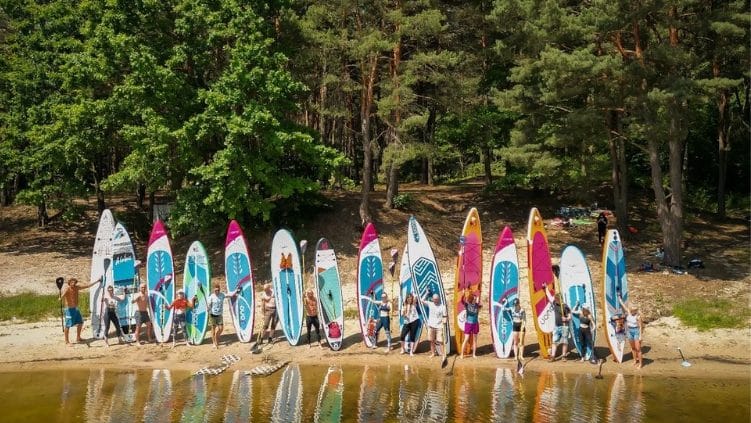 We have different options. If you want to feel the power of the paddle, you can paddle faster or a  longer distance. When you paddle, your whole body works – this is a great general fitness training. I have a feeling that a stand-up paddleboard just keeps delivering these options which seem limitless. We have our #radomsuperteam and it is indeed dominated by women. Why so? You might want to ask their partners about it. 
As the Uone Brand Ambassador and ISA SUP Flat Water Coach you've tested many Uone boards
I'm familiar with almost all Uone board models (also the previous ones that are no longer available). I guess only the Viper racing board is waiting to be tested by me. The first board that I usually recommend is Uone Traveler, which is a wide touring board that offers stability of an all-round board. Each Uone board comes with a 5-year warranty, so I can attest that these boards will last for years. Uone Voyager is a bit faster, but my personal favourite is the popular Wanderer model which we call "Wandzia". It works really well on all waterways that we paddle one: rivers, lagoons, lakes. I have also used it on the sea during holidays. What can I say, I love this board! 
But you can also find budget boards in the Uone offer called SUPer. They're  single-layer structure, so they are lighter and liked by children. These models come with a 3-year warranty (a period offered by some of the top brands). For me, the most important factor that speaks for the Uone brand is the approach to the customer. The brand's policy ensures that anyone who needs help will surely get it. As brand ambassadors we can count on it too.
There's also an interesting solution in a form of a promotional campaign 50% / 50%. Thanks to it, future riders have the opportunity to rent a board and after the season decide whether a given model suits them or not.
Could you tell us more about your transition from recreational paddleboarding to introducing others to the sport?
For me it was pretty fast. From the first season on, we've paddled a lot and took our boards for our seaside holidays. We've met other SUP enthusiasts with whom we have kept discovering this new activity also in some more extreme ways such as
paddling down the Dunajec River Gorge
. I introduced my friends to the sport, teaching them how to paddle and sharing my experience and skills.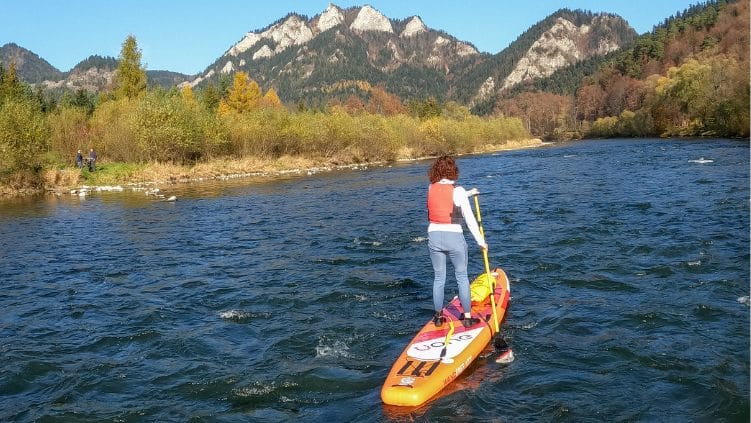 When during the pandemic Andy Joyce of the The InternationalSurfing Association organized a Flat Water SUP instructor course in a hybrid form with the theory part delivered online, I quicky enrolled with my fellow paddler
Monika
and we joined an international group of students. We knew about the course from our paddle squad
Gosia
and
Dominika
, who participated in the first edition. For me, the additional motivation was that the course was delivered in English.
I have to admit that it was quite a challenge and I spent a lot of time with a dictionary translating the manual and re-watching the Zoom recordings. The practical part was based on our own SUP training and teaching documented with videos, venue analysis and sessions' content. We also had to complete a water rescue training to be awarded the ISA SUP Flat Water certificate.
I was lucky to have my lifeguard qualifications and thanks to the course requirements I reconnected with the Water Volunteer Rescue Service in Radom and I completed the Qualified First Aid course. Safety is crucial to me and I always put it first! I continuously learn about it and watch instructional videos and I also paddle a lot in various conditions to strengthen my technical skills.
A while back I participated in the ISA SURF THERAPY webinar. I also took part in water safety and rescue training on ice and recently in a course introducing the Halliwick Concept*, which took my relationship with water to a new level.
The opportunity to listen to experts from across the world and learn from their experience, staying in touch with my ISA Coach and my personal training and SUP adventures, have led me to rethink stand-up paddleboarding and start using it as a therapeutic tool. What's great about our sport is that anyone can do it.
What would you say to aspiring riders just starting their SUP adventure?
There's no need to dwell about it – You just have to try it. If you don't have anyone around with some SUP experience it's always worth to start with a SUP Instructor. It's a fairly simple activity but you have to remember about water safety. We found ourselves in a situation where we had to tow some riders to the shore as they tried to paddle on the sea for the first time.
Always wear a leash suitable for water conditions, gain some local knowledge about a place you want to paddle. Don't go alone. Find people or professionals who can show you where to start and how to be safe to enjoy it. But you've been warned – It's addictive!
What are you SUP to next?
It's finally Summer. The end of the school year was tough but that's the reason we have our paddleboards to just nip out on the weekends and get on the water and just switch off before we go back to reality. Time spent with my family is really important to me. It's my priority. I'm glad that my daughter started paddling with us more often. We went to Kefalonia in Greece which was beautiful and a perfect spot for paddlers.
Together with the Radom Sports and Recreation Centre we're planning another year of classes for pupils as part of the "Summer in the City" initiative.
I'll be also hanging out with my SUP gang – a group of girls and their partners I met through Instagram and we get together to paddle in various places in Poland. During our meet-ups we get to know local spots, we paddle from dusk till dawn and just make our dreams come true. We'd like to repeat a SUP expedition with all gear on our boards. We paddled down the Rospuda River last time but who knows which one it will be this time!
I'm also planning to use the stand-up paddleboard as a therapeutic tool. I would like to run classes for people with special needs and various physical limitations but also as a therapy for those who experienced trauma. I'm thinking of SUP therapy for uniformed public service workers as well as people experienced by illnesses and various life challenges.
My friend and I (we're both teachers in an integration school) are experienced in teaching swimming as part of occupational therapy workshops and we also delivered SUPer lessons for our pupils. I guess when you become a teacher it's for life and when you find a passion, you want to share it with others.
I have been thinking for while now about using SUP as a therapy and I'm patient and consistently pursuing my goals but it often turns out that the SUP season in Poland is too short to make all my plans happen. Maybe one day I will end up in a place where the season lasts all year round?
Thank you for your time Beata and good luck with all your SUP plans!
To find out more about Uone, visit www.u1.net.pl and follow the brand on Instagram and Facebook
If would like to become business partners and part of the "uhlan" SUP family, get in touch with Hubert Tobis via email uone@road24.pl or telephone +48 600 934 216
Follow Beata Plutka on Instagram 
*Images courtesy of Beata Plutka 
*The Halliwick Concept is a way of teaching anyone to swim. It was developed in the UK in 1949 specifically for teaching disabled people to swim and is now used in many countries in the world both for teaching swimming and for therapy. Source: halliwick.org.uk