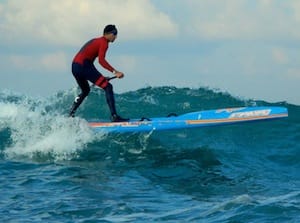 If you look up his name on Wikipedia you will learn that Gal Fridman is an Israeli windsurfer who won a bronze medal in the Atlanta 1996 Summer Olympics and a gold medal in the Athens 2004 Summer Olympics; that he is the only Israeli athlete to win two Olympic medals and the first and only so far to be Olympic gold medalist in Israeli history. Also, that his first name, Gal, means "wave" in Hebrew and that he was voted the 25th-greatest Israeli of all time, in a poll by the Israeli news website Ynet.
What Wikipedia does not tell us though, is how crazy Gal is about Stand Up Paddle and how much he has been doing for this sport in his homeland in the past two years. That's where TotalSUP caught up on his story…
But first, let's see how Gal used to kick butt on a windsurf at the Athens 2004 Olympics, way before his SUP life (jump to 5.55 to see an Olympic champion):
TotalSUP : Hello Gal, how did you start with SUP ?
After I stopped racing windsurfing I did a lot of mountain bike racing while coaching the Israeli Olympic windsurfing Team .
A friend of mine was the only Stand Up Paddler on our beach and I asked him if I could have a go. I realized right away that this was a new sport which not only was fun but which allowed me to train all year long. I think Stand Up Paddling offers such a great workout for the entire body. It is a very aerobic sport and also a lot of fun.
There was maybe a total of 5 race boards in Israel at the time. After spending more time on my sup board, I decided that I wanted to open a SUP team here in Israel, which I would train seriously. I received a lot of help from my friend JP Tobin from New Zealand. He is an Olympian in windsurfing and also on the Starboard team. Well, it has now been just over a year and I have 50 people in my team.
What is the name of your school and where can we find you ?
My team is called the Gal Fridman Sup Team and the school the Freegull Sea Sports Club. It is located within the Nautical Center of Caesarea on Sdot Yam Beach – a 40 minute drive from Tel Aviv.
Here is a nice video of Gal's team viewed from his board – and a good tune:
Are you open to tourists and leisure paddlers ?
Yes ! We offer try-out lessons and we do rentals. We can also do tours and excursions but please contact us in advance through our website.
We also have a shop in the club where you can purchase Starboard SUPs, accesories and apparel.
Do you compete ? What have your results been so far ?
The SUP race scene in Israel is booming this year. Last year I was on the podium in most races. I was 2nd in the Aroma cup, took 1st place at the Starboard Paddle for Hope Israel and ranked 3rd in the Tel Aviv Cup last year.
We are now trying to organize lots of races and the next one is a 19 Km Elite race on April 19
The biggest race though is the Starboard Paddle for Hope Israel with over 200 competitors. Do not miss the chance to take part this year on November 8 2014 !
Amazing views of the Starboard Paddle for Hope Israel 2013
What equipment do you use and can you comment it ?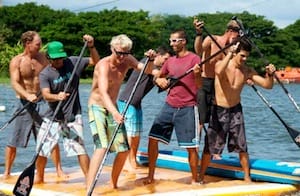 When i started I wanted the best there is so I turned to Starboard.
Freegull Company is the Israeli ditributor of Starboard. We work together to sell the brand and Starboard supports me with equipment for being a team member and helping in R&D.
I have now the 2014 All star 25.5, Ace 23.5, Sprint 24. and the 8.5 Pro for waves.
For the school I use the ASAP and Starshot models from Starboard.
(picture: from left to right : Bart de Zwart, Brian Szymanski, Connor Baxter, Mathieu Rauzier, Gal Fridman, John Becker and Roman Frejo)
Is Israel a good place to SUP ?
Israel is a great place with some very nice spots. Here you can ride on the Mediterranean sea, the red sea, the lake of Galilee, the dead sea. All these are great places for Paddleboarding with beautiful views and holy places. We also have the River Jordan where you can sup down stream.
Also in Israel we can train all year long. In the winter, the water is 17 degrees Celsius and in summer 29 … hot ! The weather is great and never too cold. We can compete all year and please, let me take this opportunity to invite all the TotalSUPers worldwide to come here for training and racing. Also on some days we do have some great surf.
People should definitely come to Israel to mix SUP and tourism. Holy places, great food, warm people – it's the best country in the whole world