It is fair to say that Tamás (Tommy) Buday Jr was born to be on the water. As a three-time Olympian and ICF World Championship silver medallist in Sprint Canoe, Tommy has done it all from a seated position. Standing up on a paddleboard seemed to be a natural progression. The Hungarian-born Canadian now boasts a 3rd place finish in the Carolina Cup Graveyard Race, one of the biggest SUP Race events in the US this year. For a non-professional and late graduate of paddleboarding, Tommy now stands upon his SIC Maui paddleboard and sits amongst the professionals at the top of the game.
The Graveyard Race is a demanding 13.1-mile endurance trial through open waters and choppy surf conditions. For most, it is a feat of athleticism that will never be achieved. However, Tommy was trained under his father (of the same name) during his time with the National Canadian Canoeing Team. He was trained alongside his brother, Attila, also a three-time Olympian. With watersports running through his veins and his heritage, this athletic display was more than achievable for Tommy, taking a spot on the podium.
Tommy tells TotalSUP of his Sprint Canoe upbringing, his experience at the Carolina Cup, and how he balances fatherhood with his paddleboarding.
Hello Tamás, congratulations on your podium-finish at the Carolina Cup Graveyard Race! How did it feel to solidify your name up there with the very best in the industry?
Competing comes natural to me and even as an older athlete now (45), I love being in the mix with the best of the best in the SUP world. The most exciting is when we have pros and big names show up to races and I get to be part of the group.
The Graveyard Race is known for its challenging conditions, how did you deal with that?
The conditions were crazy but not because of the wind, more because of the King Tide that was happening during the weekend. Yes, it was very windy but as athletes, you prepare for that. It was cold, too, but coming from Montreal in Canada, that was not an issue for me. Those conditions alone would have been okay. What truly it made it a "Graveyard" race was those conditions mixed in with the King Tide.
I have spent many years racing at Wrightsville Beach in North Carolina, and I have paddled that exact lap before, so I knew the distance and the course well. The day before the race, I went for a run by the Ocean, so I got to know that the King Tide was not to be hit head-on. I knew then that, no matter what, I did not want to be on the Dock Side, heading North into the tide.
My plan was to try to save energy for the up-wind section, and to stay on the left side to avoid the King Tide. Danny Ching and I both had the same idea as we talked and worked together, but he was stronger at the end and was able to leave me behind and take the win.
To be honest, I didn't know exactly where I was in comparison to the lead pack until someone yelled that I was in second place, with Titouan Puyo right behind me, who eventually got in front of me.
How did you approach your training and preparation for the Carolina Cup?
My training now is not like a professional athlete or similar to the way I used to train for the Olympics. I am a husband, father of three wonderful kids and I have a full-time job, so I try to get my training done on my lunch break. I work at our local Canoe Club, conveniently, so that helps!
As a Canadian, we haven't been able to travel due to the pandemic, so I missed the ICF SUP World Championships in Hungary in September. Therefore, the Carolina Cup was the last shot for me to race, so I put all my effort into those training sessions.
Tell me about your sponsor, SIC Maui. How did your gear help you perform under tough conditions in North Carolina?
I have been with the SIC Maui team for over 7 years now. I love our Team Ohana and how we are growing and truly developing as a brand. Mark Raaphorst, the founder, and board-shaper, really believes in building fast and stable boards, that are visually and aesthetically stunning, too.
During the Carolina Cup, I was riding our new SIC Atlantis 14×22″, which was perfect for the Graveyard Race. This is my new race board, built for choppier surf conditions. It is stable in rough conditions and goes very fast on flat water, helping me feel more buoyant. The board helped me from start to finish. From getting off the start line and into the lead pack, to cruising the downwind and hammering through the upwind. I was so happy with the performance!
What was your upbringing like and how did you first get involved with SUP?
I grew up in Hungary where I started canoeing and I moved to Canada when I was 11 years old. As a Sprint Canoer, I was a Junior Champion from a young age. I went on to win three silver medals at the ICF World Championships and competed at three Olympic games alongside my brother, Atilla, with my father as our coach.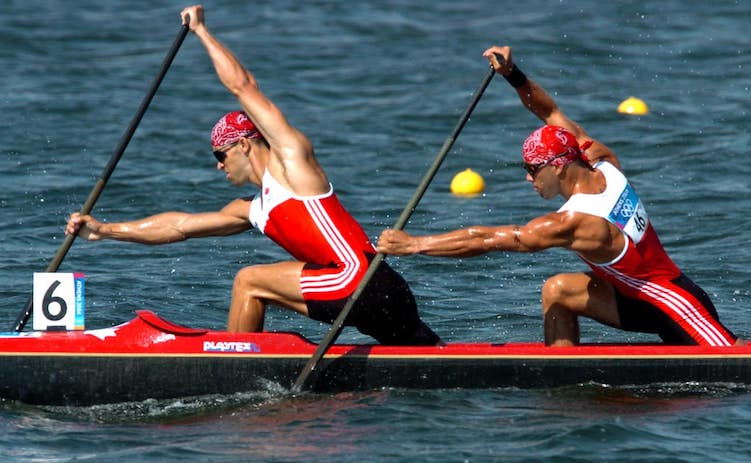 Larry Cain (fellow Canadian Canoeist and Olympic gold medal winner in 1984) was into paddleboarding and always wanted me to give it a go, which made me first aware of the sport. One day, after trying it a few times before, I was paddleboarding on Lake Ontario with my brothers. It was a beautiful, sunny day, and I caught a nice downwind. Since then, I have been in love with SUP.
I began to paddle a lot more when Jimmy Terrell, founder of Quickblade and fellow Olympic Sprint Canoeist, hooked me up with one of his paddles. I started racing and the rest is history. I am still with Quickblade to this day.
 SUP is the fastest growing watersport in the world. What is the scene like in Canada today?
SUP in Canada is getting larger by the day but it is still on the recreational side. We travel more to the USA if we want to race at bigger events, but there are many good SUP races in Canada, too. As our country is so big, it's hard to get to all the big events and in Canada we do not have a Canadian SUP association or anything formal yet. We are trying and working on it but because we are such a big country, it is difficult logistically.
Racing on the West Coast is big, and we have many great paddlers from there as well as in the middle of Canada like Ontario and Quebec. The East coast is catching up fast, but it is hard to centralise this under one event. I believe soon; all of this could be pulled together with the help of Canoe Kayak Canada as the ICF gets stronger!
Finally, where is your favourite paddling spot in Canada?
Anywhere I can paddle in Canada is my favourite spot. That is why I love SUP, because you can do it anywhere!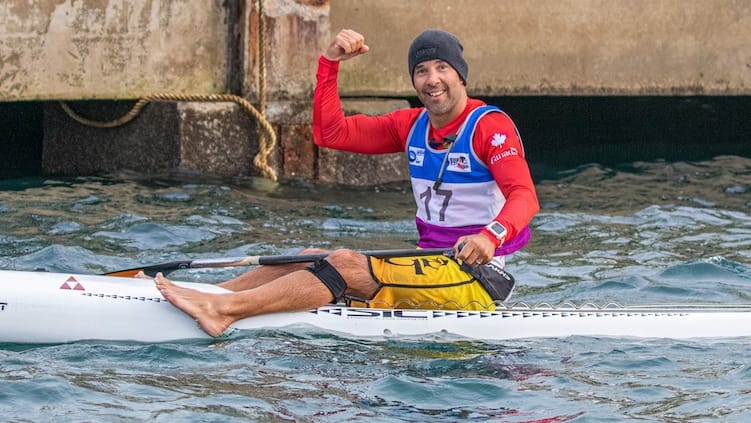 TotalSUP:  Tamás Buday turned up to North Carolina as somewhat of an underdog. 13.1-miles later, on his SIC Maui paddleboard, he stepped back onto the beach as one of the world's best. With Olympic heritage and World Championship medals in Sprint Canoe, it would be easy for Tommy to put his feet up now. However, becoming a husband, fathering three children, and working a full-time job was not enough to get him out of the water. Tommy continues to amaze with a paddle in his end, even if he must do it on his lunch break.
We wish Tommy all the best for the future, and to keep on paddling!
For more information on SIC Maui, go to:
www.sicmaui.com