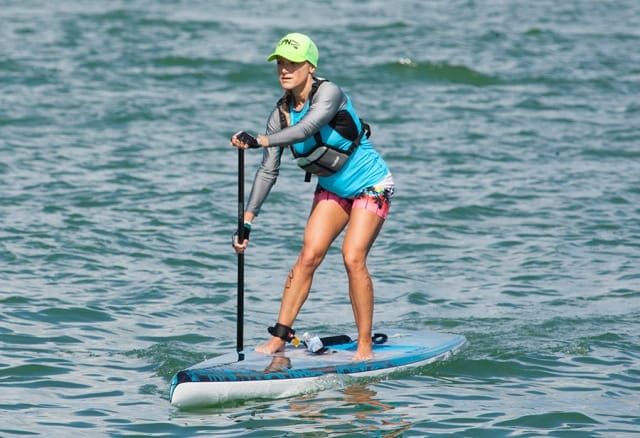 Melina Cherry has just started a SUP Ergometer revolution in Miami which is about to take the whole of the USA by storm. This ex bodybuilding competitor, now fitness trainer, has recently opened the first Stand-Up Paddle gym and has got plans!
Total SUP: Hi Melina, could you please introduce yourself ?
Hi, my name is Melina (Kampanaros) Cherry. I was born and raised in Athens, Greece but my dream ever since I can remember myself was to move to some far away land. In my early twenties I became a translator and I got to study and live in several European countries.  But it was my passion for the fitness industry that took over and led me to follow my American Dream to Florida and to the NPC circuit of bodybuilding competitions. I became a personal trainer and I love helping people with all the aspects of health and fitness. My area of expertise is that of eating disorders.
How / Why did you start stand-up paddling ?
I discovered stand up paddling just a year ago when I was in desperate need of an athletic activity that didn't hurt my neck and shoulders. Bodybuilding and fitness competitions were my life for many years, so when I got into a car accident in 2009, it gradually became harder and finally impossible for me to train at the intensity I needed, to stay at a competitive level. I became very depressed and felt like "I was done", "I was getting old", I even thought about quiting my personal training career and getting a job somewhere. It was a very difficult time in my life. As my condition continued deteriorating, I went from training really hard twice a day to just being able to barely do yoga and seeing a chiropractor 2-3 times a week. That was all I was able to do for a long time. And then SUP came along. It was like falling in love at first sight and getting married! I went "ALL IN", like they say.
And so I set out to conquer the SUP world! First came the Kalama Kamp where I met the one, the only, the SUP guru Dave Kalama. Training with Kalama at the Gorge in Mount Hood, Oregon was an extreme experience for me at the time, but very rewarding. An amazing experience! Not to mention, this is where I met Brody Welte, creator of Paddlefit. And what a mentor Brody has been for me!
A month after the Gorge experience I was off to San Diego. I became a Paddlefit Level 3 certified instructor and had a blast along the way. What a great time and what a comprehensive program! I cannot say enough about it: www.paddlefitpro.com. I also have travelled nationally to some of the biggest races in the country and I would like to highlight here the Battle of the Paddle in Dana Point, California and The Carolina Cup in Whilmington Beach, North Carolina. The local racing scene here in South Florida looks promising. It is an up and coming area for SUP, with our biggest race being the Key West Paddle Classic organized by Lazy Dog. I haven't made it to Hawaii yet but it is definitely in my future SUP plans.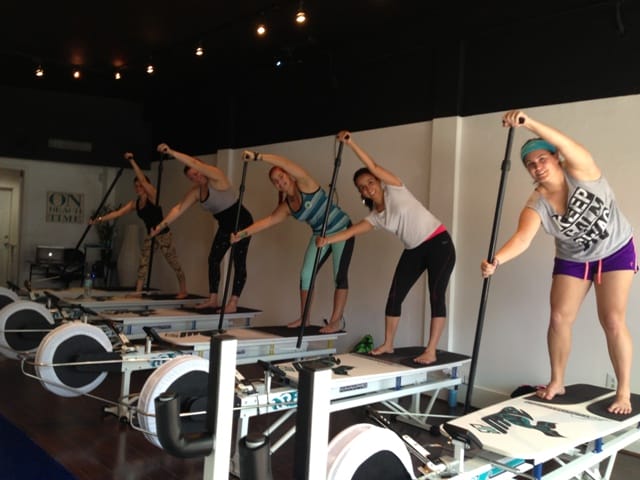 You are also a SUP racer running with an Indigo board, can you tell us more ?
Like I said, SUP and I: coup de foudre! And it was also because the first board I ever paddled was an INDIGO race board. I borrowed it for a few days just to see if I can paddle it without falling all the time. Everybody said: try a beginner board, you are a beginner! But I thought: I don't have time to be a beginner. This is way too much fun! I need to get the full effect! It was a very gratifying experience standing on a 26″ wide board and actually making it! There was no turning back from that either: hooked on INDIGO. Delfos Almagro, owner and designer of INDIGO-SUP is very talented, a true artist! He makes beautiful boards that are fast and stable! I have enjoyed placing top 3 in many local and national races riding my new Indigo Grand Sport and my older board, the Seagul: www.indigo-sup.com. I will continue to support and represent the company as best as I can in the local and national market.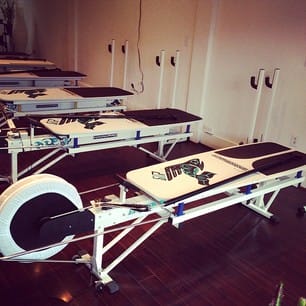 What is a SUP Ergometer / SUPtheworkout.com ?
The SUP Ergometer by KAYAKPRO is an indoor stand up paddling machine which perfectly simulates stand up paddling in a fitness facility environment or even at your home: www.kayakpro.com/sup. I have designed a training program on the SUP Ergometer which combines stand up paddling indoors with sport specific strength and conditioning exercises. The program is equally beneficial for the avid paddler, the recreational weekend warrior, or the SUP novice. It is also a great workout for the overall fitness audience, the regular gym goer or the person who is looking for a new versatile training solution. SUPtheWorkout is unique in that it introduces people into a new sport and it is a workout in its own right.
What are your ambitions with SUPtheworkout? 
I have big plans for SUPtheworkout! My first goal is to take it to New York and start a studio there. Ideally I would like for it to become the go to solution for everyone who lives in northern climates, where the weather conditions permit outdoor stand up paddling for only a few months out of the year. The sport of stand up paddling is very young and it has gained immense popularity the last two years. As SUP continues to evolve into one of the most popular watersports ever, SUPtheworkout, and any training platforms like it, will become an essential part of the wide repertoir of workouts available to gym audiences worldwide.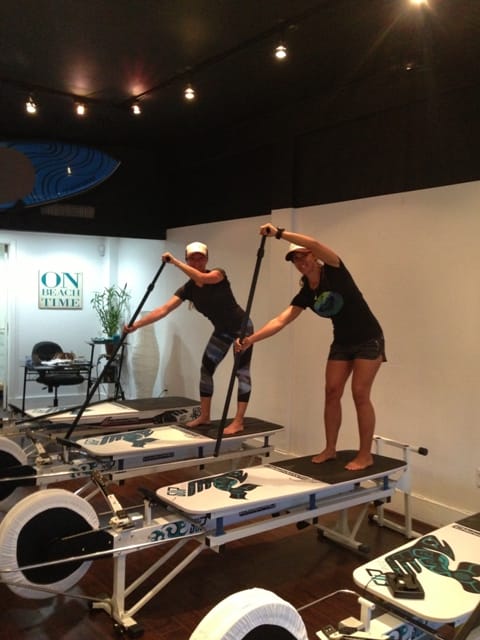 If you want to contact Melina, here are her details:
SUPtheWorkout
3096 Fuller Street
Coconut Grove, FL 33133
Phone number: 561.644.6873
Email: info@suptheworkout.com
Website: www.suptheworkout.com
On Social Media
Twitter:@SUPtheworkout
Instagram: @SUPtheworkout