If you live in California or are just visiting, and love to log ocean miles on a stand up paddleboard, then Seal Beach and Long Beach could be cool places to venture to.  Sitting on the Los Angeles/Orange County boarder, paddlers get the best of various worlds when paddling out from the shores of these California gems.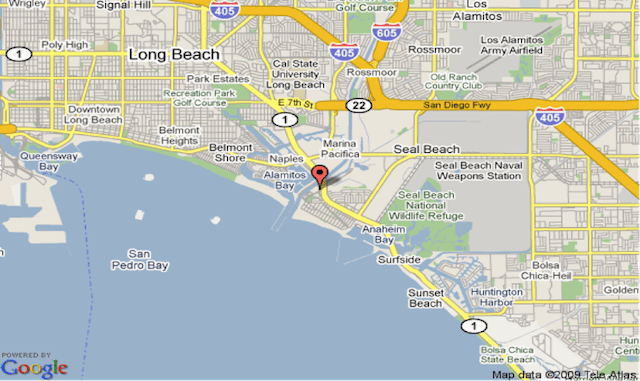 (Photo: Belmont Shore is a great place to party and paddle out from) 

(Photo: the ole' Sunday morning crew heading in towards downtown long beach)
When most people think of SUP and Long Beach, they usually associate it with paddling in beautiful Alamitos Bay.  Located in Belmont Shore and surrounding the small private community of Naples Island, Alamitos Bay offers paddlers generally calm waters in a setting guarded from the open ocean. For those experienced paddlers looking for more of an "adventure", paddling out ocean side could be a great option.
Here's why:
The Port
The Port of Long Beach is one of the world's busiest seaports, a leading gateway for trade between the United States and Asia. Trade valued yearly at more than $180 billion moves through Long Beach, making it the second-busiest seaport in the United States. Everything from clothing, footwear, toys, furniture and consumer electronics arrives at the Port before making its way to store shelves throughout the country. Specific terminals also move petroleum, automobiles, cement, lumber, steel and other products.  Because of this, large tankers will idle a few miles offshore… resulting in some fun interactions.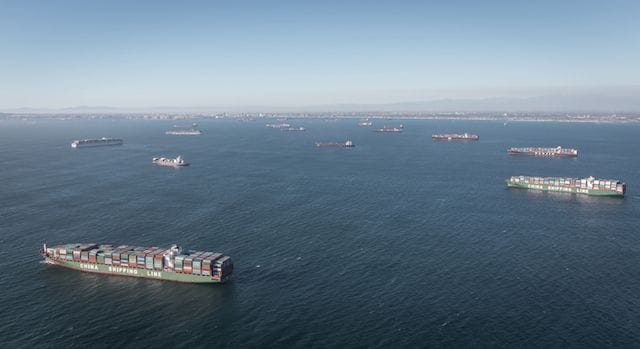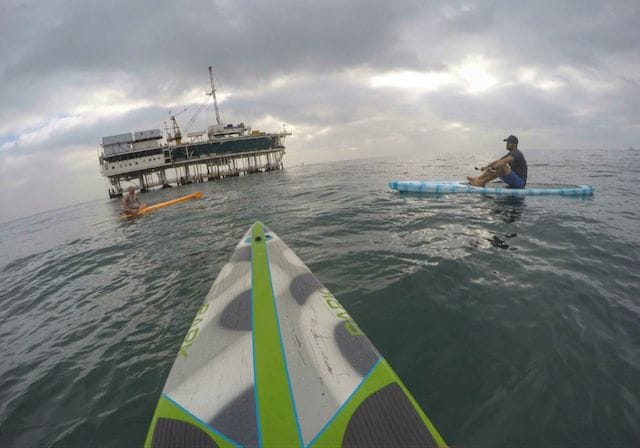 (Photo: Quick hydration break at Platform Esther, 1.5mi offshore from Seal Beach)

(Photo: TotalSUP ambassador John Gabriel on his local turf)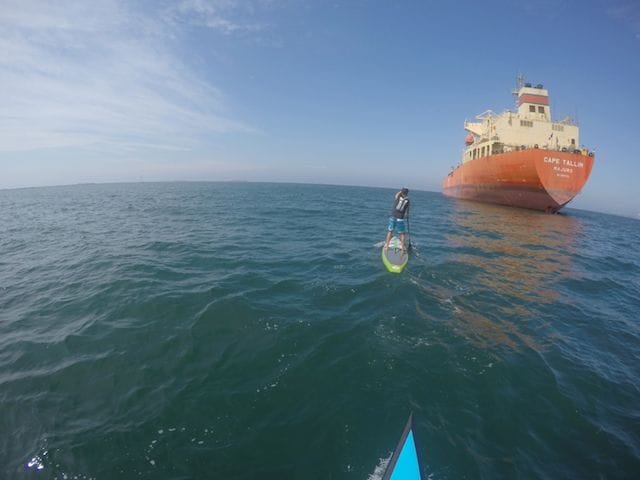 (Photo: Rich D'Souza paddling over to one of the cruise ships that are historically seen docked in long beach)
Wildlife
Paddling in Seal Beach and Long Beach also offers a variety of wildlife to be seen.  Seals, sea lions, dolphins and stingrays have all been encountered on one paddle or another.  Juvenile great white sharks have also been known to hang around the area when the waters are warm, and I always bring my GoPro when paddling out. You never know what you'll come across!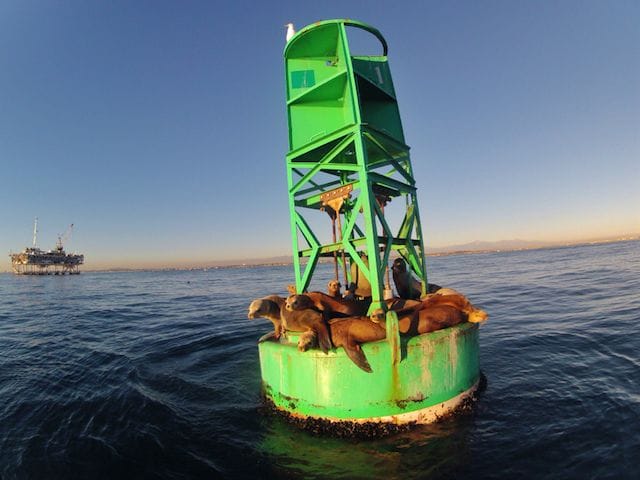 (Photo: This buoy is a few miles offshore from Seal Beach)

(Photo: two dolphins chasing after a school of fish)
VIDEO: Stingray Fishing Line Rescue
Surfing in Seal Beach
Paddle Surfing is also a great option in Seal Beach.  While you may only be one of the few people surfing stand up's, everyone is usually pretty cool.  When the swell comes in, you can find great waves from the pier all the way down to the jetty.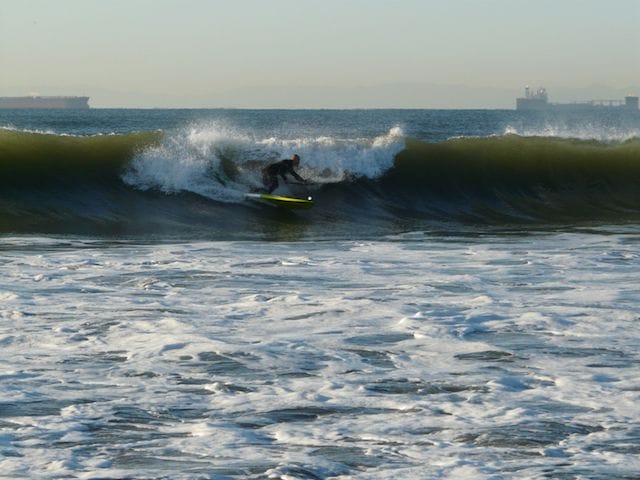 (Photo: Sean Slimak is a Seal Beach regular)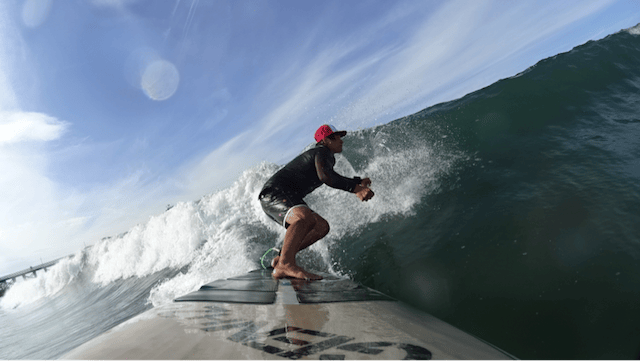 (Photo: GoPro action of Sean turning on a nice unfolding left)
The feeling of paddling in the Open Ocean
When talking about paddling in a bay or lake setting versus the open ocean, it's hard to compare the two really.  Most of the draw to the ocean is that it almost feels alive.  It's practically an entirely different workout, with paddlers having to use new and different muscles to constantly stabilize in this ever-changing environment.  The ocean offers large swells, boats that don't have a 5 mph speed limit and a general feeling of unpredictability, that going over-board is always a definite possibility.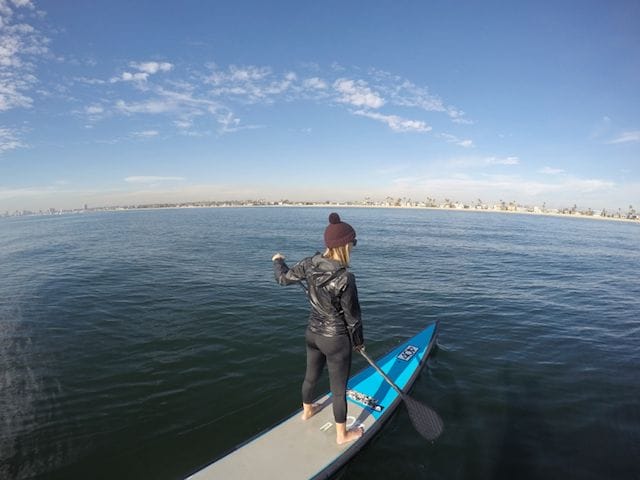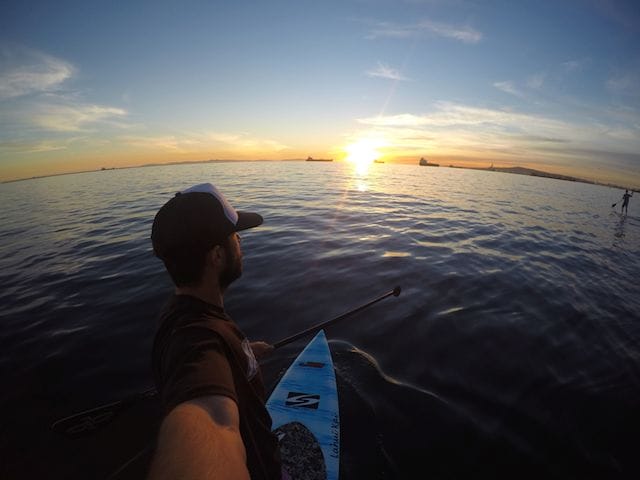 Follow John on Instagram for more photos and SUP adventures!
www.instagram.com/jfg4 –  @jfg4