SPAIN – This man has a passion for Stand-Up Paddling and loves a job well done. His name is Carles Carrera and he his the thinking head behind one of the most widely distributed SUP product in the world, the RSPro rail savers. We wanted to know him…
Who are you Carles Carrera?
I am an engineer who, from being dissatisfied with solutions that existed on the market back in 2010, started to develop my own rail protection solution for a new PSH board I had bought. As I was working in the automotive industry for a known Italian group then, one of my suppliers helped me in the process.
The result – which turned out very promising – added to a pinch of entrepreneurial spirit, started the whole thing.
How was the RSPro brand born?
Well, the same supplier who initially helped me became my partner and we developed a solution that seemed so good to us and to the people we showed it to, that we immediately began to look at ways to improve, optimize and industrialize it. When we were done with all the technical details, we created the RSPRO brand, launched a website exclusively in english and starting selling away. 
The initial sales confirmed we were on the right track both in terms of product and business model and we have grown and developed from there using our own resources and without having to borrow any money. At the end of the day, our clients have been our investors. And this is how it should be !
As is often the case, initial interest came from outside our own country, which meant that from the beginning, our export rate would be above 90%. A figure which is now around 85%.
Can you give us more details on the rail savers you make ?
The rail savers from RSPRO are adhesives board protections designed and manufactured in Barcelona and distributed worldwide. I wanted from the start I wanted to stand out on the market by not turning to Asia for our production, even if this would mean more hurdles to overcome. But I strongly believe that the local and the European industry have endured enough over the past years for me to take that stand.
So the differentiation had to  come from a very high-quality product, offering a really strong protection to the board and which would not spoil the board design, like other products available on the market, but on the contrary, enhance it. We felt, though, that the main obstacle would be the reactions from future clients. With adhesive pieces of such dimensions (191cm x 6.3cm), we knew that many customers would have many interrogations, if not cold feet: "will I be able to install it myself?", "Is it going to leave air bubbles underneath?" etc. So we decided to develop a super easy product to install. A process that we called internally fool-proof.
Little demo :
Now, three years later, I can proudly say that we are the market leaders, but I must say that it still pains me deeply when I see someone stick a piece of tape on a $2000 Stand-Up Paddle board. As some say : if you pay peanuts, you get monkeys.
Can you present some of the new products from your 2014 collection?
This year, we introduced a model called Hibiscus, very Hawaiian in style, with strong, fluorescent and golden colors available, but only at one of the ends of the rail saver and combined with a transparent body.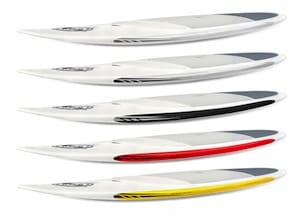 We also created a new model called Stripes'14. A highly-stylized design, with an opaque background, which is perfect for covering defects and bumps on used boards.
This year we also have launched products which are specific to race and downwind boards.
Who are your customers ?
90% of our sales are made through our distributors and 10% come directly from our site. We could do without online sales if we were to only rely on those percentages but the website gives us something priceless: a daily contact with the end-customer which would be impossible if 100 % of our business was done through a network of retailers only.
Our main countries for now are: USA, France, Japan, Brazil, Italy and the United Kingdom .
Do you make any other products?
Yes ! Last year, we launched the Paddle Grip. It's a product which improves greatly the hand grip on the paddle in both racing and surfing conditions. And this year we are working on a few more products which we will make sure to inform you on.
For more information: contact@rspro.org