We are starting this busy editorial week with an interview of our very first TotalSUP ambassador in Portugal : Nuno Pereira de Sousa. Nuno has his own SUP school near Porto and is highly knowledgeable on all-things SUP in Portugal. We are very happy to count him as part of our team as he has plenty to say about Stand Up Paddle. Let's bid him welcome !
TotalSUP : Hello Nuno, please tell us who you are!
Nuno : My name is Nuno and I'm from Miramar, a quiet and lovely beach town, near Oporto, in Portugal. I'm 36 (turning 37 soon…), and I have a wonderful and supportive wife and two beautiful small kids.
The ocean and the water always played an important role in my life. I remember being afraid of the ocean when I was a little kid, but when I started taking swimming lessons from age 6, all my fears disappeared and I started spending a lot of time in the water. After a few years I was training hard every day and started competing in swimming championships almost every weekend. But the athlete routine for a kid is really hard (especially swimming), and when I started training twice a day (pre and after school) every weekday with competitions on weekends I had to give up on training and began practicing other sports. Being a good swimmer and living near the beach, I spent every summer on the beach. I started bodysurfing, and one day I was with my father at the beach and there were some guys surfing; at the time the surf scene here was really small. "Do you want a surfboard?", he asked. "Yeah!!!", I immediately replied. But instead of a surfboard I got a cheap bodyboard. I was a little disappointed at first but it all changed when I caught my first wave. I still remember it and the sheer joy I felt. There's nothing like that first wave. From that moment on I did what every grom does: tried to surf as much as I could and thought about waves 24/7. About 10 years ago, after a back injury I quit bodyboarding and started surfing. I have also been skiing since I was a little kid and I love it almost as much as SUPing.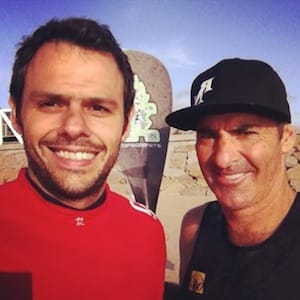 Can you tell us how you got hooked on SUP?
When I saw those first videos of Laird Hamilton and David Vetea SUPing in Teahupoo I thought that they were completely crazy and that this new sport was awesome. I toyed with the idea of buying a SUP for a few years and finally, three years ago I decided to get one for me as an alternative to surfing in really small days and to cruise around. The problem was that there weren't many people doing it here; I knew there were some guys playing with SUPs but I never saw them doing it. So I bought a really big and heavy board and just went to the water. But it was really difficult! I watched videos on Youtube of people SUPing and tried to figure out how to paddle, balance and catch waves and tried to emulate them on an empty beach. The feeling of catching a first wave on a SUP brought me back the memories and fun I had when I started bodyboarding. As my skills evolved I started focusing more on SUPing and I was surfing bigger and better waves. I then sold my board and changed it for a magic 8'5 Starboard Pocket Rocket. By that time the SUP scene was just starting to grow and we created a small community that's been growing ever since.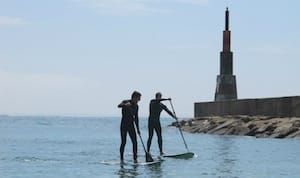 Is that how SUP Norte was born?
SUP Norte Shop & School was born from my passion for this sport and lifestyle. Our goal is to spread the SUP word and to give the best advises to other people about gear, how to get started, where to paddle, precautions, etc. I think it's a very good sign when most of our customers are now our friends. We also cooperate with other schools by doing free demos and SUP baptism, events, etc.
At SUP Norte we are currently working with two of the best SUP brands in the world: Starboard and SIC Maui. It's really important to work with companies that share your values and that push the boundaries of the sport every day. Svein Rasmussen (Starboard's CEO) and Mark Raaphorst (SIC Maui's master shaper and mastermind) are two of the most creative, innovative and driven minds on the SUP world and their boards show just that.
What is your best SUP memory so far?
SUP has already given me a lot. It helps me stay fit, healthy and have a positive attitude, and since I started SUPing I have never met so many people in my life. I have met so many interesting and different people from all over the country and the world that share the same stoke, whether they're just beginners, weekend warriors or pros. I try to SUP as much as I can: racing, downwinding, competing or just free-surfing, but I try to balance it with all other aspects of my life.
The difference between SUP and other sports is that anyone can pratice it and there's a bigger sense of community and we all support each other. I hope we don't lose it when the sport grows.

Nuno Sousa (2nd from the right) with Sean Poynter, Leonard Nika and Alexandre Tavares
Credits : Octusfocus | Tamron Lens (Robisa)
Where have you been SUP traveling?
I did a lot of surf trips to places like Hossegor, Madeira, Spain, Brazil, Bali, Costa Rica, Sri Lanka and California.
Last month I returned to Bali, but now on a SUP. Bali is one of the best places in world to travel and SUP; there's a lot of different waves and the quality and consistency is mind-blowing. On the East coast you can SUP alone or with a few others on perfect waves for SUP and I would recommend it for beginners to intermediate riders. You can find Rip Curl School of Surfing in Sanur and they have taxis that take you to the best spots and the latest Starboard gear for rent. And Jonni (the school owner) is such a great guy. And on the West Coast there are some of the best waves of the planet, like Uluwatu, Padang Pagang and Bingin. I only recommend it for advanced riders: it gets really crowded, powerful and super shallow.
I was also fortunate to do a road trip to California two years ago (my last surftrip on a shortboard) and saw first-hand how big SUP was there: from Dana Point to Santa Cruz, SUP was everywhere.
Is Portugal a good place to take your board out?
Although Portugal is a small country we have a coastline with almost 1000 km in the mainland and 900 km in the Madeira and Azores islands. And we have several lakes and rivers with amazing landscapes perfect for SUP. And the waves here are amazing! You can test your limits like McNamara in Nazaré, find perfect sandy barrels in Peniche, worldclass pointbreaks in Ericeira and Figueira da Foz, powerful reefs and amazing wildlife in Madeira and Azores and beautiful white sand beaches in Algarve.
There's also some quality waves waves around Oporto, in Matosinhos, Leça, Espinho, Aveiro, Esposende, Viana do Castelo, etc. And you can paddle in the Douro River and enjoy a different view of the Historic Centre of Oporto (a World Heritage Site by UNESCO), or you can do a SUP tour in the Alto Douro Wine Region, another World Heritage Site, and do some excellent wine tastings.
We also have some great downwind conditions here during Spring and Summer, so if you want to discover more about this region you can contact us through our email info@supnorte.com and we'll give some more additional information: where to sleep, eat, visit, shop and rent gear.
Are there any major SUP events not to be missed around your home region Porto or throughout Portugal?
We're starting to see a great number of SUP events here. Last year we had a great event in Moledo in July (north of Oporto, near Spain), where dozens of people tried SUP for the first time in a great atmosphere, with several brands working together, and we had a great race on the next day. This year it will be on the 18th and 19th of July. I also recommend the Berlengas to Peniche Crossing (22nd of June), one of the Peniche Paddle Series event. And we'll have our first SUP event in Azores, the São Jorge 2 Pico SUP Channel Crossing (12th of July).
What would be your advice to newcomers to the world of Paddlesurf?
Start as soon as you can; SUP will change your life! Talk to someone that already SUPs and ask for some advice on what board would be more suitable for you. Take some SUP classes to learn the fundamentals of the sport – balancing, safe instructions, paddling techniques, how to avoid injuries, how to read the ocean and river conditions, etc. Don't learn how to catch waves in spots with other people. Pick an empty spot down the beach with small and easy waves and work yourself up from that. Always respect other people on the water and paddle safe: don't steal, drop in or snake other people waves, wait for your turn, paddle around the and stay away from other people's way; don't SUP on crowded and respect the locals.
What's your quiver?
I have a Starboard 8'0 Pro Brushed Carbon and a Starboard 12'6 All Star Turtle Bay in Brushed Carbon. I'm also expecting a 7'7 Pro in the next few days. I love these boards! Every time I go in the water I can really feel my progression.
Where can we find you online?
Web: www.supnorte.com
Facebook: www.facebook.com/SUPnorte
Instagram: www.instagram.com/supnorte
Email: info@supnorte.com
Phone number: +351 917368429
Skype: supnorte