Only one week away from the closing of registration for the Statue of Liberty paddle for the NY SUP Open.  The New York Open will run from 15th to the 23rd September and is the second stop  on the APP World Tour. A competition that will offer the best of World Title competition and there are a multiple ways for YOU to get involved, in and out of the water.
Don't miss a great opportunity to be on the water with Top Pro Athletes in the world and experience the iconic waters & views of paddling around Lady Liberty in Manhattan.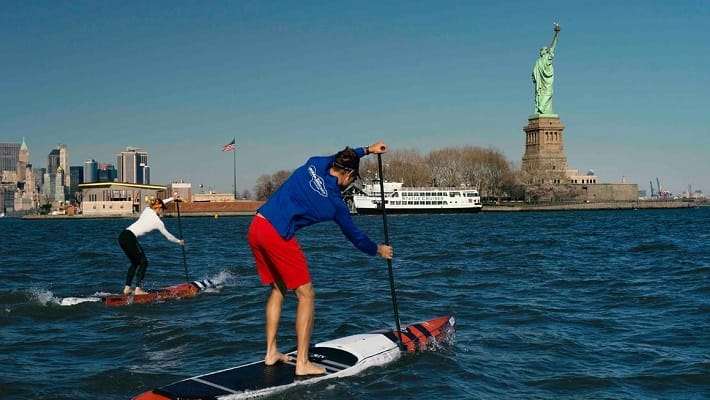 You can participate in this event in one of three (3) ways:
Pro Paddlers: Enter the fray and charge the current with the top elite in the world. Pro paddlers must be pre-approved and space is limited.
Pro-Am: You can make the cut and get your name on the docket for next year by participating in the ProAm division of Lady Liberty's paddle. This division is appropriate for all seasoned racers.
Amateur:  Want to see the Statue of Liberty up close from your paddleboard? Or check your bucket list item of braving the Hudson River? This non-competitive circuit of the course is a fun paddle for ALL. Why wait? Sign up NOW
So hurry up there is limited time left to SIGN UP. 
Paddle for Autism: Get on the Water with the Pros
Join the APP tour for a very special event on Saturday, Sept. 22nd at 4PM. Pro Athletes and Skudin Surf will lead you in a spectacular coastal tour of the Long Beach area in a 5-mile downwind experience to raise money for Surf for All.
Take paddle tips from the World's Top Athletes. Get on the water for something GOOD. Your registration fee of $85 is a donation to Surf for All, a non-profit spearheaded by Skudin Surf to raise money for weekly Surf Camps for children with special needs in to connect them to the water and bring their families to the beach for some rest & relaxation.These camps run all summer in Long Beach and serve the children in the NY, NJ, CT community.
Registration costs ALSO includes a great swag bag for you, all transportation (we will shuttle you back to the start) and a 2+ hour luau and after-party at Ted's Station Restaurant that includes a "Big Roast", cocktails and live music. Tickets are also available non paddlers at the registration link below.
Downwinder from 4-5:30PM. After-party from 6PM to ??  It's sure to be a highlight of the NY SUP Open and we'd love to extend our paddling community to serve these special children by bringing them the healing benefits of surf therapy.
If you feel you have what it takes to race, check out the registration page here!