Fanatic paddler Lizzie Carr is a renown British adventure paddle boarder. She has traveled the length and breadth of the country exploring Britain's inland waterways and coastlines from her paddle board, bringing you the very best of what's out there into a book "Paddle Britain". Lizzie is not shy of paddle adventures, in 2017 she became the first woman to paddle board the English Channel solo, while in 2018 she spent eight days paddling the length of the Hudson River.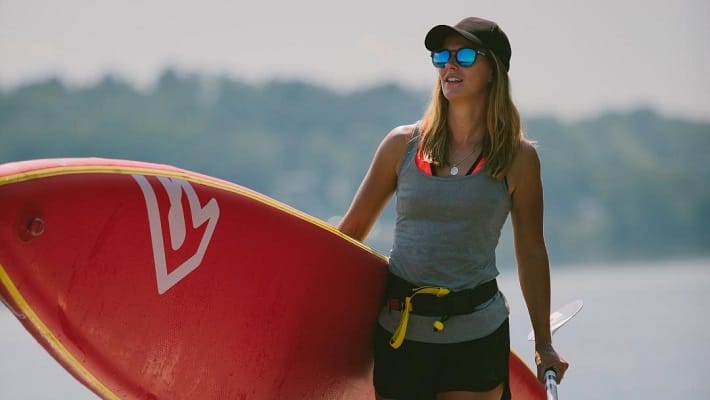 Paddle Britain is a new, unique guide from Bradt. It is a definitive guide to stand-up paddle boarding across British coastlines and inland waterways. The book reveals the 50 best places to go paddle boarding, kayaking or canoeing in Britain, from Devon and Cornwall to Norfolk, Cumbria and the Cairngorms. It also provides the full run-down on everything you need to know for successful and enjoyable stand-up paddle boarding, from safety tips to kit, weather watching to paddling responsibly.
"In the last few years I have paddled lot of places around the UK. Some routes have been as part of training for endurance challenges but others simple for the pleasure of paddling and exploring the country from an entirely new perspective. As the sport continues to get more popular people are increasingly asking me for ideas and recommendations for routes and areas to paddle so this book is a selection of my 50 favourite places to paddle for anyone that wants to explore a little more too" Said Adventurer Lizzie Carr.
The author, Lizzie Carr  said "this book responds to the countless questions I receive regularly from paddle boarders looking to explore new places and get new experiences from their SUP. Whether people want to take their families for a weekend adventure or enjoy a camping getaway with friends, this book – the first SUP guide on the market – aims to answer these questions and inspire people to get outside and explore the UK water scene both coastal and inland"
When asked about her favorite route Lizzie replied "All the routes have special qualities in their own way. Some are obviously included for the natural beauty of their surroundings or the chance to spot some incredible wildlife but others are more subtle and some, even, are quite personal choices to me. There will always be one place that I love to paddle and that's Isles of Scilly – it was there that I first put paddle to water and was immediately hooked. I've had countless SUP adventures around the islands and have included a couple of routes in the book too."
To buy your own copy, go to : www.bradtguides.com/paddling-britain.html/
For more info check out https://lizzieoutside.co.uk/