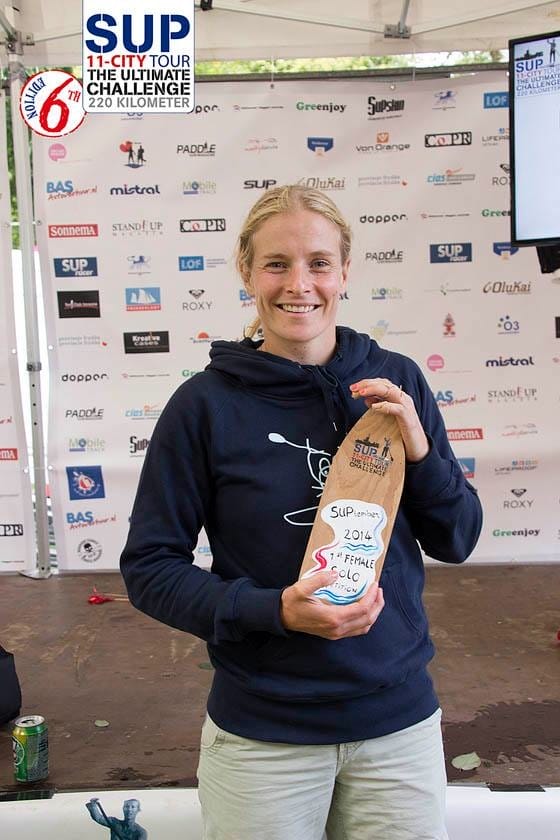 She's a first year SUP competitor and already a SUP Champion. SUP11-City Tour 2014 female winner, Janneke Smits is just amazed on how fast things have been going since she decided to start competing this year. If you wonder who she is, here is part of the answer…
(SUP11-City pictures – courtesy of Mayola Dijksman)
TotalSUP : Janneke ! Congratulations on your impressive victory. This was your 1st partipation to the SUP11 City Tour and you actually managed to win all 5 legs of the event. Did you expect to win before the race?
Janneke Smits : Thank you! No, I did not expect to win this race. I was hoping for a top 3, but thought 1st position was just an illusion.
Who are you Janneke Smits ?
Janneke Smits : I'm 31 years old and I live in Gouda, in The Netherlands. My husband and I have two little daughters, they are 2 and 4 years old. I own a SUP-school, Jaba SUP and a webshop, supboardshop.nl. I am also a swimming teacher and sports instructor (rowing on a ergo trainer) for a few hours per week. It's a bit busy at this moment but next year I will try to focus more on my own (SUP)business.
What's your sports background and SUP history ?
Janneke Smits : I was born on a houseboat and I always had to deal with the water in some way. I did competitive swimming, compressed air diving, white water kayaking and rafting in a women's team.
With the rafting-team we won 3 Dutch Championships, took part in 2 World Championships (South Korea in 2007 and Bosnia Herzegovina in 2009) and 1 European Championship (Wildalpen 2008, Austria).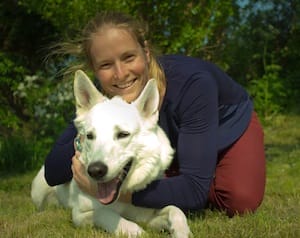 We became World Champion in Sprint in Bosnia and 2nd on the Downriver discipline, in Austria we took the 2nd position overall. After the birth of our eldest daughter in 2010, I decided to stop rafting.
In 2013, I started my own sup-school Jaba SUP. In October 2013, I've met some other people who were into SUP and racing. With my SUP-buddy Albert Grossguth, I started training during the winter.
This year, I decided to take part in the Dutch Championship competition and now the SUP11city tour … which I won!
The final race for the Dutch Championship competition will be held on September 21. If I win this race I will be the Dutch Female Champion…
What was your goal before starting the race?
Janneke Smits : The first aim was to complete the whole SUP11city tour. The Second one was to rank as high as possible.
Because I haven't been racing that long I didn't know how strong my opponent (female) paddlers were. I only knew I had to compete against the UK national Champion.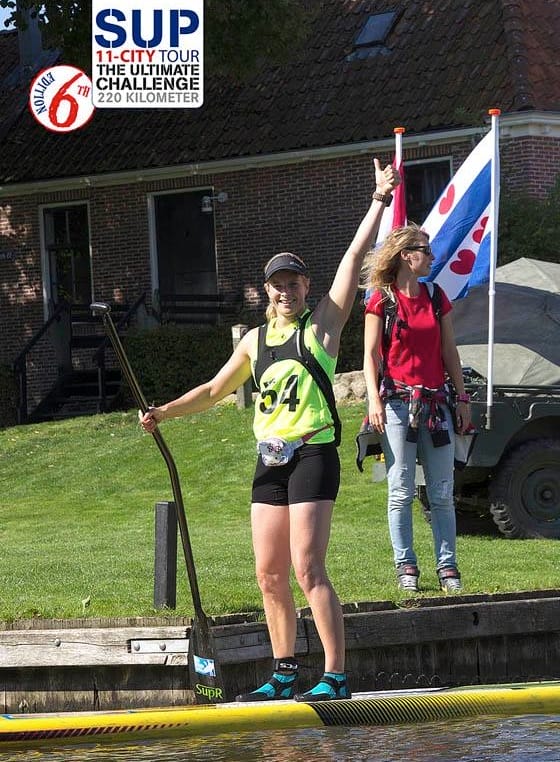 How did you build your victory over the 5 day race?
Janneke Smits : Day 1 Leeuwarden – Sloten 43 km: The start on the first day was exciting. I was asking myself, can I survive the massive start without falling and will I be able to draft? I didn't practice this a lot because in the Dutch Competition we only have a 12'6" women competition and you are not allowed to draft behind a 14'. At the end of the day, it all went well! The start was ok. I was able to catch a train and after approximately 10 km I could catch up with my SUP-buddy Albert which I never expected!
We finished together and it was a fantastic feeling. The big question was then "Could we do this again?"
Day 2 Sloten – Workum 45 km: this day was tough for me (I think it was for all competitors). On the first lake I could catch up with Albert again. After the break we had a headwind and it was hard for me to stay in the train. We helped each other through the 2nd day and finished together again. Great!!

Photo – Janneke and Albert Grossguth
Day 3 Workum – Franeker 42 km : thanks to the good massages after each race your muscles recover quite well. My body felt good, but my stomach didn't feel good that morning. I went to the toilet a lot before the race. And at the start signal you don't feel anything because of the adrenaline. I managed to catch up the big first train right from the beginning. Albert was close behind me. After a few kilometers I felt this train was going too fast for me, I could not race at this speed for 42 km. We decided to do it at our own pace. With a 3-person train we had a great day with a good speed. Towards the end it became tougher because of the stream to the Wadden sea on the big canal with all the curves. We ended with the three of us and had all a great day.
Day 4 Franeker – Dokkum 43 km: your body feels better every day, it looks like it gets "used" to the long distance every day. Day 4 has a very small starting area. Bart de Zwart asked me to start in the frontline. I must say I felt not very comfortable between all those good racers. It's one big choppy happening during the first 2 km. I almost fell into the water but managed to stay on the board. Albert and I were close together again and we caught the big train again as well. The night before we discussed the trains that were swinging that much. It will cost you a lot of energy and you will make a lot of extra meters. I was right behind Albert and he was going straight beside the other train. We were winning meter by meter, I really enjoyed that moment ! Although, after a few kilometers we still had to let the big train go, but at the first lock we had to carry our boards and took over a few places… After the break I had a dip, but after taking some water and energy cake it went better and better. We finished in Dokkum with the Frenchman who joined us after the first lock. The atmosphere in Dokkum was fantastic because of a local event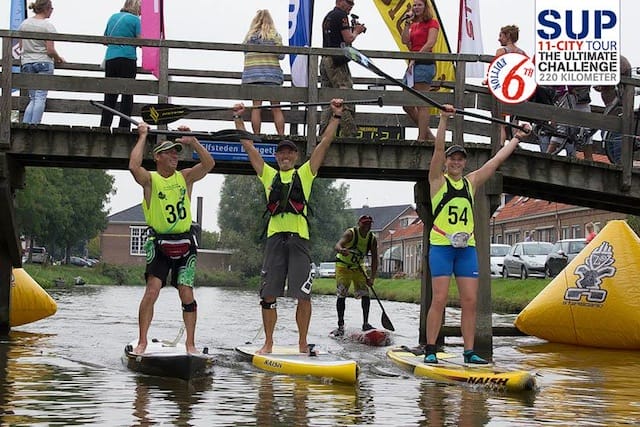 Day 5 Dokkum – Leeuwarden 27 km: Only 27 km today, wonderful ! Today no catching up with Albert. I pulled a 6-7 person train for 20 km to the resting place. After the 15 minutes break we all had to start at the same time. I was in front position again and managed to keep this position until I crossed the finish line! The fifth day ending up first again, that felt really great!
Before the start of the SUP11city tour I had no strategy at all. I didn't know what to expect. There are almost no restrictions during the SUP11city tour so it is possible and allowed to make an agreement with other paddlers about how you would like to race. But there's always a chance that your plan doesn't workout. I think I was lucky that I could catch up with Albert for 4 days, but before every race we were telling each other that when it's not possible to catch up, then we have to race our own race.
What's your board ? Is it provided by your sponsor?
Janneke Smits : I don't have a sponsor – besides my own bank account hehe… However, as I don't have a 14' board, I asked Naish Benelux if they could provide me with a board for this particular race. They gave me a Naish Javelin LE 14' / 26" (2014) which I could use for this race. I was really happy that I could use this board!
What did you think of the organization of SUP 11 ?
Janneke Smits : It's a huge organization! The first non-stop category didn't make it easier this year. They have to improvise a lot because there are such a lot of unexpected elements they have to deal with. I have a deep respect for all the volunteers, race-director and organization committee!!
Is this an event you would recommend? Do you think it is accessible to everyone?
Janneke Smits : The SUP11city tour is a challenge against yourself and the elements. The weather could be great or could be really worse. It's a physical and mental challenge for everyone! You really have to be in a physical good condition because you're asking the max from your body. When you're in a good physical and mental condition you can do a lot more than you expect, when you think you can't go any more, you're just halfway to what you are really capable of!! Train slow to go fast…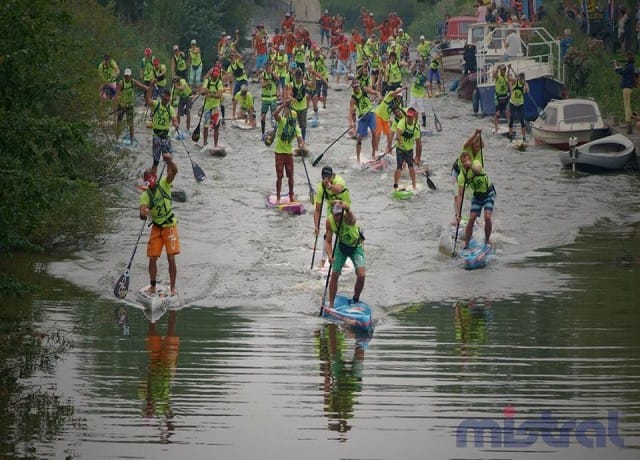 Photo – Bart de Zwart in the lead – Top right Janneke Smits #54