Dylan Frick is a 21-year-old South African Starboard SUP racer. Having taken up Stand-Up Paddle a few years ago, Dylan began competing abroad when he was 16. Leaving home so young to travel the world is not easy for someone so young, but for other family members it can even more tough. Dylan's mother, Anna-Marie Frick, tries to help her son out on his travels as much as she can, even when she is not by his side.
Dylan has been participating in SUP races worldwide since the age of 16. What has it been like to see your son heading off around the world at this young age?
It's always difficult when the new season starts and he leaves for the first time. As one get used to having him around for those few months a year.
But once his flight takes off, its business as usual thanks to modern technology and things like skype, WhatsApp and live feeds from the events that makes it easier on a mommy.
Are you responsible for instilling this passion for SUP in Dylan?
No, it's inherent as Dylan's father is a multi-talented watermen who does it all. Surfing, sailing, diving, fishing, windsurfing and kitesurfing, so it was inevitable that Dylan would excel in anything to do with the ocean.
Fortunately Stand Up Paddling came along and Dylan was a natural leader in the sport in South Africa.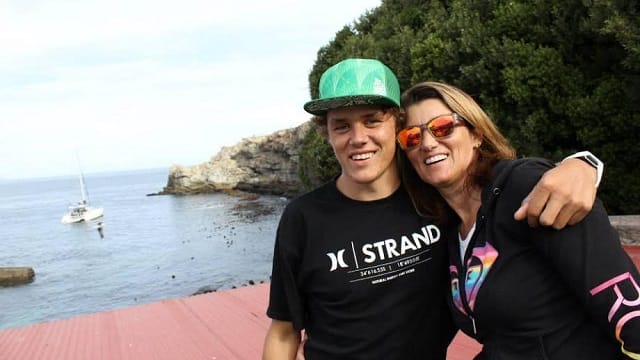 How do you help Dylan with his SUP career?
Beginning of each year Dylan and I work through the national and international SUP events on the calendar.  Then I create a year travel calendar for Dylan on excel with notes.
With this calendar his sponsor Le Roux Nel Biokinetics plans his training calendar with them.  I always make sure I stay up to date with the next event on his calendar.
I enter him online, book his flights and accommodation for all events and keep him updated on plans for the next events, before each event.
I'm in control of his emails and annual contract renewals, liaising with all after discussing it with him. I also try raising funds from time to time and especially for his ISA World Champs tours as he has no support towards this at all, and is self-funded. Not easy to find sponsors in a country where SUP is not well known or taken seriously.
I do it with love as it feels like I'm seeing the world through is travels and accomplishments, and his good results are what satisfies me.
The biggest challenges are covering the necessary expenses and finding ways to get his boards to events or finding boards for him to use if I can't get the boards to events in time.
I'm his mommy, then his financial consultant, then I'm his manager and travel agent, I'm his personal assistant and slave as well as his psychiatrist. None of us are very good at social media, so Dylan is left to his own devices there.
Do you travel with Dylan for his races?
Locally we try to attend all his South African based events, but due to the financial situation in South Africa it is virtually impossible.
We've been fortunate enough to have attended various events abroad with him in the past, but consider ourselves blessed to have been there for him when he took to the podium in 3rd place at the 2013 ISA World Champs in Peru. Lots of sacrifices where made and assets were sold to make that possible, at that was the last trip abroad with him.
How do you follow his races / results when he is away?
Live feeds, facebook updates and knowing other people attending the events who keep us posted is a bonus.
Sometimes we suffer serious sleep deprivation watching the live events in time zones opposite to ours.