By placing twice in 5th position at one of the world's main stand up paddle events, 15-year-old SIC Maui SUP team racer Bodie Von Allmen did put his name in the books of SUP Racing last week in Hood River. Sharing the podium with the likes of Connor Baxter, Josh Riccio, and Itzel Delgado and repeatedly being in front of international athletes like Tyler Bashor and Bernd Roediger is no minor feat, especially at such a young age. The first taste of international fame that is already leading to even bigger challenges as Von Allmen will take part in the ICF SUP Worlds in Hungary in two weeks where, instead of going for a junior world title in the inflatable category, he is planning to compete against the big names in all the main events of the Men's Open division. Here's our 1st one-to-one encounter with a future SUPerstar.
Hi there Bodie, can you introduce yourself and tell us plenty of details about your life!
Hi! I'm Bodie Von Allmen from Oregon. My dad has been surfing since before I was born and got me into surfing and paddling at a young age. My mom plays tennis in a USTA (Ed. United States Tennis Association) league. My sister plays soccer for Lake Oswego High School. My main sport is paddling, I train on Oswego Lake, and I go to school at Lake Oswego high school.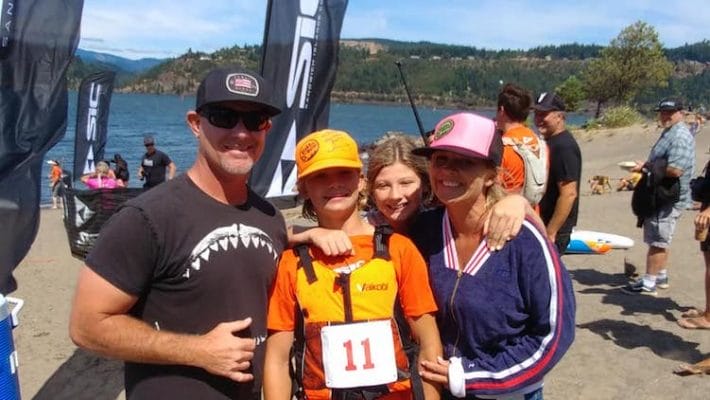 At 13, you were the talk of the town 2 years ago when I visited Hood River for the first time to cover the Columbia Gorge Paddle Challenge live. When did you actually start paddling and/or SUP racing? What type of paddler would you say you are now at 15?
I started paddling when I was 9 years old. What I love most about paddling is distance flat water and downwind, and I would say I'm strongest at distance flatwater.
Tell us about your own town Lake Oswego and training home spots in Oregon
I do the majority of my training on Oswego Lake. The marina is a block from my house, and the conditions are almost always glassy in the mornings. I also do a lot of downwinding in the Columbia Gorge which is about an hour from my house.
We get a few super hot days in the summer and a few super cold days in the winter but for the most part the weather is pretty mild here, we just get a ton of rain.
How much and what kind of training do you do? Do you train with Fiona Wylde in Hood River sometimes? Who do you usually train with? Do you have a coach?
I train on my race board for about 45 minutes in the morning. The majority of my training is cross-training. I do a lot of swimming and running. Occasionally, I train with Fiona but most of the time I train alone.
I guess my coach would be my speed coach. That's my GPS.
d
Congratulations on this year's Gorge Paddle Challenge results! How does it feel to be sharing podiums with living legends and top athletes who are all between 7 and 13 years older than you?
It was really cool, I look up to those guys. They are all super supportive. At the end of the day we are competitors but they are all really cool guys.
What is your history with your gear sponsor SIC? How did you come across the brand?
I have been on the SIC team for 3 years. I first paddled an SIC RS when I was 12 years old at a race in San Diego, California. SIC gives me discounts on boards and promotes me on social media. We all get together when they come and visit for the Gorge Paddle Challenge and when I go to southern California or Hawaii.
Tell us about your choice of SIC board(s) and why.
My favorite board for anything but downwinding is the SIC Maui RS. For the Columbia Gorge Paddle Challenge and big downwinds, I like the SIC Bayonet way more. I would have raced it at the last Gorge Paddle Challenge ten days ago but there was not quite enough wind for it.  My Bayonet and RS are both 14 x 21.5.
>> SIC Maui RS
>> SIC Maui Bayonnet

In less than three weeks, you will be traveling to Hungary to take part in the ICF World Championships. What divisions will you be competing in and what are your expectations?
I'm excited to go to Hungary and compete in the ICF SUP Race World Championship. I will be competing in the Men's open division for long distance, sprints, and technical and I will be representing the U.S. I am not sure how I will place but I guess we will see what happens.
What goals and dreams are you hoping to achieve in SUP racing in the coming years? Does any top athlete inspire or have any influence on you?
Next year I'm planning on competing in the Euro Tour. I watch Titou (Ed. Titouan Puyo) and Michael Booth and try to copy their technique but I might not look anything like them when I paddle… I just try to imitate what they do.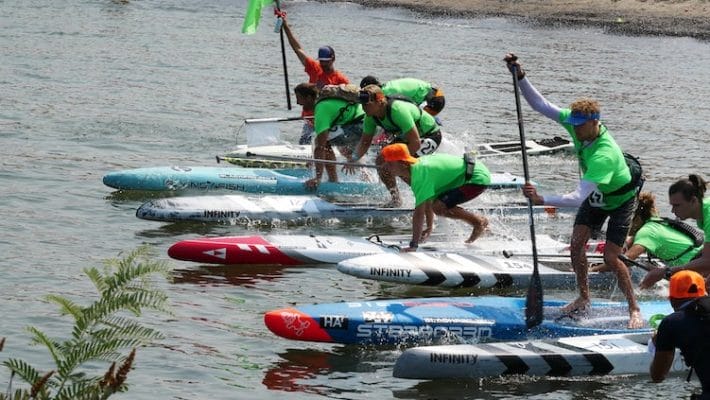 For more information on SIC Maui, go to: