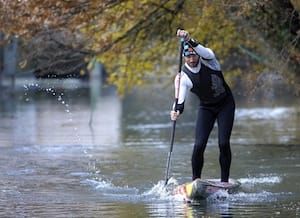 NOUMEA, NEW-CALEDONIA — Unknown in the world of Stand-Up Paddle only 6 months ago, Titouan Puyo has managed within a few months to win the France championships in Long Distance, qualify for the french team, be a medal-winner at the Paris Sup Crossing and, only last week, beat some of the best australian riders in their own back yard. Watch out, U.F.R. !
TotalSUP : Hello Titouan, could you tell us more about your life and what you did until your name appeared at the France championships last autumn? 
I was born in 1991 in Rapa, one of the islands in the French Polynesia archipelago ! My parents and my older brother happened to be in the area on their sailing boat when I was born. To this day, my parents are still on their boat. I lived my 6 or 7 earliest years in French Polynesia and then moved to New Caledonia, with a few detours here and there on the boat. That's where I started practicing va'a with my older brother. Since 2005, I have been part of the caledonian va'a teams for the world championships, the Pacific games and many other competitions.
The results I am most proud of are my 4th place and our team silver medal in the  2010 world championship as well as the 5 silver medals at the 2011 Pacific Games. My best memories, a va'a festival in the Cook islands and a tour of Moorea with Teva, a team from Tahiti. Thanks to this intense practice of water sports, I very naturally went to university to study sports, first in Noumea, New Caledonia, then in Brest, France and in the french region of les Landes.
How long have you been doing SUP? 
I started doing Stand Up Paddle regularly when I came back from France at the end of 2012. The main reason for this was because I needed to get back in shape, also because I was curious and people around me kept saying that I should try. And after the first race, I had a sponsor ! He actually became a friend and as he runs a board shop, the Noumea board Shop this also got me a job, as he needed to build the Noumea Sup school to go along with the shop. So I created it in 2013.
Can you explain to us what va'a is? Any similarities with Stand-Up Paddling?  
A va'a is an outrigger canoe. It's a traditional french polynesian boat which differs from other versions because it doesn't have a rudder. The paddle does it all. It has been my sport for years and will be for a long time. It's also where I have numerous friends. Of course, va'a is a big help for Stand-Up Paddle: the long hours spent on the sea, the starting lines, effort management and the paddle stroke – although it's clear that SUP has its own specificities.
Therefore I would agree that, in Tahiti especially, where va'a is king, there is a huge reserve of future Stand-Up Paddlers. You can see that already with Georges Cronsteadt and I am sure others will come – and from Noumea, New Caledonia also hahahah !
In less than 6 months, you have put your name at the top of the SUP race tables, and not just in France but internationally. Did you expect to be a great performer so fast ?
Well, this came fast, yes and no… I have been doing va'a competitions since 2003, but obviously this sport gets less media attention ! I have to be honest though, I have never had good results like the ones I have just had in SUP. I prepared well for the France championships both to perform well but also to succeed in finding sponsors. Job done since Starboard has welcome me in their dream team ! My big thanks to them for believing in me ! Consequently I am discovering the top level and finding out that I have much to learn and improve especially with my balance in technical race. I like long distance!
You qualified for the french team and are going to take part in the ISA World Championships in May? How do you feel about it?
To be able to represent France is amazing ! And it does mean something for people around me who are not familiar with Stand Up Paddle. I am going to learn a lot in Nicaragua. I am used to this sort of events in va'a and I look forward to seeing what it's like for SUP. The team's objective is to be on the podium and I shall try my best to achieve this!
What are you worth in the waves? 
Hmmm my level in SUP surf… I only started training seriously in waves last week as Peter Dorries, who is coaching me during my 2 weeks stay here in Australia, insists that it will help a lot for technical races. So I can say I am ok in waves but far from being able to compete ! I like to do competitions when I know I am in the game ! So, I'm getting into it to get better at racing. I like short and longboard though which I have been doing with friends in Bourail and Port Moselle for years ! I love it but va'a has always been the priority and that explains my level. 
Can you tell us about your homeland, New Caledonia? 
I have travelled a lot and I still find New Caledonia amazing ! That's also where most of my friends and my parents are ! You can do windsurf in Lanse Vata, surf at La Passe  or at La Roche Percée (the locals are going to kill me for giving away those spots haha). You have rivers to swim, bathe and jump, beautiful walks, the largest lagoon in the world which offers perfect conditions for downwinds, fishing, what else ? I could go on and on !  Why don't you come and see for yourself ! I cannot show it all with my Go Pro (the local Go Pro dealer is another sponsor by the way) !
In terms of local competitions, we're getting there. It's more of a downwind place right now but the local league and the club of Asptt Noumea Glisse (ANG) are working hard to put together some great competitions ! There is even an international competition project on the table which we hope to organize in the next years ! I am very proud to showcase Caledonian SUP along with the windsurfer Sarah Delaunay, who ranked 3rd in the France SUP race championships ! Hopefully soon, many other caledonians will join us in the international competitions !
Oleti, maururu, thank you TotalSUP for inviting me – that's 2 more languages for you on the site, Drehu and Tahitian !