At only 16 and with just a couple of years into Stand Up Paddle racing, Shae Foundy has already made a huge mark on the sport. Her win at Tommy Bahama Santa Monica Pier Paddle race over Candice Appleby and Annabel Anderson last week-end gave TotalSUP a great opportunity to ask her lots of questions. Here is our interview with Shae Foudy!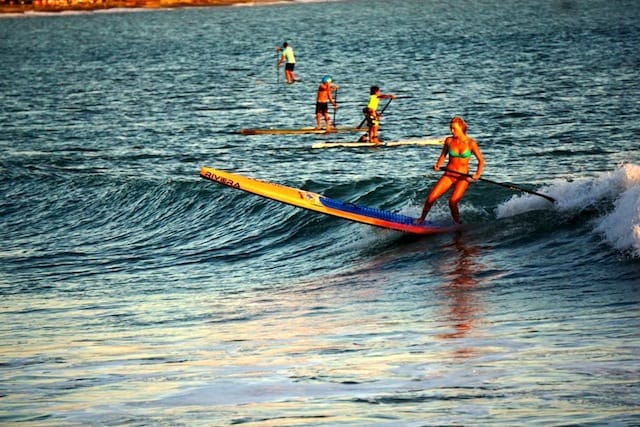 Big congrats on your win at Santa Monica Pier Paddle race this week-end. Can you give us more details on how you raced in the 2 races and how you managed to win it all !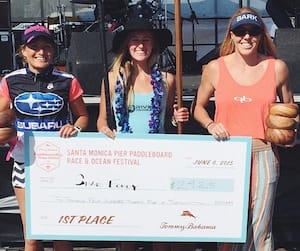 Shae Foudy: This past weekend was absolutely crazy. I was going into each race thinking to myself anything can happen and today is the day I can rise up athletically and mentally. Candice and Annabel have both shown such inspiring performances and to race against them is such an honor. Earlier in the 5 mile race I placed third behind the two ladies, leaving me to simply want to prove to myself that I can do better and succeed in the SUP cross event. So when the race came around I just put my head down and paddled faster then I knew I could.
How does it feel to beat the recent double ISA world champion Candice Appleby and World Number 1 Annabel Anderson?
I am honored to have the opportunity to race against Candice and Annabel and I am still in complete shock that i beat these ladies last weekend.
So who are you exactly Miss Shae Foudy?
I am 16 years old, born and raised in Dana Point my whole life. I grew up being taught, from the early stages in my life, that there is something special in the ocean. My passion for the sea began when i fell in love with long boarding and the simple beauty that the ocean contains. At the age of 11 I got into Outrigger Canoe racing and for four years raced with the Dana Outrigger Canoe Club (junior team). I was introduced to Stand Up Paddling through my outrigger coach, Mike Eisert, at the age of 14. He is now my current SUP coach and trains me at least 4 times a week. I credit my passion and love for the sport to Mike Eisert, as he was the person to encourage me to take a chance with it and i would say it turned out pretty good.
I am currently going to school at Dana Hills high school, finishing up my sophomore year! I am a full time student and athlete.
What is it like living and SUPing in Dana Point ?
I absolutely love Dana Point! The town itself has taken Stand up Paddling to a whole new level. Just in a 15-20 mile radius some of the biggest SUP board brands are located . The paddling community in Dana Point is growing by the day and welcomes anybody looking for a new adventure. The harbor is where an individual may see just how crazy SUP has taken off. The channels around the island are filled with people paddling left and right.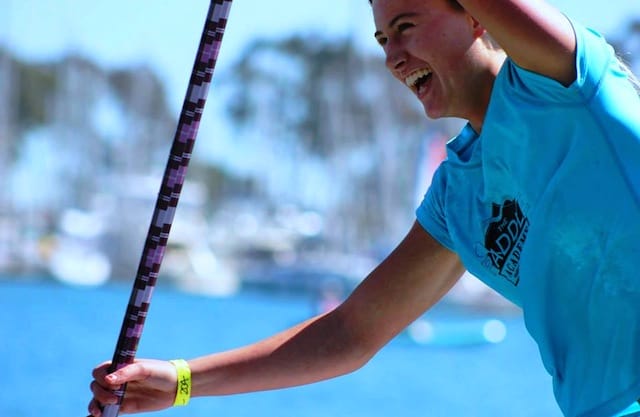 What board do you use?
I use an Riviera RP 12'6 by 22.5 inches wide. I use it in the surf and flat water. I am a Team Rider for Riviera Paddlesurf and couldn't be happier to be with such an amazing company. Their boards are constantly evolving to keep up with the fluctuating SUP industry of equipment.
Who is sponsoring you?
I am currently sponsored by Riviera Paddlesurf, SUP Gladiator, and Slip Ins Surf Skins.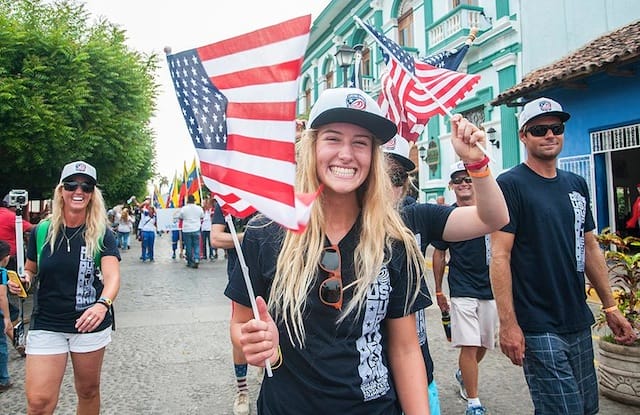 What events are you focusing on for the rest of the season?
I am focused on training for the Gorge Paddle Challenge in Hood River, Oregon. I am also looking forward to competing at Race the lake of the sky in about 2 week-ends! There are also a few more races on my radar that are still in debate if i will be competing at them or not.
What's your mantra?
I think it is important for all aspiring athletes out in the world to know that absolutely anything can be achieved when you put your mind to it! Never give up and never give into the "I can't" because anything is possible.
Thank you Shae Foudy for taking the time to answer our questions!