Vania Torres Olivieri is one of the leading SUP Surfers in South America and after an injury-affected 2022 season, she's now fully fit and ready to rip on her custom Infinity SUP boards shaped by Dave Boehne in Dana Point. TotalSUP sat down with Vania and Dave to talk about Infinity custom boards and her SUP Surfing ambitions in 2023
Hi Vania, great to catch you off the water! Let's start with a quick recap for new readers, who is Vania Torres Oliveri?
Hola! I am a SUP Surfer, actress and model from Peru, I started SUP surfing in 2017 and my career highlights so far are a silver medal at the Pan-American games here in Lima in 2019, fourth place at the ISA World Championships in El Salvador in 2019 and third place at the Gran Canaria PRO-AM, part of the APP World Tour event in 2018.
The 2022 season was disappointing, I missed the APP event in Gran Canaria and was injured while competing in September which meant I was not at my best for the ISA World Championships in Puerto Rico and finished sixth.
2022 sounds like a year to put behind you, how are things looking for 2023?
Yes! I am now fully recovered and have a second chance in April to qualify for the Pan-Am games in Santiago, Chile. That is my goal for the year. Also if we have an ISA competition in the region, to win it.
I am sure all of us wish you success in the year ahead. You are one of the Infinity Speed Freaks squad and get your boards custom-made by Dave. Tell us about your boards and what makes them, and the Infinity family so special.
I've been surfing for infinity since 2020 and love the boards. They are shaped by dave and right now I ride a 6"10 that's my favourite. Dave has become a good friend and I love to travel with him.
That leads us nicely to the man himself, Dave Boehne, from Infinity. Nice to catch up you Dave, Vania's boards look fantastic! Can you tell us how you work with your team riders on custom boards?
Thanks. We shape all of our boards right here in our Dana Point surf shop location is super fun and a bit old school as you don't see many surf shops with a live shaping bay. Working with the riders is always fun, especially when they are as talented as Vania. Of course, she surfs amazingly well and she's light so already I knew we were going to push the design with low volume.
For the first boards I made for her I suggested letting me do the work, knowing how she surfs and I would take it from there. She provided me with info about what she likes and wants from this new board as well as some general specs to work from.
She really liked the first board which made it easy to fine-tune for the next batches so for Vania, in particular, it was not super hard, she knows what she likes and it's super fun working with her and even more fun watching her rip on the boards!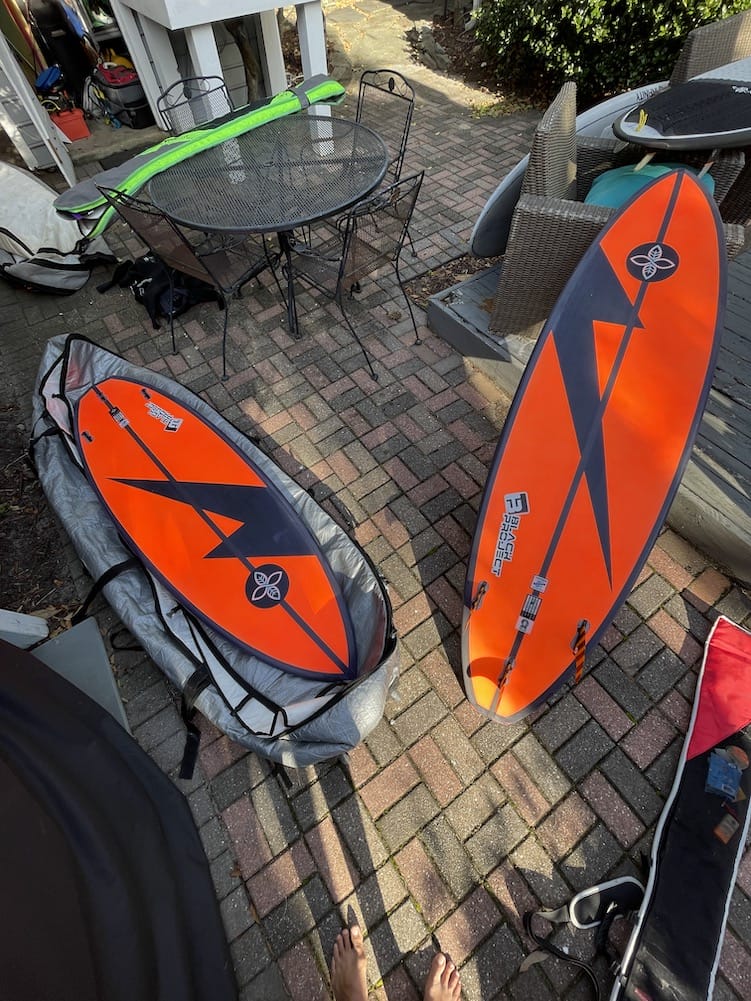 And I notice on the Infinity Facebook groups that custom boards are available to customers too, I think that is unusual for a mainstream brand. Is that something you enjoy, working with paddlers to make something unique and even more special for them?
Sure it can be super fun helping someone imagine their dream board and watch it come to life! There are challenges that come with it as well but it's all part of the fun.
We have been a surf company since 1970 and we were one of the very first brands to make SUP boards. Our first SUP board was made in 2004 if you can believe that! So custom boards are a big part of what we do and what we are known for. We've only been making and distributing "production" boards since 2016. Custom boards are available to anyone but of course, shipping costs and import taxes play a big part in how many we sell outside of the USA.
Thanks, Dave, good to see a little of the support you give team riders and customers alike. And Vania, all of us here at TotalSUP wish you every success with your 2023 season, we hope to see more of you and your fantastic boards on the site soon.
You can keep up to date with Vania's push to qualify for the Pan Am games here on total sup and through her social media channels, Vania's Facebook and Vania's Instagram.
Big thanks to Dave Boehne at Infinity SUP for taking time out of his super-busy schedule to talk to us about their custom boards and share a little of the process that creates the magic. The full range of Infinity boards and everything else Infinity can be found on their website, social media channels: Infinity SUP Facebook and Infinity SUP Instagram and through their recently launched app which you can get from your preferred app store.
iOS: https://apps.apple.com/us/app/infinity-surf/id6444833931
Android: https://play.google.com/store/apps/details…
Images from Pablo Franco, Dave Boehne and Vania's Facebook page.