Earlier this week, we gave you some insight into The Paddle Academy through an interview with Mike Eisert, the school's founder. As he told us, Mike is helped by Gregory Closier, the amazing French coach who moved to San Clemente a few months ago and who is heavily invested in this great SUP club. Now it's Greg's turn to tell us a little bit about his relationship with Mike and The Paddle Academy.
First of all, I'd really like to thank Mike for all that he has done for me. Moving to San Clemente full-time certainly wasn't easy for me or my family, and even though I know people around here it is certainly a different thing settling here, as opposed to merely coming here on holidays. Jean-Philippe from Howzit introduced me to Mike during the PPG 2016, and he's been so helpful and a great friend since. In truth, I think we have a lot in common. For starters, we are deeply passionate about coaching, especially kids. We also have a very similar way of thinking and seeing things, which is why we have a strong respect for each other and we maintain a very good relationship overall.
For me, training with The Paddle Academy (TPA) was a no-brainer. I've known about TPA and their work for quite some time, so when I had the chance to be part of their coaching team it goes without saying that I was super stoked. I have a great deal of experience training kids in France, and some of these kids have since gone on to become top athletes. It is always rewarding to see that at some point along the way, I was able to help them and contribute to their achievements. Among those I had the pleasure of coaching were Benoit Carpentier (top 10 SUP surfer in the World Tour), Arthur Arutkin (among the top 4 SUP racers in the SWS and 3rd in the ISA World Championship) and Martin Vitry (winner of the PPG junior 2016).
Truth be told, I've always been into coaching. Having been a surfing instructor for 20 years, I have a sense of what it is like to share an experience like this. It is both my job and my passion. It's what I always wanted to do because, when I started surfing at a young age, there was nobody around to help kids like me. My goal has always been to introduce people to the world of surfing and help them improve their skills. Now I'm happy to do the same with SUP too.
Training kids with TPA is really interesting. The kids are just amazing. Always so nice and well-behaved, and so very talented. The parents are really great to deal with too. They are so invested in it, so it almost feels like being part of a family. I like to mix it up while training with them sometimes.
Sometimes, I train with them by repeating the same excercices over and over. They are already so fast to begin with, so I try to push them to their limits and help them improve by getting faster and faster.
Other times, I'm more focused on helping them work on their technique. There is always something that needs to be improved. Working on one's paddle technique is a long and continuous process.
I love to practice downwinding with them. This is one of my core strengths, so I think my experience and my skills are put to good use when helping them improve in this area.
I remember a couples months ago, one of the kids, Tyler, was already quite fast, yet I always ended up considerably ahead of him when I tried to pull away. But now, he's being training so hard that it is really paying off. I can't even keep up anymore! It is good to see some the girls making such progress as well, particularly in terms of speed. Two others in one of my groups, Erika and Jade, are getting faster and faster everyday. I see a bright future for those kids. Not only those at junior level, but also in the elite paddlers group.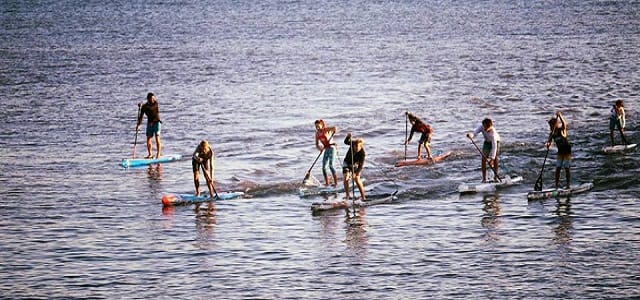 And the good thing is that there are so many others hot on their heels. The likes of Zeek, Gavin and Abbey spring to mind. They're all really talended kids. It's really amazing to watch such talented youth in action.
Working with Mike is easy. He's so mellow, but he takes training very seriously. He has such a depth of experience. From paddle stroke to downwind, he has mastered every aspect of paddling. I can't wait to start working on the new kids' programme. This is exactly what SUP racing needs. It is too much of an adults' sport right now. We need to introduce as many many kids as possible to SUP racing so that it keeps growing. So that new and talented kids will take it up and that races will have more and more talented youngsters. This is precisely how you help a sport grow.