With its fascinating history, culture and the longest left-hand wave in the world, Peru is one of the most unique surf and travel destinations in the world. We now have another reason to visit – Itzel Delgado, the Infinity SUP Speed Freaks Racing Team whiz pro rider and the Pan-Am Games Champion. TotalSUP caught up with Itzel in between his travels to talk about the SUP surf and foil scene in Peru and his top waves to shred.
Hi Itzel, massive congratulations on your amazing SUP racing season and the Bronze medal in the Pan-Am Games!
View this post on Instagram
How did you discover the sport of stand up paddleboarding?
The first time I ever saw a stand up paddleboard was in 2012, when a friend of my dad brought one to Lima and asked my dad to keep it at our house. My dad started paddling on the board, got really into it and after a couple months, he got invited to a race in the trials for the Peruvian team for the 2013 ISA SUP Games in Lima. He made the team and competed in the long distance race.
I was only 14 years old by that time and I really liked the idea of going and watching the World SUP Championships on a beach very close to my house and seeing my dad competing. I saw all of the races and had the chance to meet some of the best guys in the sport at that time. One day during the competitions, I approached my dad and told him that I wanted to try stand up paddleboarding. He was waiting for that moment and had a board and a paddle ready for me to go out. The waves were big and I was scared, but there was something about being out on the water and standing on a board that made me fall in love. Ever since that day, SUP has been a very important part of my life and I love to practice it as a professional sport and competing in different places against the best SUP athletes in the world.
View this post on Instagram
Could you tell us more about your collaboration with Infinity SUP and being a part of the Speed Freaks squad?
I met the Infinity SUP crew for the first time at the 2016 Pacific Paddle Games, I had been looking at their boards for a good time and knew exactly what I wanted, so I got my first Blackfish 12'6"x24". I took the board back to Peru and used it to win the SUP Race at the 2016 PanAmerican Surfing Games. After that, I've had a lot of amazing adventures with the Speed Freaks, we have travelled together around the US, like Oregon, North Carolina and New York and we have also been to Europe, which was a very fun trip in 2017. All members of the Speed Freaks are very different individuals, with one thing in common – the love for going fast on a SUP.
What are your Infinity boards of choice?
Depending on the conditions, I choose the Whiplash 14'x21" when the waves are small or it's flat and for lakes and rivers. When I have to go out on the ocean and through waves, I choose the 14'x23" Blackfish, a board that loves going over the surface and can catch any bump out there. But when it comes to free paddling and race board surfing, I choose a smaller board, I always love riding the 12'6"x23" Blackfish, super easy to turn, very stable and surfs really well.
Your home SUP and surf turf is one of the most epic in the world. What is the SUP, surf and foil scene like in Peru?
Peru is a paradise for watersports, we have a very long coast full of amazing waves and perfect conditions to practice surf, SUP, foil, windsurfing and many more. Surfing is very popular in Peru and its history goes back to the ancient Moches, who rode the "Caballito de totora" to go fishing and had to surf back to the shore without letting their catch fall into the ocean.
Surfing is for sure the biggest watersport in Peru and it is also the reason for a lot of tourists to come to the country. Ever since the first ISA SUP World Championship in Peru in 2012, stand up paddleboarding is growing but is still small compared to surfing. Lately with the worldwide growth of foiling, there have been some foilers starting to show up at the breaks here in Peru, even though there are only a few people foiling in Peru, we have some of the best spots to foil in the world and that has brought a lot of foilers from around the globe to foil at Chicama, the world's longest left, where you can fly on one wave for more than 6 minutes nonstop.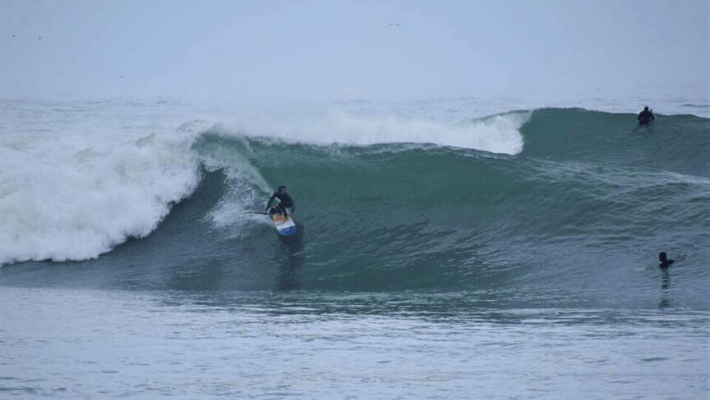 Could you share your favourite SUP/surf spots in Peru?
La Herradura
For sure my favourite spot in Peru is La Herradura, my home break, a horse shoe looking bay with one of the best point break lefts in the country, right next to the Lima bay.
View this post on Instagram
Lobitos
Lobitos needs to make the list, located in north of Peru, a left with amazing conditions, where you can get barreled in the different sections of the wave and is also very popular for windsurfing and kitesurfing because of the strong off shore wind.
View this post on Instagram
Punta Rocas
Punta Rocas is one hour away from Lima and has been the location for many international events in Peru, it is known to be a very strong break that can get double or triple overhead, people normally surf the rights, but you can also catch a very good left every once and then.
View this post on Instagram
Pacasmayo
Also located in the north of Peru is Pacasmayo, we call it Chicama's older sister, a very long left, well known for windsurfing and kitesurfing, that can get really big and strong when there is a good swell.
View this post on Instagram
Puerto Nuevo
A good beach break needs to make the list and Puerto Nuevo is one of my favorites, people mostly surf there on shortboard or bodyboard but you can also have a lot of fun on a SUP surf and try to get barreled on a strong wave.
View this post on Instagram
What would you say to paddlers who are just entering the SUP racing scene?
Stand up paddle boarding is an amazing sport that connects you in a unique way to the nature, to anyone out there who likes exercising and wants to try something new, I really recommend taking a SUP out to the ocean and going for a paddle. I am sure it will change your life. Stand Up Paddle racing is a very demanding sport where your whole body is actively working, from your legs and core to be stable on the board, to the back and upper body to execute a good stroke to go fast. To paddlers who are just entering the SUP racing scene, I would recommend starting with small and short local races, to gain experience and help getting to know a little more of the sport, also having the chance to watch the professional races online or even attending some, helps to learn different skills and techniques to improve your paddling.
View this post on Instagram
What's next on your pro SUP journey?
I still have two competitions left for the rest of 2019, I will be going to El Salvador, to represent Peru at the 2019 ISA World SUP Games and after it I will travel to Paris, for the last stop of the 2019 APP SUP World Tour. After these two events, I am looking forward to getting back home and enjoying the off season, before 2020 begins and it's time to start racing again.
View this post on Instagram
I would also like to thank all the people that help me and support me along my journey, my whole family, Infinity SUP, the Peruvian Sports Institute, the Peruvian Surfing Federation, Quickblade Paddles, Blackproject SUP, OX Endurance, Hunt Oil, Marca Peru and all the people who have been there for me when I am traveling around the world on my own.
Thank you very much for your time Itzel and good luck with the rest of your SUP racing season!
To find out more about Infinity's high performance SUP designs for surf and race visit www.infinity-sup.com