No matter what kind of board he's riding or what kind of waves the ocean throws at him, Zane Schweitzer rips in all conditions and disciplines in the ocean. I was recently able to catch up with the newly-crowned 2016 ISA World Sup Surfing Champion on Maui to talk about some of the highlights from trip to Fiji for the 2016 ISA World SUP and Paddleboard Championships. (Pictures Ben Reed)
Below is a transcript from a talk story session with Zane Schweitzer on my porch in west Maui.
"Fijians were so rad!"
Josh Riccio: Congrats bro! 2016 ISA World Sup Surfing champion! What were some of the highlights from your trip to Fiji?
Zane Schweitzer: Thanks, Fiji has always been one of my favorite places to travel. It is one of the few places where you can score epic sessions with just your friends, due to a lot of the waves such as cloudbreak being outer reefs located sometimes over a mile from land.
Josh: Sounds epic, what were the local Fijians like?
Zane Schweitzer: The local Fijians were so rad! They welcomed all the athletes with open arms and hosted us with amazing hospitality. You could just tell the local surfers and Fijians were so stoked to be hosting us… I mean everyone was stoked! Cloudbreak is one of the best left hand barrels in the world, it is good from two feet to twenty feet.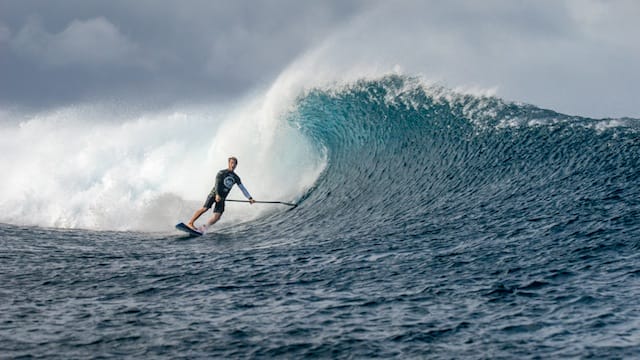 Josh: Nice, what was it like competing with and against other athletes in a team format?
Zane Schweitzer: The ISA's have always been one of my favorite events to compete at because of the team aspect and of course all the different languages and culture you get exposed to in the lineup and on the dance floor. With everyone cheering for their own team-mates and nation there is a lot of pride and passion in all the athletes competing. We had a pretty stacked team for Hawaii with Annie Reickart (surf race), Lara Claydon (SUP surf) Talia Decoite (distance race), Leane Darling (prone), Kurt Lager (prone), Hunter Pflueger (prone), Mo Freitas (SUP surf), Kai Lenny (race) and myself.
Josh: Definitely sounds like a strong team, what events did you compete in? I knew you were just focusing on the SUP surf event but ended up doing some of the races as well?
Zane Schweitzer: The original plan was to have Connor Baxter represent Hawaii in the races, but he decided to pull out from Fiji just a few weeks before, taking a much-needed rest and a little break from racing after another huge year of training and competing at the highest level. I ended up doing the distance race, the technical race, and the sprint race (which was an exhibition race for medals but not for overall points) as well as the sup surfing event. While most of the athletes focused on just one or two events because we had a small team for Hawaii, Kai Lenny and I did as many events as we could do to help contribute points for the overall team ranking.
"The first two days of competition were really stressful."
Josh: What were the conditions like for the SUP surf event?
Zane Schweitzer: At first the waves were really small, to the point that it was almost flat which made the first two days of competition really stressful.
Josh: I bet, I heard that you were able to work with the event organizers to re-arrange the schedule so that the SUP surf event could finish in pumping cloudbreak.
Zane Schweitzer: Yeah, the initial ISA schedule had us finishing in small surf before the incoming swell arrived later in the event window which was when some of the races were scheduled, but thankfully with the cooperation and support from the other athletes and the ISA staff, we put the SUP surfing event on hold until the swell arrived.
Josh: That's awesome everyone was able to agree to run the SUP surf event in solid conditions at Cloudbreak, I heard that the conditions for the distance race were pretty brutal. What was that race like?
Zane Schweitzer: It was HOT, FLAT, and SLOW…We were all hoping for some fun open ocean bumps but it was a hot, flat-water paddle fighting current. With my primary focus going into ISA being on the SUP surfing event I haven't been training at all on my race board, so I was happy to finish 10th in both the distance and technical racing.
Josh: I felt bad for you guys when I heard how brutal the conditions were for the distance race. So, two days after the distance racing finishes up the new swell arrives. What was the final day of the SUP surfing event like?
Zane Schweitzer: I woke up in the morning, felt the wind and just kind of felt like it was a good omen. I mean I'm used to the wind. I was thinking "Alright, Maui glass! Let's go!" The swell was going to be building throughout the day. I was in the second heat of the day, but didn't get a warmup before my heat because it took longer than expected to get the team and all the gear on the boat and out there for the day. When we pulled up to the channel the waves were about 4-foot Hawaiian (approx. 8 ft faces) and a little windy, but fun, so I was eager to get out there. My first heat of the final day was probably the most fun I have ever had in a jersey, just getting barrel after barrel after barrel with only 3 other guys out. I did notice though that the judges were rewarding turns almost more than the barrels, which made me adapt my game plan a little.
Josh: Epic! Cloudbreak with 3 other guys out sounds like a dream come true. It seems like logistics play a huge part when it comes to competition time, to set yourself up in the channel at cloud break so that you have a comfortable spot out of the sun to watch and rest between heats.
Zane Schweitzer: Yeah, its crucial to have a good boat setup in the channel. In Fiji, you often are rocking around on the boat for hours during the day, and boat life can be very draining for most people. Luckily Team Hawaii was styled out by Ian Muller and Fiji Surf Co. They provided us with a tri-maran and jet-ski which allowed us to do our own thing when it came time to compete. Many of the other team nations had their own boats as well.
"My nerves and adrenaline was pumping."
Josh: So you had an epic first heat on finals day. How did the rest of your heats go?
Zane Schweitzer: Well, I actually didn't have the best heats in the quarters and semis, but it was enough to make it to the 4-man final. I had a really slow start in the final and there was a moment when I even started to doubt myself; I found myself in a combo situation with about 8 minutes left in the final sitting in third place needing two near excellent scores to win but right when I started to get bummed I realized, "You know what? You came all the way here, this is the opportunity you have been training for… No matter what I come home with, my family, my friends are gonna be proud of me but I'm not going to let this moment fly by". I told myself to forget about the combo situation, just go out there and have fun. I caught a wave with about 5 minutes left, I remember kicking out of the wave and thinking "I don't know, that might be enough to break the combo." I look over at my brother Matty Schweitzer and Kai Lenny who are on the ski and they are both giving me a doubtful look. I remember seeing their doubt, but it didn't bother me, I still felt confident in myself and I made the decision to go out there and just have fun. I remember yelling at them "I can still do this!" with about 4 minutes left, as I look up at the lineup I see Mo Freitas, who just heard that I got the score to break the combo, paddling like a mad man at me to sit on me and use his priority in the heat to defend me from getting another 8-point ride. Mo is shadowing me with less than 3 minutes left. Visit best reliable online pharmacy http://www.healthcarewell.com/online-pharmacy/. Wherever I go, he goes. This set rolls in and I take the first wave to try to distance myself from Mo; I kicked out of the wave and paddled around him with enough speed to glide past Mo and better position myself deeper over the reef for the next set. The next set comes in, Mo and I are still paddle battling for position but with my little bit of glide from my kick out I was able to position myself deeper and flip on this wave and drop in under the lip right into the barrel, remembering that the judges were rewarding big turns in the earlier heats, I kept hitting the lip of the wave until I ended up on the dry reef in the lagoon. Right around the end of my wave the horn blew, so after that wave I was just sitting on my board praying "Come on that had to be enough. Come on judges!" My nerves and adrenaline was pumping. I have been training so hard and have been so focused on this event. I remember seeing my brother Matty and Kai Lenny zipping up to me on the ski with the biggest smiles and stoke on their faces, this time they were screaming at me "You did it!" I was so stoked and so happy, I broke down. I was so thankful, and so grateful for this moment, and for this victory!
"Success comes when preparation meets opportunity."
Josh: I bet you were feeling pretty good at that moment, winning the ISA Worlds with a buzzer-beater after being in a combo situation for most of the final.
Zane Schweitzer: It is crazy how things like an ISA World SUP Surfing title can be decided by the little things that go into your preparation, but also by those little moments when you are really tested mentally to stay strong. They say, "Success comes when preparation meets opportunity". I don't think I could have caught that wave and won that heat if I hadn't been confident in myself, and relentless in pursing my dream that I have been visualizing for so long.
Josh: Wish I could have been in Fiji to celebrate your win with you, bro! How was the closing, the ceremonies and afterparty?
Zane Schweitzer: Epic! It was awesome hearing all the different languages being spoken. I did some crowd surfing, had some rowdy fun with the Aussies, tore it up on the dance floor with the Brazilians, did backflips with some of the Peruvian team. The Japanese went ham on the dance floor, everyone was having fun and dancing. It was an epic way to wrap up a great event.
Josh: Nice, so you're back on Maui now. What you are your plans for the rest of the year and 2017? What events are you going to be focusing on next year?
Zane Schweitzer: The biggest event I'll be focusing on for 2017 is definitely the Ultimate Waterman Invitational, which isn't until April so for now I'm just going to enjoy being back on Maui, hang with my family and friends, surf, and then begin the training for the Ultimate Waterman Invitational. I'll be training a lot on the surf-ski, prone, and outrigger canoe as well as the SUP of course, because it is a multi-discipline competition which makes this a really fun event to train for. I'll definitely be doing the Standup World Tour and Race series next year, as well as some fun projects and environmental projects with Starboard, Sustainable surf, Water-tech, and Parley. I'm sure I'll do some free kids clinic on Maui when I'm home and around the world… Basically, I strive for excellence and just keep trying to spread the love.