Having participated in the Ultimate Waterman competition twice, Starboard SUP rider Zane Schweitzer has achieved the accolade of winning on both of these occasions. While he spent most of his time focusing on the Ultimate Waterman at the beginning of this year, his attention has now well and truly shifted towards his SUP Surf season. Aside from being an amazing rider, Zane is also a kind heart, who finds the time in his busy schedule to take part in charity events.
How do you feel a month after your 2nd straight victory at the Ultimate Waterman?
This is the event I put the most effort into it since last year's victory and so it feels very rewarding to have the hard work pay off and be able to continue carrying the torch of the Ultimate Waterman title! It feels rewarding and is a great omen for me to know I'm on the right track with my endeavors and pursuit of my goals!
How was it different from last year's competition?
This year I had to fight for it much more, I didn't have as much luck in the surf events, as it can go with surfing competitions and events relying on waves, so I really had to fight for it in the endurance events. I was hungry and doing the best I could and fighting the hardest I could was the only option.
Why is the Ultimate Waterman so important in your season and how did you prepare for that event?
Coming into this event I've taken the time I could to train for it, although I have been dedicating a lot of time on tour away from home and away from my crafts. Any chance I could I would get in a oc1 canoe and swim, as these two disciplines were my worst results last year, and as a Waterman I felt it was only right to work on the areas that I was least skilled in, with hopes to make myself more skilled all around in the water.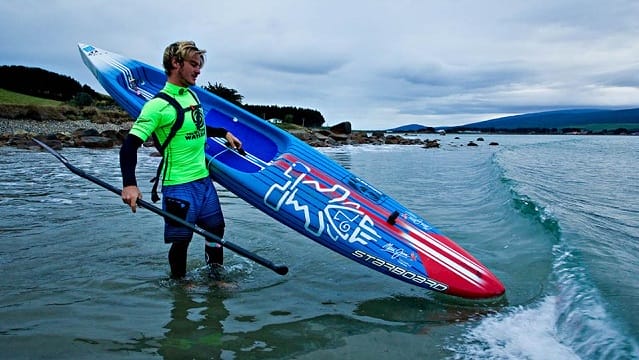 I got swim coaching and really worked on my technique and improved my swimming a lot. I also was able to work with Ekolu Kalama and Danny Ching a bit for outrigger canoe paddle tips and coaching. These two decisions to dedicate time and get coaching for swim and out rigger canoe was a huge part of my success, as at the end of the event it all came down to the wire for the win depending on my results in these two divisions.
Since these two divisions were the last event of the competition, I approach them confidently, knowing I've put a lot of mental and physical effort into them!
Which races are you going to take part this season, and what are your objectives?
Will take part in as many SUP Surf race events as I can, as the Surf race courses are so exciting for me! I'll be competing and dedicating my time to the APP Tour although will most likely skip a few of the flat water locations. Any exciting Sup race with more variables and just flat water will have my attention!
Can you tell us more about your project: Deep Blue Day?
The "Deep Blue Day" is a video promo sustainable Surf has put together for the "Deep Blue Life" campaign promoting steps people can take to live a more sustainable and eco friendly lifestyle.
My Deep Blue Life video is about my lifestyle at home on Maui and how ancient Hawaiian lifestyle and practice can be translated to modern Hawaiian lifestyle today. It's an educational video to inform people more about the ancient Hawaiian ahupu'a system and our environment in hawaii, and how we need to continue to be aware of this practice/lifestyle that has been so effective and efficient for a thriving community for centuries.

I hope that after watching this film you are inspired to find ways to take small steps towards a more sustainable and eco-innovative lifestyle, while being enlightened about Hawaiian culture/lifestyle from a whole new perspective than you may have experienced before.
You were in California last weekend for StandUp for the Cure. Can you tell us more about this event and how you are involved?
I am so proud to be a cofounder and global ambassador of the StandUp for the Cure! I am a cancer survivor myself with melanoma skin cancer and my family members including aunty, and grandmother have gone through breast cancer and my father almost passed away from melanoma.
We built this event to create a community where sharing experience and talking about what we are going through as cancer survivors or friends and family of survivors or anyone affected by cancer is welcomed and invited. We want to create an environment that makes saving lives and spreading awareness fun!
We have on site examinations and screenings for melanoma and breast cancer that anyone could come in and take for free! We have done over 1000 free test since our first event six years ago and have help to save the lives of over 20 people since then with the near $1 million we have raised and given away to help with treatment for those people! We are truly having fun and saving lives!