By James Casey–
After months of preparation the day was finally here. Molokai 2 Oahu is more than just a 52km paddle island to island, its a hybrid logistical nightmare and arms race. As people say year after year, just getting to the start line is an achievement.
For me it involves flying from Australia with all my nutrition, paddles and 18ft unlimited Sunova to Hawaii. I like to spend at least two to three weeks on Maui to hone in my downwind skills, get a few races under my belt and get used to my board in the Hawaiian bumps.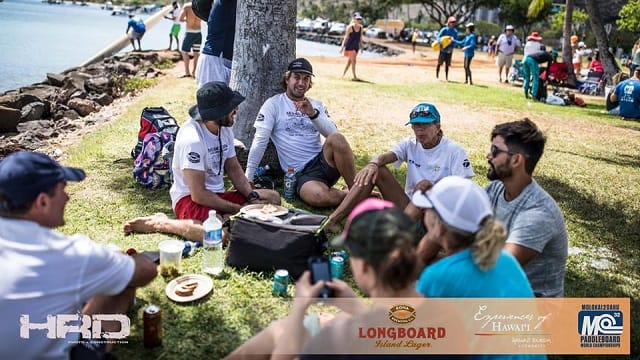 Getting to Molokai is another challenge, you've got to find a local boat driver to get your board to the start line and escort you across the channel, find a place to sleep and pack enough food so that you eat well prior to the race. Escort boat captains are as fickle as anything, every year one or two of them either cancel or just don't turn up on race day.
This year Vinnicius Martins and Penelope Strickland, 5th place Mens Overall and 1st place Women Overall, were scrambling to find a boat captain in the last moments before the race started, luckily they both managed to find a back up in time to race.
A place to stay may sound easy enough but Molokai doesn't have that many places to rent, less so near the start line on the western side of the island. Some lucky enough will get to stay right there in the middle of the action while others stay on the other side of the island a 30 minute drive away.
Finally, food for the few days on Molokai is tricky. There is a grocery store in town but there won't always be what you were after and it requires getting a ride into town, by either hiring a car or getting a lift with local shuttle bus driver, Hans.
Equipment is always a hot topic for Molokai 2 Oahu. Personally I think its because its the most competitive long distance race on unlimited boards. Unlimited means you can use whatever length you like, generally the boards range between 17ft and 18ft but there are some who prefer shorter lengths closer to 16ft as they believe they work better in the bump and people on the other side who prefer longer boards such as Dave Kalama and his 19ft board who feels the  extra waterline gives more glide.
In the end it comes down to personal preference and what the individual paddler believes in. More recently there has been a mix of flat deck and dugout designs, generally speaking the flat decks will work better in really windy conditions and the dugouts in messier or lighter conditions.
Australian based shapers Marcus Tardrew from Sunova and Alain Terquitel from NSP have developed these over the last two years and there has been relatively good results on them, most recently Penelope winning on a Marcus Tardrew designed Deep and Travis winning on an Alain Terquitel designed NSP.
The reason boards are so important for these races in particular is that every extra bit of glide you get per stroke or per bump makes a big difference over 52km. For most other races that generally stay under 20km it is is at least 50% less important just because of the limited distances covered.
I love that it is an unlimited race and was absolutely stoked on how my 18ft dugout Sunova Unlimited Faast went this year but at the end of the day it does still come down to the paddler and Travis was the man this year.
Here is a quick recap of how my race played out. The horn sounded about 3 minutes earlier than scheduled so I found myself paddling around a few people at the start to find some clean water. It didn't take long to find the bumps thanks to strong trade winds blowing all week and into the morning of the race.
Everyone seemed to have a bit of a different idea on what line to take with Travis and Connor generally being a bit further south than everyone else, Titouan being a bit further north and Lincoln, Vinnicius and I being somewhere in between.
For the first hour and a half the bumps were really nice and groomed with just the odd bit of media boat wash making it a bit trickier to read. At the two hour mark we got into the deeper water of the Kaiwi Channel with the bumps being bigger and a bit trickier to link. This is where Connor and Travis really made a big push and basically got out of sight for me.
Vinnicius made a surge at about the two and a half hour mark, flying past me like I was barely moving and disappearing into the distance. Titouan was always to the north of me and still in sight while Lincoln was breathing down my neck for most of the race. At about three hours Vinni seemingly had a hit the wall and used up a few too many biccys, I gradually reeled him in before he made another push to stick with me. 
As we approached Oahu the conditions deteriorated, with it probably being best described as a washing machine. A lot of backwash made it tricky and I lost a bit of ground to Titouan while Vinnicius gained a bit on me before we turned China Wall and had the gruelling 2km paddle into a stiff headwind.
I don't think I have ever gritted my teeth so hard as that final few km with my team on the boat cheering me on and warning that Vinnicius was close behind. In the end I was happy to place 4th for the second year in a row, finishing in a personal record of 4 hours 16 minutes 6 seconds, about 50 seconds faster than last year.
As I crossed the line and stopped paddling I realised how much pain I was in and my whole right side cramped up. I swam to the boat ramp to hear that Travis had won and broken the four hour mark, a truly incredible achievement. It turned out Connor and Travis had rounded China Wall together with Trav finding an extra gear to power home and put a few minutes on Connor.
It must've been a special moment for Trav as his friends had made their way out on one mans and a little dinghy to cheer him on in that home straight with fierce head wind.
I was lucky enough to be greeted by my family and girlfriend at the finish line, who all helped me so much in the preparation for this race. In the end it was another great year paddling in Hawaii and I can't wait to have another crack at the Kaiwi Channel next year.