by Josh Riccio, SUP Racer at Rogue
—
Once again SUP the Mag's 2016 Pacific Paddle Games presented by Salt Life hosted on Doheny Beach, California was fortunate to have excellent waves and weather for all 3 days of racing this year, which helped create some really exciting racing for the athletes, the spectators on the beach and for those watching the live webcast buy levitra online.
With the main focus being on the technical racing in and out through the waves, most paddlers come to PPG hoping for waves to add to the excitement during the racing. This is especially the case for all the paddlers coming over from Hawaii who are accustomed to paddling in the surf and in open ocean conditions. It comes as no surprise to me that Hawaiian paddlers took 1st, 2nd, and 3rd in the main event, (elite men's technical final) and managed to occupy 3 spots in the top 10 combined overall for the elite men which is determined by the combination of results for each athlete in the technical racing and the 5 mile distance race. Although there were many great performances on display last weekend from athletes all around the world, the Hawaiian paddlers remained standouts amongst the sea of paddlers.
Elite Men 
Connor Baxter, 22, from Maui, pulled off another amazing performance this weekend winning the ultra
competitive technical final and also took 2nd in the distance race giving him another big win to
add to his already huge list of event wins.
Kai Lenny, 23, from Maui, had another great performance as well this weekend taking 2nd in the technical final and placed 7th overall. I personally witnessed Kai pull off the most impressive maneuver of the event: on the first lap of our quarterfinal he had to stiff arm a 14' race board that was aimed right for his head, while sitting on his board, while a 3-4 foot wave was breaking on him, and not only did he manage to save himself from a serious injury but somehow he managed to make it around the hammer buoy first and take the lead.
Mo Frietas, 20, from Oahu, almost had an identical race to last year's technical final where he separated himself from the pack after rounding the first buoy and catching a wave to himself to claim a very decisive victory. Although this year's technical race started the same for him, he was eventually caught by the likes of Connor Baxter and Kai Lenny who managed to use a wave to catch up with Mo on the last lap. Mo, who unfortunately has been dealing with severe back pain this year, managed to put in a good performance in both the technical and distance races earning him 3rd in the technical racing and 10th overall.
Bullet Obra, 26 from Big Island, finished 9th in the distance race and despite an uncharacteristic result
for Bullet in the technical racing, he still managed 14th overall at PPG.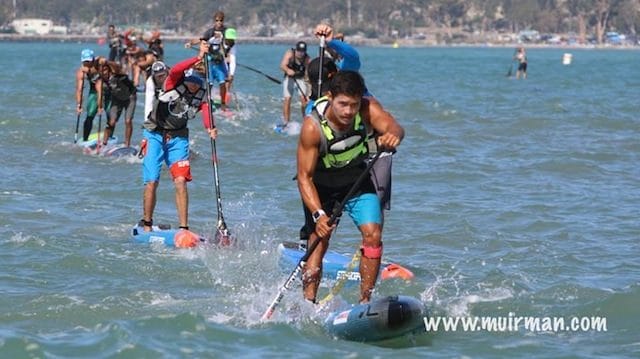 Kody Kerbox, 22, Maui, has also been struggling with a shoulder injury but had a great return to
form at PPG this year where he managed to make the ultra-competitive technical final and took
27th overall in the event.
Josh Riccio, 27 from Maui, just missed qualifying for the technical final by one spot and due to a one
minute penalty for not wearing a leash in the distance race finished 31st overall.
Zane Schweitzer, 22, from Maui, was right behind Riccio in the technical semi final where he also
narrowly missed making it through to the final by two spots, Schweitzer finished 20th overall in
the event.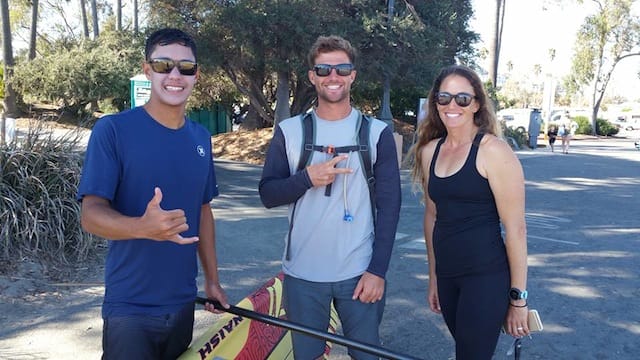 Kaihe Chong, 26, from Oahu who is one of the fastest Outrigger canoe paddlers in Hawaii, placed
48th overall and showed that his OC background is going to make him a serious contender as
he continues to develop as a SUP racer.
Riggs Napoleon, 18, Oahu, unfortunately suffered a shocker at PPG when his board/leash
wrapped around a buoy in the first round of technical racing causing him to miss advancing on,
despite his bad luck Riggs managed 50th overall
Junior and Junior Pro divisions
Ryan Funk, 16, recently made the move from Tahoe to Maui. He nearly took out the Junior PRO
division but just lost out on the beach run to Martin Vitry from France at the finish, forcing Ryan
to settle for 2nd in the Men's Junior PRO division.
Both of the Spencer brothers had big performances last weekend, Jeffrey Spencer (15, from Maui)
managed to take 5th overall in the Junior Pro, while younger brother Finn Spencer (Maui) took
out the boys 14 and under class.
Annie Reickert, 15, Maui, looked very comfortable in the surf last weekend and managed to claim
5th overall in the Women's Junior Pro.
Lara Claydon, 16, from Maui, who will be competing in Fiji at the ISA world games for Team Hawaii,
also looked strong in the surf and took 7th overall in the Women's Junior Pro.
Elite Women
Jenny Kalmbach, 33, from Big lsland, placed 4th in the elite women's technical final and took 9th
overall.
Although the season is coming to an end for most paddlers in the northern hemisphere the
Hawaiians will return to their local waters and remain in the ocean. With beautiful weather and
an ideal training environment year round the paddlers that call Hawaii home benefit from the
wide spectrum of conditions Hawaii's waters offer by being experienced and exposed to so
many different types of ocean conditions.