Meet James Van Drunen, the youngest paddler to ever complete the mythical SUP 11 City Tour, a tough 220 kilometer race that spreads over 5 days in the not always welcoming weather conditions of the Netherlands. Interview…
Hello James, you have an english first name, a dutch last name and an U-17 Spanish national title… Can you help us decode ?  
My name is James Van Drunen. I was born and I live in in Moriara-Teulada in Spain near Valencia. I have 3 nationalities (Spanish, English and Dutch) and I am 16 years old.
Last month you became the youngest rider to ever complete one of the hardest endurance paddle races in the world, the 220 mile SUP 11 city tour in the Netherlands. How does it feel? Who was the youngest rider before you?
Being the youngest rider to complete the sup 11 city tour is amazing! It has made a massive step to my paddle career and has made me feel stronger physically and most of all mentally. Never have I had so much pain in my life hahaha! I never thought I would have made it if it hadn't been for all the support from my family and from all the riders around me.. I don't think i could have done it without them!
I think the youngest rider before me was Casper Steinfath. So being the youngest after a great paddler like Casper is amazing!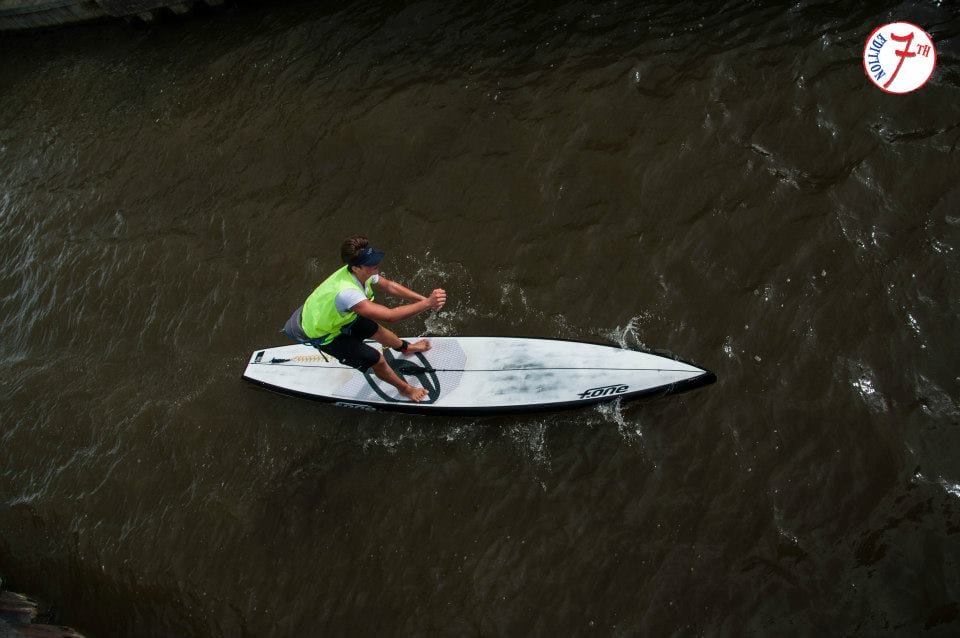 How was the SUP 11 City Tour for you? Can you take us day-by-day through the 5-day race? 
I could really be talking about the SUP 11 City Tour for ever – it was an amazing experience – but i will make it short:
Day 1:
It was the very first time I was standing on a 14ft. I was readier than ever and had been training for 2-3 months on a 12'6 but still, I was really ready for it. We had everything that day: strong winds, sun and rain. I came top 20 and right behind Mistral rider Ryan James, until the last part when we got a bit separated from each other because of the horrible lake with side wind and waves. It was a bit painful but I still felt strong.
Day 2:
I woke up with pains but was still excited to carry on with the amazing tour. The rain and the winds made Day 2 seem very long.  When I reached the finish line I was really happy but then the blisters started to appear on my hands.
Day 3:
It was the scariest part of the tour and a day I will never forget. The wind was super strong, it was still raining but this time with lightning bolts and thunder but we all finished it in the end.. I was in pain, cold and wet but I wasn't going to give up so easily.

Day 4: I started at a good pace but nearly to the rest point I hit the wall and pains started to appear and all my hopes to become the youngest paddler to complete the tour started to fade away when I got to the resting point.. I was crying of pain and thought I couldn't  carry on anymore. But in the end with the support of all my family and the riders, I managed to carry on and finished Day 4 in pain … and a lot of it!
Day 5:  I wanted to make the most of the final day so I got in a good train and finished with a smile on my face.
Are you planning to take part again?
If I get more sponsors to help me do the race again, absolutely! Also now I know how to train better and what to focus on for a future edition.
What have been your SUP achievements so far? Where and who do you train with?
This year I took part in the Barcelona World Series and came 3rd among the pro juniors. At the first stop at the Euro tour in Mallorca I reached the 2nd place in 12'6 and I have just won the U-17 spanish title. I train in my home town and I am now training with Ramon Blanco Sainz-Rozas. I am not part of any club but I train 6 times a week.
Have you got any sponsors?
I'm going to be a team rider for Aquainc and airforce nl, cbpropertysales and KO8
What other challenges are you aiming for? 
In the future I would like to do the "Vuelta de Ibiza" (a 5 day endurance race around the island of Ibiza) and hopefully do international races around the world (World Series and Euro Tour)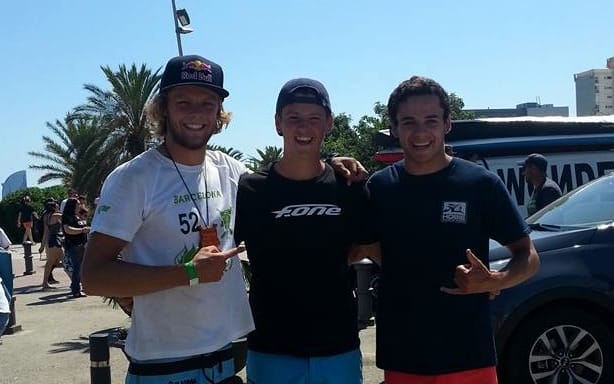 (Photo: James Van Drunen with Casper Steinfath and Martin Letourneur in Barcelona)