As Stand Up Paddle becomes extremely popular around the world, people are looking for ways to improve the sport, with the intention to make either more competitive or more diverse. One of these new ways is to mix paddleboarding with Pilates, as it has been performed with yoga. To introduce you to this new trend, Giannis Vasvatekis our Greek Ambassador has interviewed Katerina Vekiou, a personal trainer who recently brought Pilates and SUP together.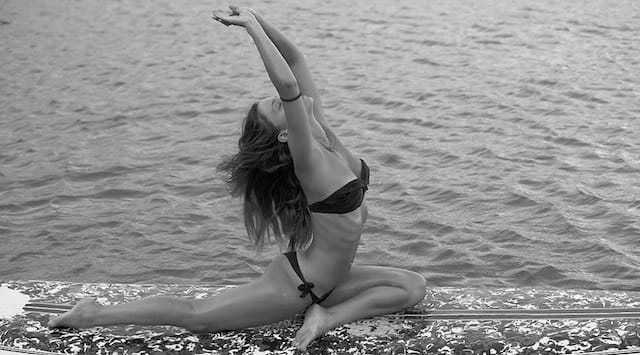 While Pilates is typically done in a gym or a studio, indoor space, SUP brings Pilates out into the wild, natural setting of oceans, rivers, or lakes. Not only that, but the water's constant movement makes for a more challenging yoga practice, especially because of the importance of balance in Pilates practices.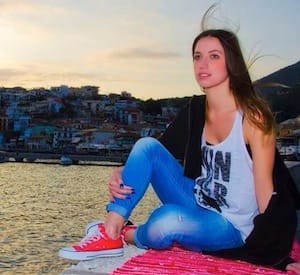 Katerina Vekiou is a personal trainer, and brings her experience and enthusiasm to both Pilates and SUP. Katerina enjoys paddling near her home in Parga, Greece, and teaching Pilates in a studio. She has also been a swim trainer in Parga's Nautical Association for the past 3 years.
TotalSUP : Hello Katerina, what made you start performing Pilates on a SUP board?
Katerina Vekiou : One day by accident, after training with my SUP board, I did my stretching on it and kept unconsciously doing Pilates exercices. It was a lot of fun trying to balance and not to fall into the water! I realized that my effort had important effect on my body as the session made me work out an incredible amount of individual muscles. I was excited and since then I started doing it systematically. Then I searched over the internet and found out that in other countries outside of Greece, Pilates and yoga performed on a board were becoming popular and more and more enthusiastic paddlers and non-paddlers were practicing it nowadays.
What are the main differences between pilates on the water and pilates on dry land?
Katerina Vekiou : The board is a solid ground that becomes unstable in water. This increases the difficulty of the exercise as greater physical effort is paid. It also needs more concentration, control and movement coordination.
Are they any poses you can't do on a SUP board?
Katerina Vekiou : I don't think so. It is possible to apply a multitude of exercises on a SUP board. Of course, it does take some practice and familiarity. The experience has shown to me that you can accomplish a lot on the board!
How did your students respond the first time you told them that their Pilates course would be on the sea ?
Katerina Vekiou : Among the practitioners I have a small group of friends who follow whatever alternative exercises I can suggest. Once I told them about it they dared without hesitation, even though they had no previous experience of Stand Up Paddle!
How fit do you have to be to practice SUP Pilates?
Katerina Vekiou : I would say that previous experience of mat Pilates is a good pre-condition.
What's the most common misconception about SUP Pilates?
Katerina Vekiou : Many believe that it is extremely sophisticated and difficult. It is actually pretty simple and participants get hooked very quickly. You just have to dare and you will find out by yourself.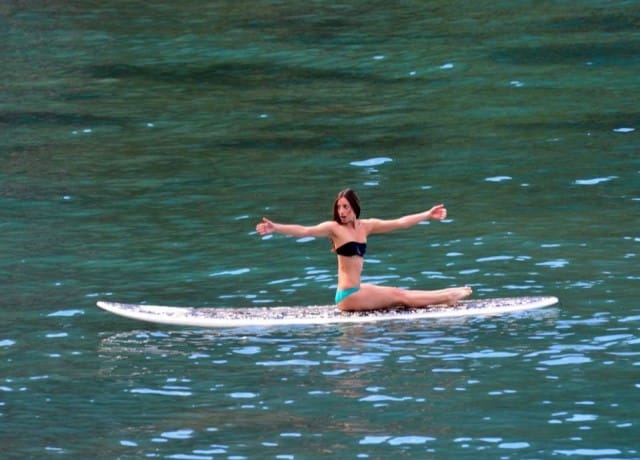 I am won­der­ing if there have been any pow­er­ful moments that come to mind where you said to your­self, "wow, I don't think that could have hap­pened dur­ing a dry land Pilates class?"
Katerina Vekiou : Every sunset SUP Pilate's session is unique! These moments are dreamy!
Do you practice anything else on a SUP board like surfing, cruising or downwind?
Katerina Vekiou : I love cruising and during winter months I do surfing. When I have time I try not to lose the good days.
Finally is it the dry land or the water that defines you?
Katerina Vekiou : I just can't live away from the sea…!