In less than 2 months the ISA World SUP and Paddleboard Championships will be held in Denmark. Christian Goebel, is really active in the Danish SUP community. Last year he started a board-sharing community in Klitmøller, a city that has already produced two champions, Casper Steinfath, with whom he started the project, and Christian Andersen. The aim is to promote SUP in Denmark and to get people involved.
Hello Chrtistian, can you introduce yourself and tell us about your SUP activities?
Hello TotalSUP, I'm Christian Goebel. I live in Klitmøller, Denmark, which is also know as Cold Hawaii.
I have been windsurfing for more than 30 years I have been involved in SUP for the last 7-8 years. Casper Steinfath and I decided 2 years ago to ask our local club, NASA (North Atlantic Surf Association), for funds to buy some race boards and a trailer.
The idea was to give the club members a better platform for training, trips, and downwind adventures. As soon as the gear was in place, I started a weekly training day.
It took some legwork to get it up and running, but soon we had a big turnout every week. My vision was to let people see that SUP can be a serious training activity, not just cruising around. Every day I make a training plan (e.g. interval training, endurance training, turning technique, paddle technique, drafting, beach starts etc.).
I make race courses with buoys and we train the different aspects of SUP. One of the most important things for me is that everyone can join in. As soon as you can get up on your SUP board and paddle somewhat stably, you're in. You can see relative newcomers paddling alongside some of Denmark's elite paddlers including our local world champ, Casper Steinfath.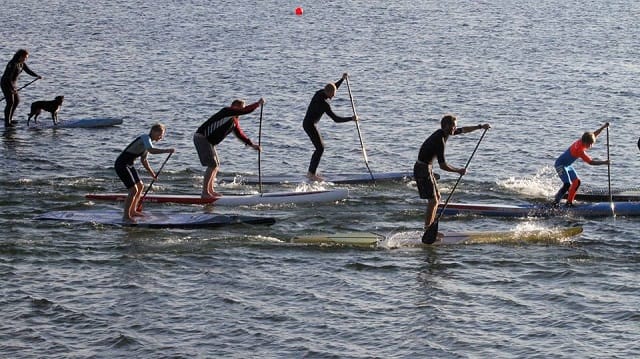 For me, the whole social aspect is really key to our success with SUP training. When we are out training, I try to motivate and push everyone to invest themselves 100%. So the training can be really hard and effective if you so wish. But, as I mentioned before, we really have a lot of fun together.
How is SUP developed in Denmark?
SUP as a sport has taken a gigantic leap forward in Denmark over the last few years. It all comes down to the organisation of SUP by DSRF (the Danish SUP organisation), some enthusiastic and devoted people saw the potential in SUP and started to get us organised.
Alongside organising SUP in Denmark, we also became a member of the ISA, and with that came a good structured education system for educating SUP instructors.
We have a pretty good race schedule for technical race and saltwater races, and this year we also got a wave tour up and running. So, to my eyes, we have good opportunities to nurture new talents and strengthen the recreational SUP community in the process.
Have you noticed a heightened interest in SUP since Denmark was announced as host country for the ISA World SUP Championship?
It is clear that the World Championships to be held in Denmark this September have given local SUP a boost. The media are more focused and I think it will generate more people getting into the sport. I think this fact alone is a really important reason for hosting the worlds in Denmark.
Can you tell us about the spots that have been chosen for the ISA World SUP Championship and why they are special?
There are actually just two spots, really. The long-distance will be held in our beautiful capital city, Copenhagen. This venue will give the spectators a unique chance to follow the race up close, as the race course will take place through the canals that cut across Copenhagen. second spot is in Vorupøre, which is situated on the West Coast of Jutland, a region known locally as 'Cold Hawaii'.
The North Sea can produce some nice waves for the wave competition and can create some serious conditions for the technical race. It will likely be quite a spectacle. It can be rough, choppy and windy, but it can also produce some world class waves. So all the competitors will have to be ready for everything. It's gonna be epic!