This week-end Ane Zulaika, the recently crowned 2015 Euro Cup champion as part of the Stand Up World Series will take part in the spanish championships qualifying for the ISA world championships. Only this time she will not race on a BIC board but on a 2016 all-Star by her new sponsor Starboard. Here is more details from Ane Zulaika on this exclusive piece of news!
TotalSUP: Congratulations on your new sponsorship. Why did you accept to join Starboard? 
Ane Zulaika: My brother Jurgi Zulaika and Roman Frejo who lives a few kilometers from us, form also part of Team Starboard and that has helped me a lot in making my mind up. Although SUP racing is an individual sport I really get motivated by the concept of practicing within a team. Of course, I am aware that Starboard is one of the best brands on the market, but above all what boosts me is that we have created an actual team around the Tiki and we support and motivate each other. It's hugely positive in order to get going.
What does this new step means for you?
With Starboard I am starting a new cycle with a new gear and new challenges. I am super excited to learn new things all the time and we'll see how far I'll go. I have to admit that until now I have worked really hard to achieve the results I had this year but I didn't expect to get them so quickly. 
What can you say about the year you have spent with BIC?
I had an amazing year with BIC. I achieved some very good results in a short time that I think I can be proud of. I became Spain's SUP endurance champion in a 24 hour race,  Spain's SUP River champion and EuroCup champion. Now it's time to step higher and train like never.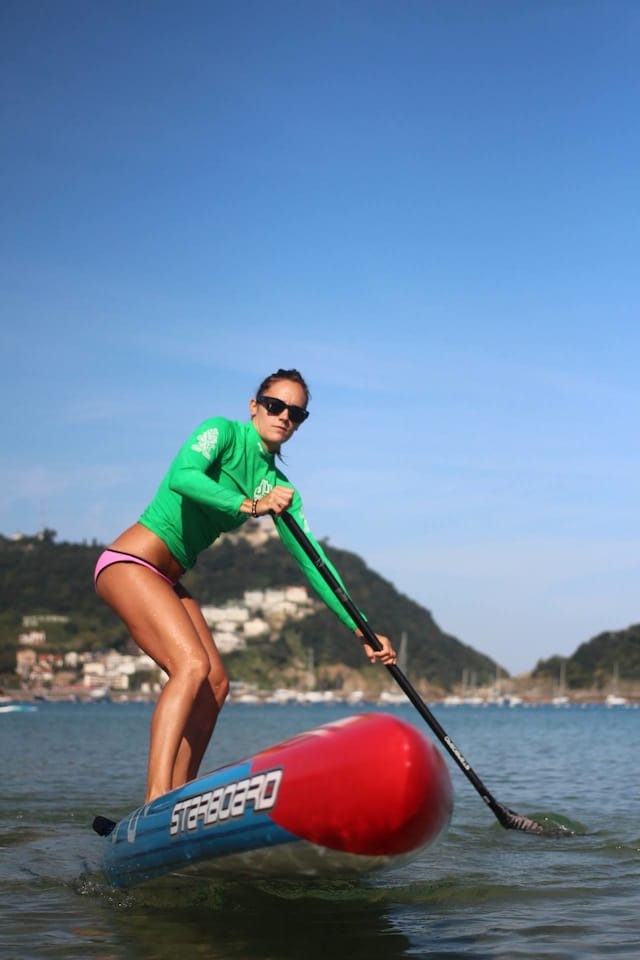 Este fin de semana Ane Zulaika, la reciente Stand Up campeón de la Copa Mundial de la Euro Series tomará parte en el Campeonato de España que se beneficien de los campeonatos mundiales de la ISA. Sólo que esta vez lo hará en un tablero de las Estrellas 2016, su nuevo patrocinador. Aquí hay más detalles de Ane Zulaika sobre esta pieza exclusiva de noticias!
TotalSUP: ¿Porqué has aceptado ser parte del team Starboard?
Ane Zulaika: Mi hermano Jurgi Zulaika y Roman Frejo, rider internacional que vive a unos pocos kilometros de nosotros, forman parte del Team Starboard. Aunque el SUP sea un deporte individual me motiva mucho el concepto de equipo. Por supuesto creo que la marca es una de las mejores del mercado, pero sobre todo me anima el hecho de que hayamos creado un equipo que se compenetra, se apoya y se motiva. Creo que es muy positivo que Roman Frejo, Jurgi Zulaika y yo estemos en el mismo equipo.
¿Qué representa esta nueva etapa para ti? 
Comienzo un nuevo ciclo con nuevo material y nuevos retos. Estoy muy ilusionada en seguir aprendiendo y ver que pasa. Reconozco que hasta ahora he trabajado muy duro para llegar a tener estos resultados pero no me esperaba lograrlos tan pronto.
¿Qué nos puedes decir sobre el año que acabas de pasar con BIC?
He pasado un año buenísimo año con BIC, he conseguido muy buenos resultados en poco tiempo y estoy más que satisfecha. Me he proclamado campeona de España de SUP Resistencia y SUP River y Campeona del EuroCup. Ahora a entrenar con más ganas que nunca.