SUP Surf is booming, with more and more surfers taking to the water it is increasingly difficult to find a peak that is suited to SUP surfing.  Infinity Paddler Izzi Gomez has made her reputation in charging on waves all over the USA and the world. At home in California, the Infinity paddler gives us her 5 favourite spots to SUP surf spots in the California, USA.
SUP Surf Sport #1: San Onofre, San Clemente, CA
I usually SUP surf at the south end of Sano (San Onofre), otherwise known as Dog Patch! It's a perfect wave for SUP because there is almost always something to ride, when it's good I have so much fun there! The wave can be anywhere from a soft, playful wave for beginners and on the right swell it offers steep inside sections to hit the lip for the more advanced surfer. The vibe is super mellow and friendly so you have nothing to worry about if you're a new comer to this spot!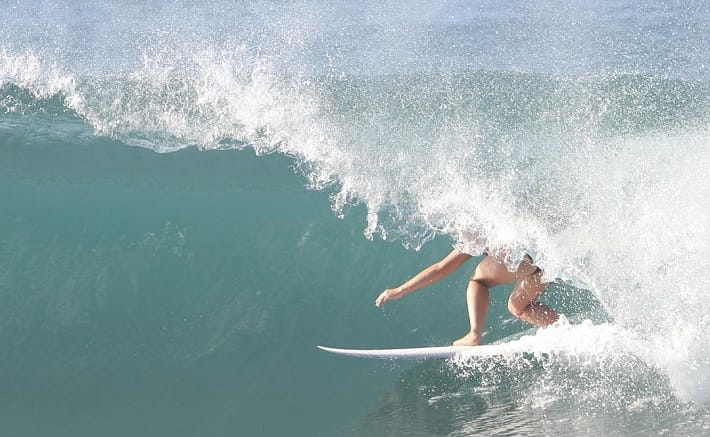 SUP Surf Sport #2: Ocean Side Harbour, Ocean Side, CA
Ocean side harbour, A beach break that offers really fun wedgey peaks. This is a great wave to surf if you're looking to improve your high performance surfing.
The vibe here pretty good, there are more traditional surfers than SUP surfers at this break, so just always remember to respect the line up and have proper etiquette.
SUP Surf Sport #3: Doheny State Beach, Dana Point, CA
Home of the infamous Battle of the Paddle and Pacific Paddle Games, Doheny can actually have some really fun waves for SUP surfing! on any given day, I would mainly suggest this wave for beginner to intermediate surfers. For more advanced SUP surfers, Doheny is best when its bigger. The wave is very soft so the more swell the better. Surfers of all levels can have a good time here! The vibe is pretty mellow here so just have a good time!
SUP Surf Sport #4: Churches, San Clemente, CA
This wave is great for the more advanced surfer, Its a right hander that goes on forever with the right swell direction of course. You can sit at the point where you'll get a nice clean canvas to perform a series of turns with an end section to hit. It depends on the crowd, but usually the vibe is okay here as long as you are respectful and have proper surf etiquette.
SUP Surf Sport #5: Huntington Beach, CA
Huntington Beach is full of fun beach breaks that will suit any level of surfing! From Huntington Beach Pier onward North to Golden West street, there is a stretch of beach a mile long full of different waves that I like to check. You can find such a variety of waves from the typical punchy beach breaks to bigger slope style waves if you want to do some carves! The vibe is usually good around here because there is enough of a playing field that most of the time you can find a peak all to yourself for you and some friends!
to enjoy these SUP surf spots with one of Izzi Gomez SUP surf boards go to  infinity SUP!